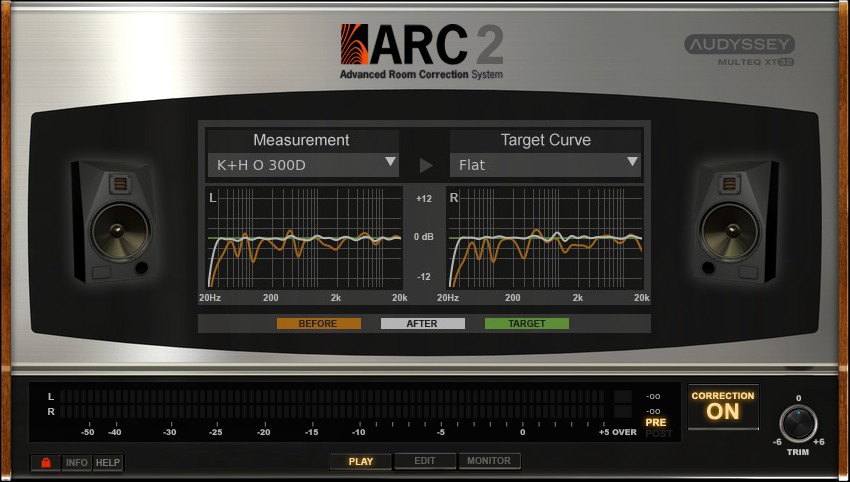 I've been using IK Multimedia's ARC System for years to fine tune my room and monitors for a more accurate and neutral sound. Even though the product was helpful, it didn't work as well as I had hoped, and I had to do extra work in order to achieve the ideal level of accuracy.
When ARC 2 was announced, I was filled with hope because IK Multimedia promised it would improve upon the first version significantly. Now that I've upgraded to ARC 2 and had put it through its paces, I can say with a big smile that the new version is much better than the first version in just about every way.
The resolution of ARC 2 is much higher than the previous version, and the measurement/correction is also much more precise. One of the main problems with the first version was the correction being too conservative (especially in the sub-bass region), and I had to create another EQ curve on top of ARC's correction in order to achieve the ideal neutral frequency response. With version 2, I no longer need to use any additional EQ'ing.
I compared the measurement from the previous version with the new measurement, and the new one sounds far more neutral. With the previous version, the sub-bass frequencies were only modestly corrected, and there were still prominent spikes and dips (such as overbearing sub-bass around 50Hz, or a significant null at 160Hz). With version 2, all that was taken care of. I was actually quite surprised because I couldn't figure out how a null could be filled (and without any audible distortion too). The new measurement/correction in ARC 2 sounds smoother, more neutral, and even the stereo imaging has improved. I've got no complaints, and for those of you who know me, that's quite a compliment, because I'm very picky about neutral and smooth frequency response.
The new version of ARC has built-in EQ, as well as simulation of various speakers such as a car stereo, bookshelf speakers, laptop speakers, flat screen speakers, boombox, etc, so you can check how your mix/master sounds on various playback devices without having to take your music and actually play it back in your car or in your living room. It's definitely a nice feature to have, and one I'm sure I'll use when it's time to do final mixes/masters. I have that feature available in Isone Pro, but that's for headphones only, so it's nice to have it for speakers too.
Overall, I'm pleased with version 2 of ARC, and I highly recommend it to anyone who wants to achieve a more neutral and accurate sound. Not only does it work really well with rooms that don't have acoustic treatment, it also works very well in conjunction with rooms that already have extensive acoustic treatment (such as in my case).
What many people don't realize, is that acoustic treatments typically can only take care of some of the problems a room has, and a product like the ARC System can handle the problems that the acoustic treatment couldn't. The reverse is also true; it's best to not rely on ARC solely, and if you can add acoustic treatments to the equation, it's better than not having any. The most ideal situation is to have both acoustic treatment and ARC, so they are working hand-in-hand to achieve what neither could achieve on their own. If you work in a professional mastering studio with expensive expert-designed acoustics that's impeccably accurate and neutral, then you probably don't need the ARC, but for the rest of us–those who turn their bedrooms and basements into home studios, or those with more modest studio spaces, ARC 2 is one of the best things you could ever spend money on for your studio.