News:
Kitty Cat Diary Updated: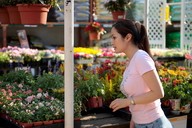 Weblog:
If you're a fan of Joss Whedon's Firefly, you must sign up for this:

I'm a huge fan of Firefly, and a fan of Joss Whedon in general. He could get a bit campy at times, but when he flexes his muscles for dramatic storytelling and character relationships, he is every bit the portrait of a talented genius. I personally feel that the Firefly TV series is his strongest work to date–surpassing Buffy, Angel, his feature film screenplays..etc. The Serenity movie didn't quite capture the magic of the TV series though, which was a slight disappointment. Although I did like the movie, the execution felt a bit contrived–missing the casual smoothness of the TV series.
…
Our shipment arrived recently–it left Fuzhou, China, arrived in Los Angeles, then made its final stop in Oakland. To our dismay, two items were stolen, and two more were initial missing, but turned up later damaged. My Xbox and Takamine EAN-10C Electric/Acoustic guitar were stolen out of their protective packaging: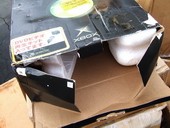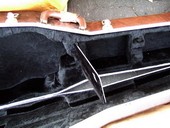 The two missing furnitures that turned up later were both severely damaged (legs broken off, dents and scratches..etc). We're fairly sure the theft must've happened in China, as American shipping companies all have lots of security cameras covering their entire warehouse operations, and also because the moving companies in China are famous for stealing. We'll probably never recover the Xbox and the guitar, but the damaged furnitures might be salvageable if we do a bit of repair work on them.
…
The heat has gotten unbearable here in the Bay Area in the last couple of days. It's been a hundred plus degrees during the day, but once the sun starts to set, the temperature cools down significantly. At least it's not humid in California, or else we'd be even more miserable. Since Northern Cal doesn't really get that hot usually, just about all the homes don't have air conditioning–only heaters for the winter. We were so tempted to go out and stay in a shopping mall all day and wait for the sun to set, but just the idea of leaving the house admidst the killer heat and getting into that oven-baked car. . .. My solution was to drench my t-shirt in cold water and let the evoporating moisture cool me off (I got tired of splashing water on my face/neck/arms because they dried off too quickly in the heat). Maybe it's not healthy to do that–I'm sure someone somewhere will point out the dangers of cooling off that way, but at least it got me through the day.
…
A few nights ago while dinning at a nice Thai restaurant (Thai Pepper on De Anza in Sunnyvale), the front bumper of my Acura Legend got ripped out completely (it got caught on that raised concrete strip at the end of parking spaces). I'm certain its original owner must've damaged it prior, because a bumper shouldn't come off that easily. We managed to kick it back into place and hoped it wouldn't fall off on the way home. Next day, we gave our best shot to fix it ourselves, because we're budget conscious at the moment (until I find a new job). All the places where it was secured to the car's frame was ripped apart, so our solution was to drill new holes in the bumper and then use thick aluminum wires to tie it to the frame:


Here's the handy Kitty Cat trying to tie the front license plate back onto the car with wires: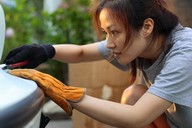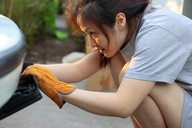 …
Our quest for the right GPS (we gave up on the notion of the perfect GPS) ended with the Magellan Roadmate 860T, which is one model above the 800 we returned last time. It isn't perfect–no unit on the market is–but it fits our needs the most. The Text-To-Speech is not quite as good as the TomTom 910, but much better than the Garmin Nuvi 350 (at least to my ears). The Garmin Nuvi 350's voices are all synthesized, while other companies only have the street names synthesized, while common voice directions are pre-recorded and much clearer. The mount for the 860T is different from the 800–there's no adhesive disc for non-window suction mounting (it's illegal to mount onto the window in California), but the articulation for the mount's arms are much better than the one for the 800, using tightening knobs instead of that lame bending rod. The lack of the adhesive disc is annoying though–what a ridiculous oversight. I haven't used the free traffic kit yet (which comes with 15 months free service, alerting you of the latest traffic updates)–that'll wait until I find a new job. Using it now would just be a waste since we don't really go out that much, and we're certainly not doing anything on a schedule these days. So far, we don't have any real big complaints about the 860T, except that the Tools software for it is far too primitive (it also stopped detecting the unit after a day of use–just like the 800 did), and the audio output jack of the unit is so low that they should be ashamed of of themselves for not putting a preamp in the unit. If you're going to have ten gigabytes of storage space for mp3's and also an mp3 player installed in the unit, you better make sure the audio output doesn't suck.
Here's how it looks mounted to the front windshield (I'll probably need to buy an adhesive disc so I don't get a ticket for mounting it to the window):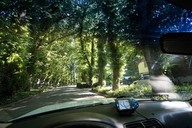 The photo was taken while we were driving through Hillsborough. I wanted to show Elena the city of Burlingame, with all those beautiful giant trees lining the streets, and of course, we just had to drive through Hillsborough in that area to look at the beautiful houses we could never afford. Whenever we drive through rich neighborhoods, I always joke and say "Poor folks coming through! Hide your dogs and your kids! Lock your doors and windows!"
Wouldn't it be funny if one day we end up owning one of those multi-million dollar homes ourselves? Never say never, right? 😉
…
When one of your favorite musical artists does a cover version of another favorite musical artist's song–that's like life's precious little gifts that puts a huge grin on your face. It just happened for me the other day–discovering that my favorite Korean singer, Lee Soo Young, did a cover version of one of Tamaki Koji's (leader of Anzen Chitai) song. You can listen to it here (it's also a photo slide show of a recent photoshoot she did).
Lee Soo Young is my favorite Korean singer because she's an awesome vocalist, is very down to earth, funny as hell (she's got a goofy sense of humor and is not afraid to act dorky or appear on comedy shows), and never bothered to glam up for the cameras. She's certainly not bad looking by any stretch of the imagination, but she's always avoided getting dolled up for her photoshoots or music videos–in fact, she's not even in most of her music videos–they're usually short films acted out by other actors, telling heartbreaking stories. In the recent years, she's been paying more attention to how she looks though–I guess when you get that popular, the record company will put pressure on you to do that. I'm not complaining though, as she looks quite delicious dolled up:

Tamaki Koji is my favorite Japanese male singer/songwriter because he's got an awesome range of expressive styles–ranging from heartbreaking ballads to rough and gruff rocking out growling screams. His songs are often covered by the Chinese singers, but this is the first time I've heard a Korean artist covering one of his songs–and what's refreshing is that it was covered by a female singer.
…
I've always been interested in action figures, garage kits, and fashion dolls, but having collected them for a while, I decided they just take up too much room and cost too much money. I ended up selling most of my collection (although I still have a couple grand's worth of them left in storage, but I plan to sell them all off eventually). My buddy, Em, deals in Obitsu dolls, and he's always wanted me to try my hand at painting custom action figures and dolls. I did one repaint for him about six years ago, and started doing another one recently, but I guess my interest in the whole painstaking craft just isn't there anymore, so I ended up not finishing it. Here's how far I got on the Obitsu head before I lost interest and patience:


Unfotunately, she'll have to join a pirate ship and wear an eyepatch from now on, because the chance of me finishing her face is very slim.
…
Elena's driving lessons are going slowly, because like I mentioned before, she's a total klutz with very slow reflexes, due to being too sheltered as a child and lack of interest in physical activities as an adult (and she doesn't play video games). Just asking her to put the car in reverse puts her into a state of panic. I have no idea how she's going to survive on the road down the line.
Here's the kind of torture I put her through during her driving lessons: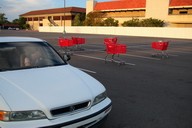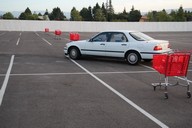 We always do her driving lessons around supper time, because she hates getting baked under the hot sun, and as all photographers know, sunrise and sunset are two of the best times during a day to take photos. Here are a couple I took during her lesson breaks:



While practicing yesterday, an Indian couple apparently had the same idea to practice driving in that huge empty Macy's parking lot. It was also a husband teaching his wife, and needless to say, the two learning drivers made each other a lot more nervous.
…
I sometimes have problem sleeping, so instead of spending hours tossing and turning, I prefer to just get up and go about my business. The other day, I woke up just when the sun peered its face from behind the horizon line. I grabbed my camera and went out for a little walk. Here's a photo I took during the walk: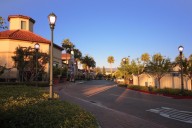 Elena loves going for a walk after dinner, as long as the weather doesn't suck, and she always drag me alone with her. I oblige because 1) I need the exercise 2) She's giddy like a school girl whenever we go for a walk, and I like seeing her happy. I sometimes bring a camera along, depending on the lighting condition. Here are a few taken with the Fuji F10: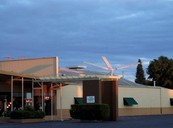 We're planning on selling the Fuji F10 because the F30 has been released and is supposed to have the features we felt were missing with the F10. The new intelligent flash linking with the ISO setting is the main reason for the upgrade, as we hate washed out flash photography, and there's no way to set the flash exposure compensation in the F10. The F30 at least will vary flash output depending on your ISO setting–it should make a big difference in how natural flash photography turns out. I'm still disappointed in the dynamic range of most point & shoot compacts, since it's inevitable to get completely blown skies, skin highlights, or total loss of shadow detail, but we really do need to have at least one point & shoot camera between the two of us for occassions where a humongous professional camera is overkill or inconvenient. I'll also be selling off the Olympus C3030Z as well, along with all the accesories I've gotten for it.