WEBLOG:
Home studio construction is still killing all my brain cells. Simply trying to find places that sell the right glassfiber panels has been an uphill battle. I've been trying to put everything down in exact details so there would be zero mistakes–especially ones that will cost money to fix. Part of that process involves producing 3D mock-ups of what I've got in mind. Here are a couple of examples:
This one was done in Sketchup, a free 3D software that anyone can download and use (google purchased Sketchup a few years ago):

For the Sketchup image, all the assets you see in the scene were downloaded from the huge archive that all Sketchup users can upload to and share their stuff. I wasn't about to go and spend a lot of time I don't have to model all those pieces from scratch, since this is just a mock-up to show the contractors what I'm after, not some 3D art piece. There are still a lot of details I need to put into that 3D mock-up, such as protuding support beams, soundproofing walls, where I'll put all my guitars and basses and amps and bookshelves, and also the rest of the acoustic panels. Hopefully I'll have it all done by the time I post the next blog entry.
This one was done in Wings3D, which is also a free 3D software: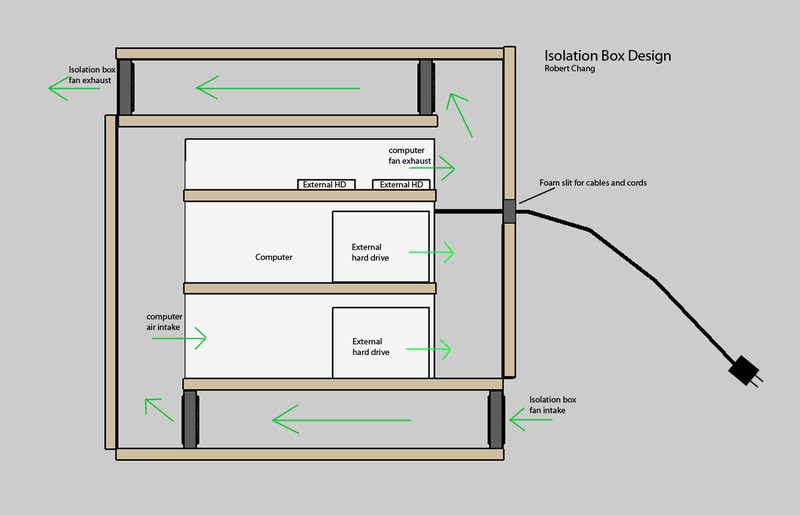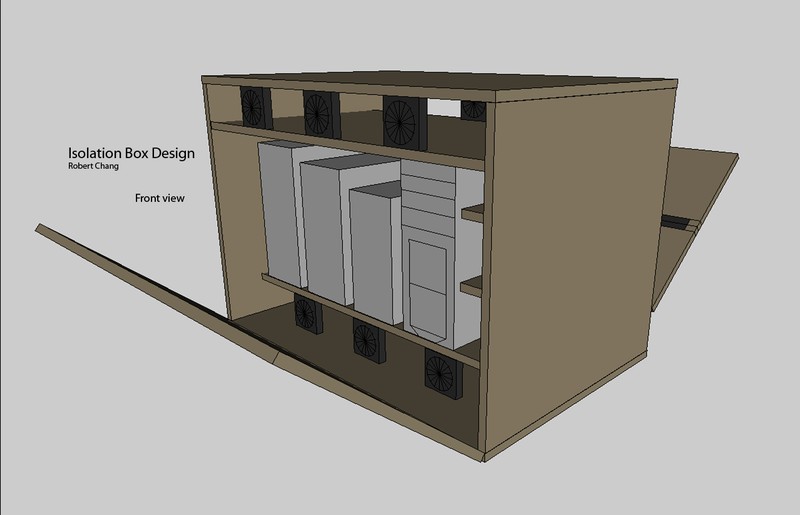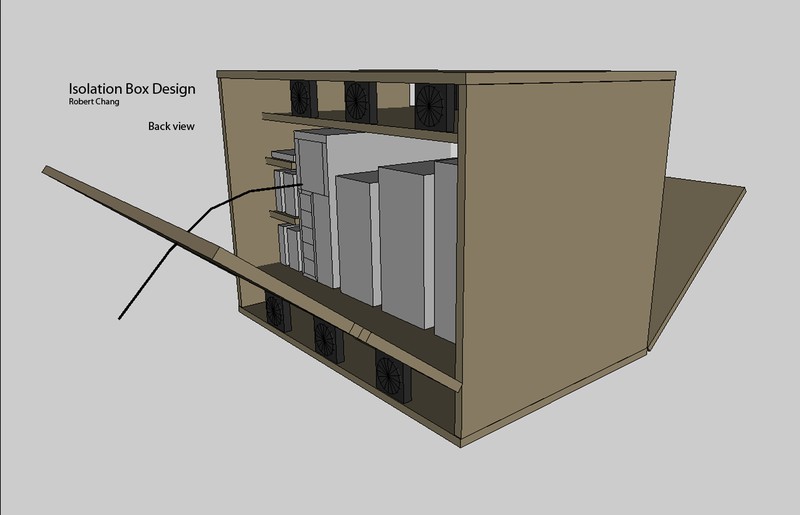 For this one, I actually did the modeling (if you can call the simple crap I did "modeling") because I don't think there's any ready-made isolation boxes in 3D out there to download and modify. I've been using Wings3D for years now and it's the first thing I boot up whenever I need to do something fast in 3D. So what the hell is it anyway, you might ask? It's basically a computer isolation box that you put your computers in to get rid of all the computer noise like spinning hard drives, fans, vibrating chasis…etc. If I'm going to spend the time and money to make my studio as quiet as possible, it wouldn't make sense to then put a bunch of noisy computers in the studio, right? So, my solution is to put them in an isolation box. This design is already outdated as I now have newer ideas I need to model, but it gives you idea of the direction I'm taking.
…
I've been working on the score for Storm Shadow, the sci-fi film project I mentioned before. I have pretty much total freedom to do whatever I want, as that's what the director told me, but being the kind of person I am, I still went ahead and sent the director detailed spotting notes (spotting for those of you who aren't film scoring geeks, means going through the film and deciding where to use music, where to not use music, what style of music, how it enters the scene, how long it stays, and how it leaves…etc).
When I begin a project like this, the first thing I do is to spot the film, and this could be done by me alone, or with anyone that has a say about the film's music (director, producer). Then I would import the video into the sequencer (in my case, Sonar Producer Edition) and proceed to insert a ton of markers that mark every possible start/stop of cues, or important moments that need emphasis (for example, a character gets thrown out a window in slow motion, and I need to change the pace of the cue to match that moment).
Before I even write a note, it's essential that I communicate with the sound designer in order to make sure I won't be composing against the sound effects, and that the music blends in nicely and neither will drown the other out during significant moments. A lot of this is decided during spotting, but many details need to be worked out. For example, let's say a character betrays another character by shooting her in the back in a dark and empty warehouse. We see a shot of the smoking shell from a bullet being ejected from the gun, hits the hard concrete floor, and bounces a few times in slow motion. A shot like that would probably be ruined if you put loud music to it. It'll work much better if you simply hear the clanging as the shell hits the floor, and that clanging is treated with emphasis by the sound effects guy so that it really resonates and connects the audience to this act of betrayal. If I was asked to write music for that moment, I'd probably do it in a subtle manner, something dark and dense, maybe with the string section. So the detail to be worked out would be, at roughly what frequency range should I stay out of as to not compete with the shell clanging effect? If the clanging effect has a lot of reverb (it's in an empty warehouse), and I'm mixing the cue to sound fairly dry (lets say it's orchestrated for a smaller chamber sound as opposed to huge Hollywood action orchestra), would the contrast of very wet sound effect and very dry underscore sound odd together? These are the kind of details I need to discuss with the sound designer and the director.
…
I often get told that I'm overly critical when I write about China, and I know I am, and it's something I'm trying to change. I can write a whole book on why I feel the way I do, but what's more important is that I try to see everything in a more positive light. If I feel that majority of what I see here are negative, then I need to try harder to notice the positive, and when I can't see any, I'll go out of my way to unearth them. I refuse to believe that I cannot find true kindred spirits here in the largest country in the world with the largest population, regardless of the cultural difference, the remaining effects of the Cultural Revolution, or the hypersonic speed of a capitalistic greed gone out of control. If I'm to live a fulfilling life here, I need to do better than I did the last time I lived here (from winter of 2001 to summer of 2006). I think one of the main problems is that I live in Fuzhou, and it is not nearly as interesting of a place as first tier cities like Beijing, Shanghai, Guangzhou, Shengzhen, or even another Fujian province city like Xiamen. I bet if I lived in a cooler city I can find like-minded folks to befriend and hang out with. I dunno, we'll see. I know there are some local bands here in Fuzhou. I need to go search them out and befriend them.
Speaking of bands, I found this awesome website that is all about the underground music scene in China, and it's all in English! Basically the people behind it are all western expats living in China and involved in the music industry. Check it out! They even have podcasts in English, so that's a great way to learn about the underground music scene in China.
There aren't many Chinese musical artists I like, and out of China, Dou Wei is by far my favorite. His unique sound marries the east and west, and you can hear western influences like Cocteau Twins and Bark Psychosis, while hearing influences of traditional Chinese melodies and instruments. He's been on a jazz improv kick for the last few years, and I wish he'd return to writing more concrete songs as I think he's a very strong songwriter. The jazz improv stuff is only occassionally interesting, and I like Dou Wei's lyrical content a lot, so I prefer to hear more straightforward songs out of him. Most of his songs are either criticisms of human nature and society, or self-introspection with a surrreal and psychedelic angle. His first two albums (Black Dream and Sunny Day) are my favorites.
Oh yeah, some of you might know him as the Faye Wong's first husband. You can clearly hear his influence in the music she recorded during that time, as he wrote some of it and performed on some of the songs. AFAIK he was the one who introduced the Cocteau Twins to her, and it changed her singing style forever (before that she was doing a kind of half-assed R&B thing). I think it was Dou Wei who pulled her into the more alternative side of music, because before his influence she was just another pop singer who sang the same canton pop that everyone else did.
…
I recently finished reading Waking the Dead by Scott Spencer. It's basically a story about how the love between a couple endures after one of them dies can have a profound effect on one still living. The premise of the story involves an upcoming politician running for congress, and as the race heats up he starts seeing his dead girlfriend, who was killed years ago in a politically motivated car bombing (she was a hardcore left-wing that volunteered at churches and helped smuggle political prisoners out of Chile). The film version is one of my favorite films, and the book was quite good, although it contained a lot more negative details about the characters and I kind of prefer the more idealized versions of the characters in the film. I was moved to tears more than a few times in the film, but the book didn't move me that much, except the last sentence, which managed to pull out some tears (it's the same ending as the film). Overall, I think my main problem with the book was that I never got a sense of what Sarah saw in Fielding, whereas in the film, it was a lot more obvious that they loved each other equally. I preferred the ending of the book though, as it left no doubt if Sarah was real or a ghost. The film tries to mess with you and let you decide for youself, and that kind of drives me crazy.
…
Quickie film reviews:
3:10 to Youma – One of the best westerns I've seen, starring two of the best actors of their generation.
*BEGIN SPOILER*
Elena felt the way Wade shot his own people in the end was too forced and unrealistic, and I disagree (and I think this is where we divert in the way we watch films–her being a very casual movie watcher, and me being a PITA film buff. She tends to not see the stuff between the lines that the writer and director hopes more discerning viewers would, and I tend to pick up on those things as soon as they're introduced). I feel that Wade's action was completely logical and the entire film was building up to that act. Throughout the film, Wade's outlaw nature was constantly constrasted against Evans's character's upstanding sense of morals and values, and more than once we were hinted that Wade was not as bad as he wants the world to believe he is–he's simply a man who learned to take what he wanted an be ruthless about it, but there is a line somewhere, just that we don't see it until the end of the film. Having gotten to respect and sympathize with Evans, and also witnessing the courage of his son and their bond, along with seeing a good natured doctor die for his sake, something clicked in Wade's mind when seeing Evans gunned down, and that something is simply this:
The people Wade surrounds himself with are a bunch of jackals–the worst that society has spawned. All of them together aren't worth of the life of one decent and upstanding man who he's come to respect and admire and empathize with. To see a good and courageous man like that die in front of him, killed by people he knows are nothing but scum of the earth made him snap, and his first and purest reaction was outrage and the desire to avenge the death of a noble man. That was the moment we see Wade's good side surface and a line drawn, and the tragedy is that it was too little and too late. Wade could've called off his people before but didn't–he was still riding high on his sense of superiority over the "common folks," and it wasn't until when it's too late did he realize Evans is anything but a common folk. Evans was the kind of man that could've been Wade's salvation–to steer Wade away from evil and bring him into the light, and in the end, Evans did, but at the cost of his life.
*End SPOILER*
Dan In Real Life – Another charming indie flick for Steve Carell. It's kind of hard not to like these types of indie films as they are for the most part harmless and tries to tell heart-warming stories without the typical Hollywood clichés. I was surprised to see Juliette Binoche in it, and even more surprised when she spoke, as her English has improved a lot. I dated a french girl that kind of looked like her many years ago, so whenever I see Binoche I'm reminded of that girl.
Dragon Wars – I had to see what the buzz was about–the whole "most expensive Korean funded film ever made" hype. Huge mistake. It was all special effects, and the writing was so bad that it actually made the typical Hollywood blockbuster crap look good. I simply cannot believe a grown man could write such horrible trash–it was like something a middle school boy wrote while being bored sitting in class. Man, I hate to end my quickie movie reviews on a crappy film, but I guess that's just how it goes sometimes.