WEBLOG:
After four and a half months of interior construction and then a couple months of follow up reworking and decorating, our home (and my new studio) is finally looking like what we had envisioned in the first place. Dealing with contractors in China was one of the worst experiences we've ever had–you simply cannot trust them and they will screw things up no matter how much you watch them like a hawk. Even if they promise you that something can be done to a certain quality, it's all just lies designed to get you to spend as much money on their services as possible. We ended up having to rescue ourselves out of the holes they dug us into, including doing some of the dirty work ourselves or hire another crew to fix up the disaster they left behind. Getting our money back? Ha! Not likely. More than once we wanted to maim somebody for the hell they put us through (and if this was in the States, we'd have sued them straight out of business), and only after weeks of reworking and damage control did we start to feel good about our new home.
So, without further ado, here are photos of my new studio and our new home. Let's start at the studio and I'll show the rest of the new home next time.
In early 2008 I started designing and planning my new studio, and it took about a year to finish–from research, design, shopping for material, construction, moving, and decorating. I set out to design a space that is very comfortable and cozy, but at the same time very inspirational and full of creative vibe. I think I managed to pull it off.
One thing that's always been very important to me is to have posters of what you love in your immediate environment. Anyone what's ever worked with me knows that I plaster images all over my cubicle–they inspire me and put a smile on my face. It's also one of the best ways to add some personality to your surrounding, and since I'm not particularly fond of most of my own works, I prefer to display my favorite works from others (though Elena made me put up a few of my own pieces as well around the house). You can tell we're about enter "my" world (as opposed to the "shared world" that the rest of the house is) because we see a poster of one of my favorite films of all time (Trois Couleurs: Rouge / Three Colors: Red) near the entrance, and a Half-Life 2 logo, warning you that like the Black Mesa Lambada deep underground lab, some pretty weird things can happen inside (and also that there's obviously a serious gamer behind the door, who adores the Half-Life franchise):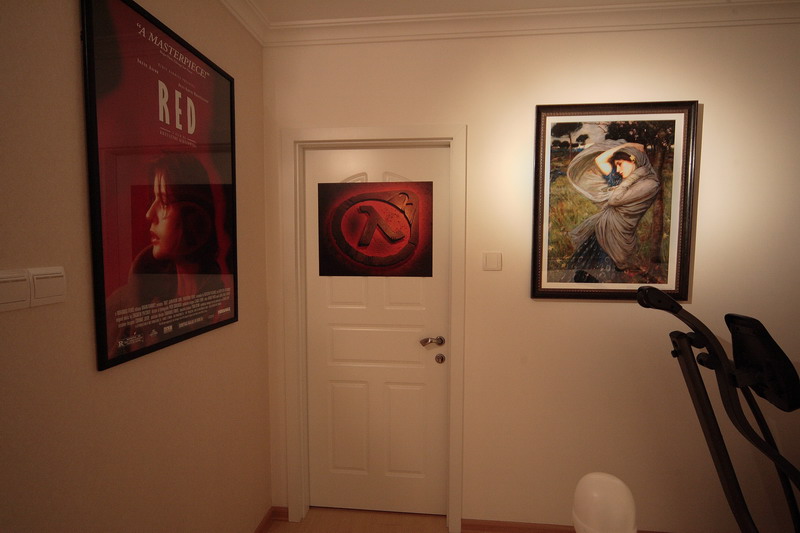 Here's what you'd see after opening the door: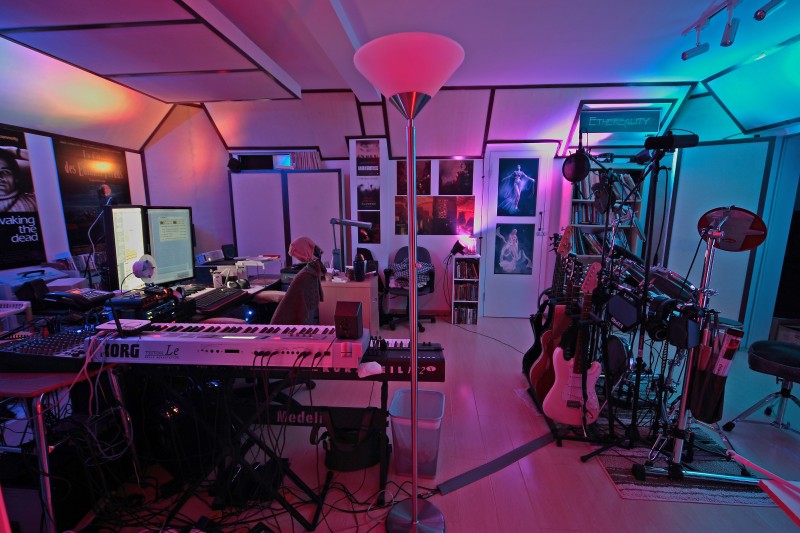 The nervous system of the studio: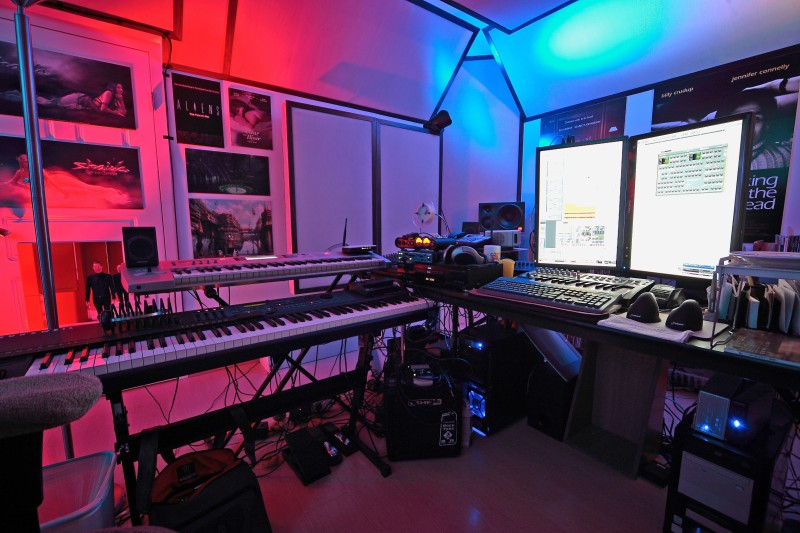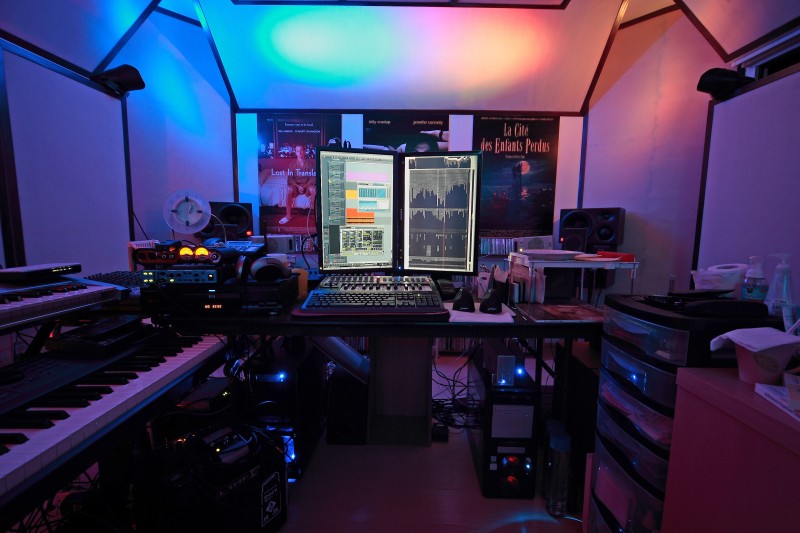 The dual 24″ LCD display setup is perfect for dual vertical rotation, and just about the right size when I need to rotate them both horizontally (when not working on music)–any bigger and they'd end up blocking the monitors' direct path to my ears: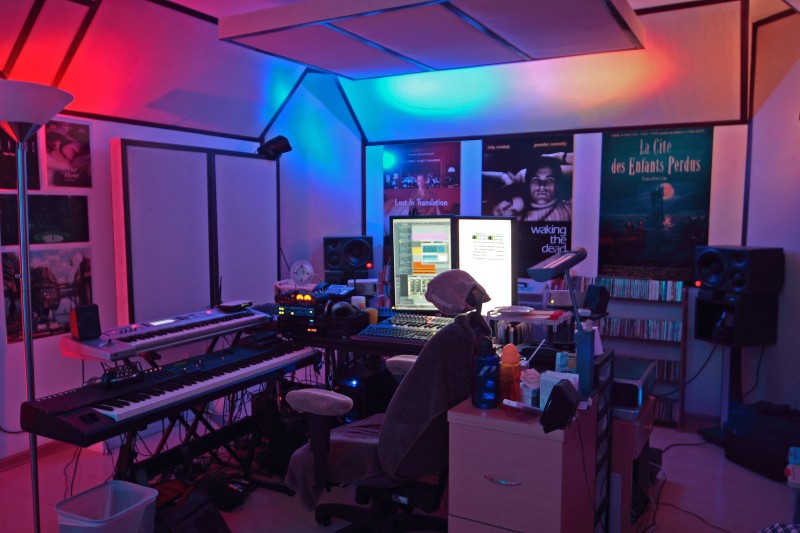 From a different angle: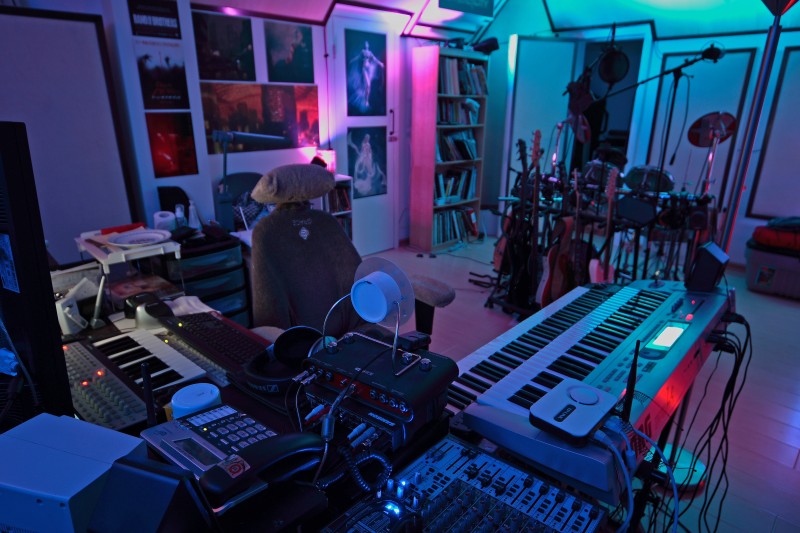 The colorful lighting (six LED color-changing lights controlled by a DMX-192 control console) is my attempt to create a more interesting environment for inspiring creativity. Colors create mood, and mood triggers emotions and ideas. I also do have normal lights in the studio too, and I usually use those. I only turn on the U.S.S. Enterprise lights when I feel like taking a voyage to where no man has gone before.
The studio is not that big–just big enough to house all my gears in a reasonably comfortable fashion, meaning I can't exactly swing my axes around without hitting anything, but I also don't have boxes piled up like I used to in the old studio. I used to have my drum set facing away from the desk to save space and I like it much better now facing the desk: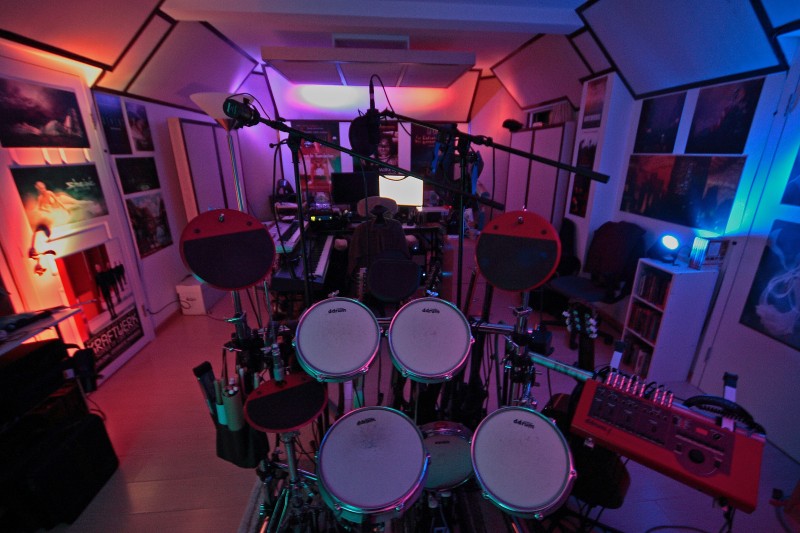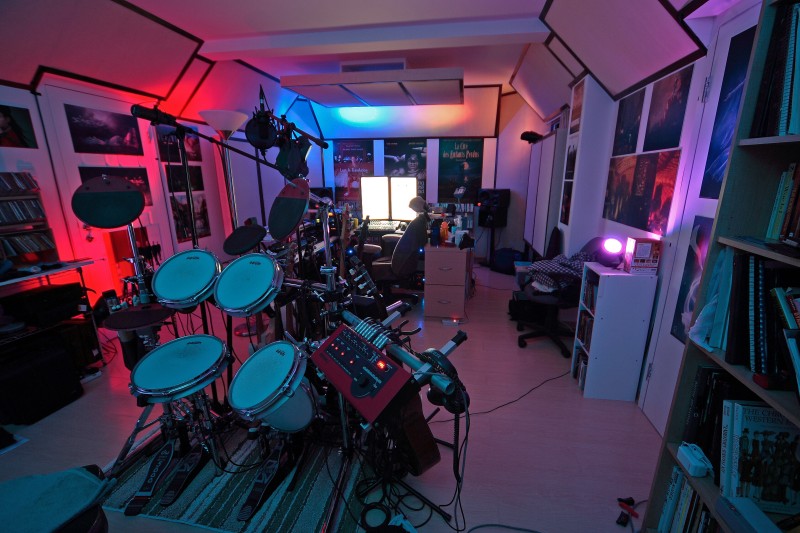 And some artsy shots of gear porn: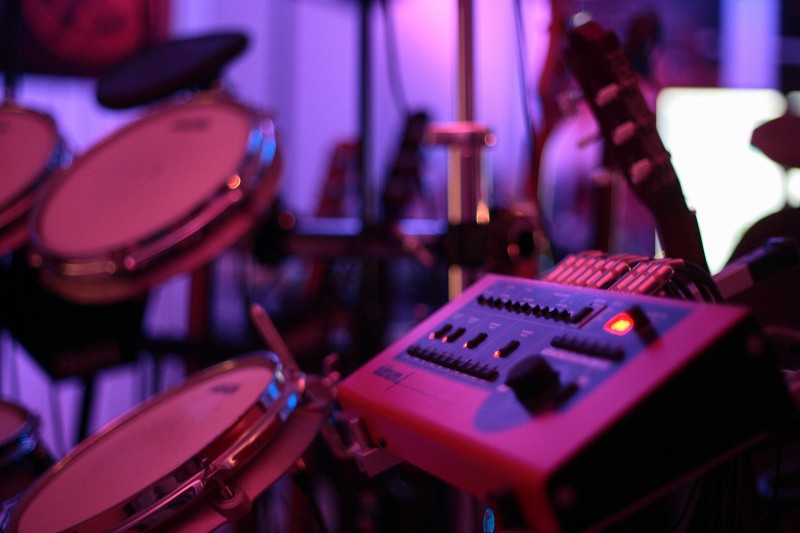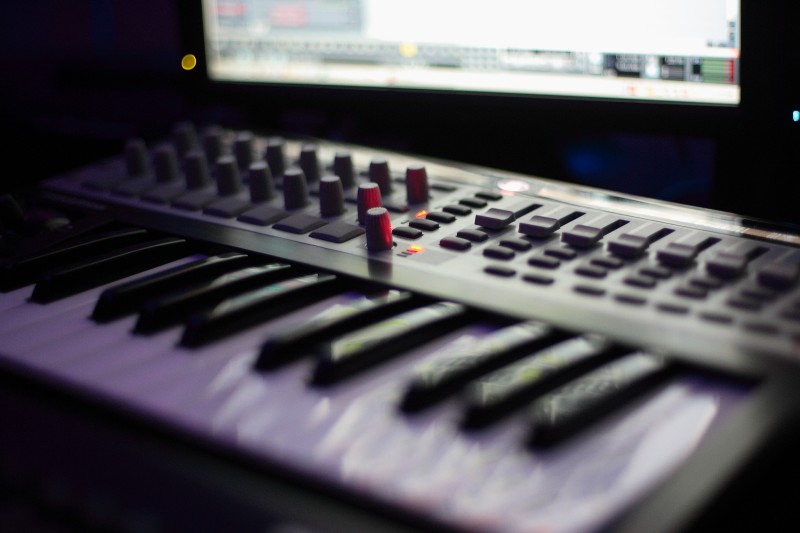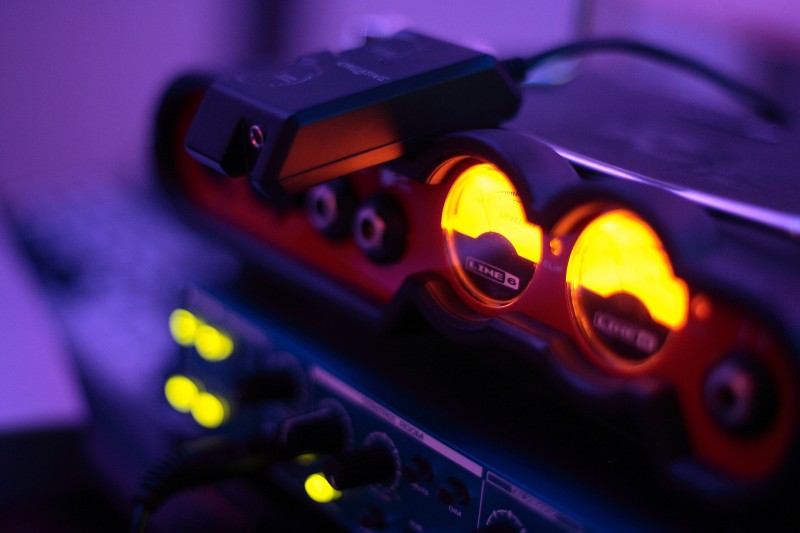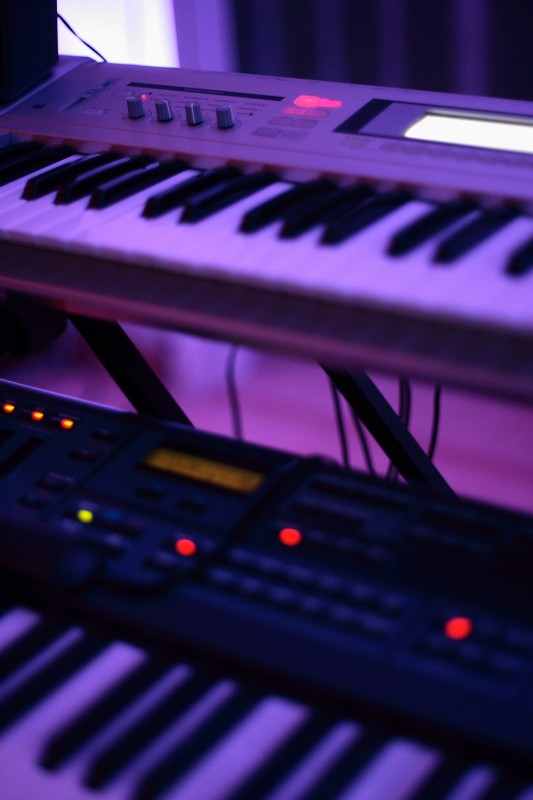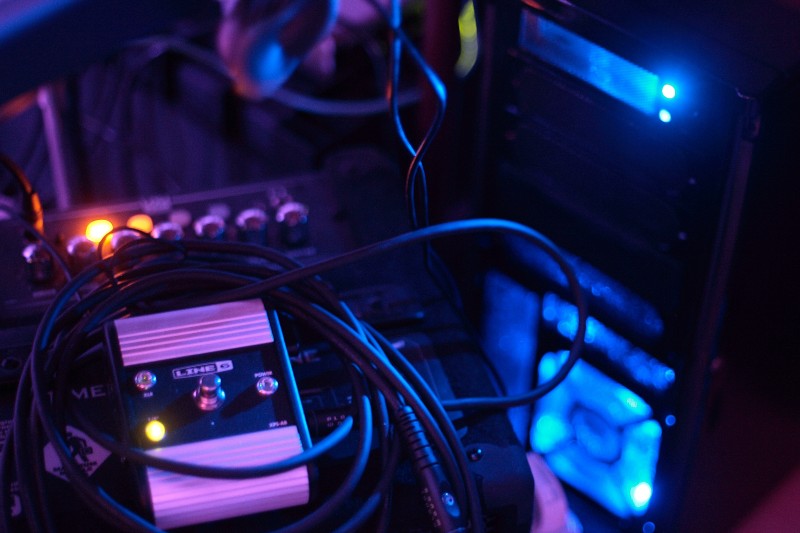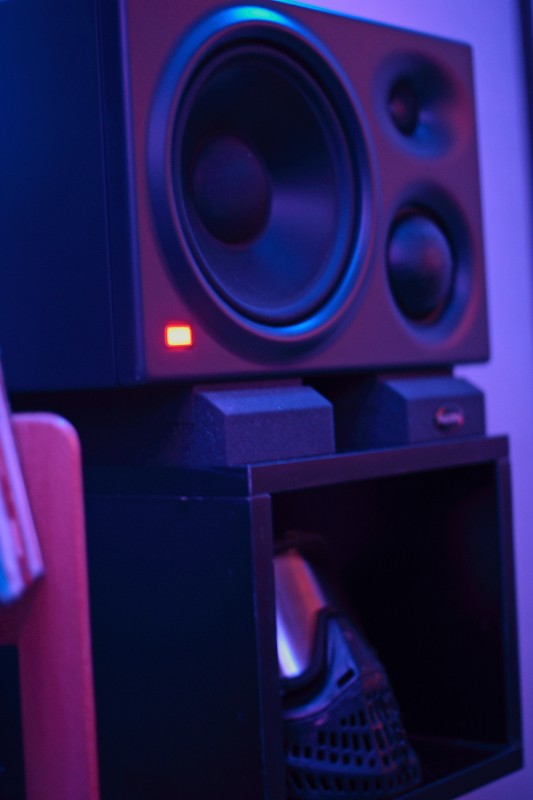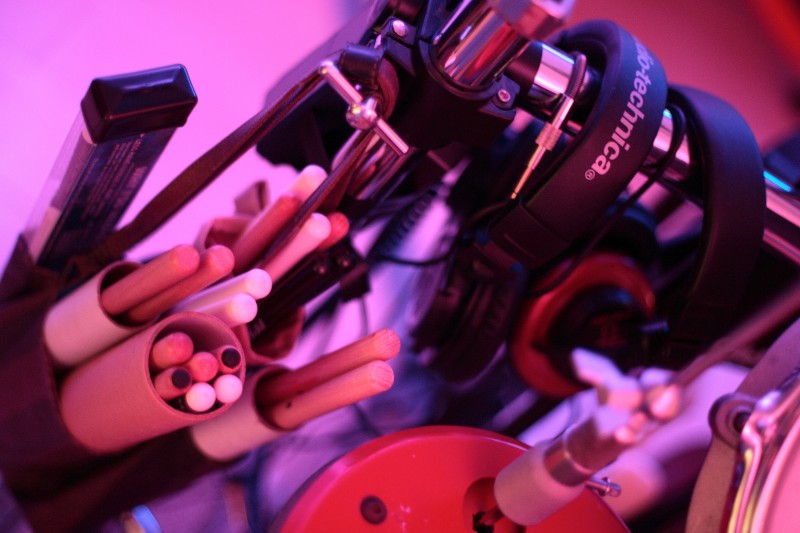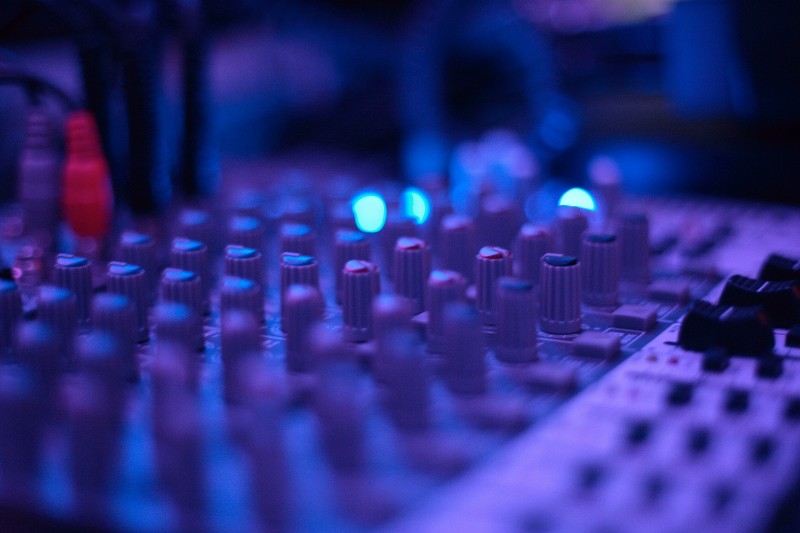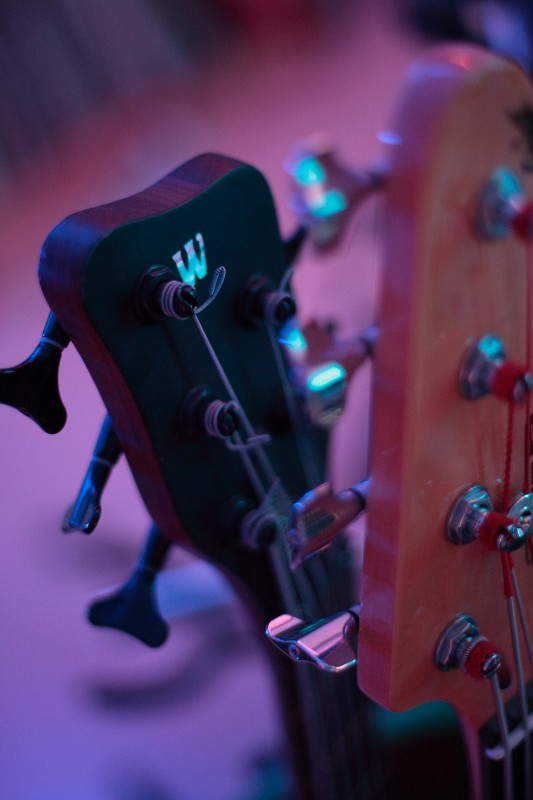 And just how does the new studio sound? It sounds fantastic. All the acoustic treatments paid off big time–everything sounds detailed, accurate, dynamic, and natural. The biggest difference I've noticed is in the low frequencies. In some of my favorite jazz vocal tracks (by Lisa Ekdahl), the double bass used to sound too prominent and boomy in just about any car stereo, home stereo, or even the same set of Klein + Hummel O 300D's in a different room, but now they sound perfectly balanced and articulate. This is kind of sad because you then realize that a vast majority of the population will never hear music on a good system in a good environment, and they will listen to music that doesn't sound like how the original mastering engineer meant for it to sound their entire lives. Currently with two computers running the studio is at low-30's db in ambient noise, and when the computers are off it's about mid to high 20's. If I put the computers in an ISO like I plan to, the studio should stay at about high 20's.
…
Quickie film/TV reviews:
Sunshine – One of the best sci-fi films I'd seen in a long time (the last one was Children of Men). I loved 28 Days Later, so I really looked forward to this one, and although films like these, as realistic as they try to be, still take some liberty with how physics really work, and I'm fine with that because the allure is in the characters and the situations. It's an intelligent and entertaining film, even though I had to look online to find out that the artificial gravity on the ship was supposed to be generated by a compressed mass in the ship (which still doesn't quite explain how they could've functioned so normally during the crazy fall/spin in the last part of the film). The score had a similar vibe to 28 Days Later (same composer, except this time he collaborated with Underworld), so if you liked that score you'll probably like this one too.
Blessed – This is one of the worst films I'd seen in a long, long time. It had a premised ripped off from Rosemary's Baby, a talentless director whose vision is mediocre at best, an editor who relied on dated and trite clichés, and a composer who obviously had no idea how to score a horror/mystery/thriller. The only thing that was somewhat enjoyable was the lighthearted bantering between the main couple–those dialogs were kinda cute and fun.
Friday Night Lights (season One) – I'm on episode five and it's quite a good show. I'm not really a sports fan, but good writing/directing/acting can make anyone interested in any subject–it's all about the storytelling.
Final Destination 2 – My wife is a real sucker for horror flicks, and I'm not much better, so when we come home with a pile of DVD's, we usually always go for the horror ones first (well, unless there's a really good sci-fi one in the pile). The sequel to the first (which was just good fun) in our opinions was even better. The fun is to guess how the victims will get offed.
Final Destination 3 – This one wasn't quite as good as the first two. By now the premise is getting stale and the fun of guessing how the victim will get offed is starting to wear thin.