SITE NEWS:
New batch of Kitty Cat Diary entries are up:
We always joked over the years that we'd stop posting new Kitty Cat Diary entries when she turns forty because she'd probably be fat and wrinkly by then, but the passage of time has been very kind to her, and she actually looks better now at almost forty than she did when I first met her nine years ago. I guess with some people, their bone structure continues to change as they age, and sometimes the change is actually beneficial to the overall aesthetic shape of their faces (assuming the skin ages well, of course). When I look at older photos I took of her from when we first met (in 2001), I can totally see how much she's changed and to me she looks even cuter now than she did back then. I guess this means the Kitty Cat Diary will go on for a while longer?
WEBLOG:
After battling with audio dropouts on my main DAW machine for far too long, I finally made the decision to upgrade to Windows 7 Ultimate 64-bit from Window XP Professional 32-bit. I probably didn't exhaust every trick under the sun available to remedy my DPC (Deferred Procedure Calls) spike problem in XP, although I did troubleshoot extensively using the commonly mentioned methods for DPC problems, such as disabling various drivers in the Device Manager, disabling internet, disabling anti-virus, updating drivers, tweaking things like the buffer for my audio interface driver, setting windows performance for background services, and other popular tricks. I was at my wit's end and in my moment of despair, it seemed like my only options left were:
1) Give up on my DAW machine and convert it into a powerful main media server/daily task machine, and then order a specialty DAW PC from a reputable audio production workstation vendor that will cost me my liver and a spleen.
2) Finally cave in and make the switch to a Mac, but sacrificing a bunch of apps that are PC-only. Even if the Mac-only alternatives are tempting, there are just far more options available on the PC. And even though I've always lamented Logic's betrayal to Apple and have many times thought about getting a Mac just to run Logic, Sonar has really caught up in recent years and I'd lose more than I'd gain by going with a Mac at this point.
3) Take a steep step off my 8th floor balcony and end it all.
4) Persevere with bull-like tenacity and never give up, like I usually do when something is important enough to me or worth the effort.
Since I needed to install four more gigs of RAM anyway and upgrade to 64-bit, it was the perfect timing to jump ship to a newer/better 64-bit OS. Enter Windows 7 Ultimate, 64-bit.
I was worried that some of my most used apps and hardware peripherals might not be compatible with Windows 7 64-bit, so I checked to make sure they had newest compatible drivers available, or can run as 32-bit apps in 64-bit. Once I determined that I had more to gain than lose, I went for it. It was a pretty painless install process, and I think Microsoft has really improved in this area. I fell in love instantly with Windows 7 due to the very convenient window pane managing features like dragging a window to the top or bottom edge and it immediately expands fully in the opposite direction, or if I drag a window and touch the side border of the desktop, it immediately expands the window to that half of the desktop fully. It was so handy that I soon found myself trying to do the same things on my other computers still running Vista and XP, only to be rudely jolted back the world before Windows 7. In Vista, I turned Aero off as soon as I started using it because I didn't find any of it useful, but in Windows 7, the new Aero features are so useful that I can't imagine living without them.
There are two things that really bugged me about Windows 7 though. First of all, why does Aero have to be so damn hard to customize? You can't even make changes to colors of the individual aspects of the GUI, because some things are locked and you can't change them. If I want full customization, I'd have to switch to the classic window GUI, but then I'd lose all the Aero features. The other thing that bugs me is the sticky notes. Why can't I fully customize their color, or the font, or even just move the text around? I understand it's just a simple sticky note reminder, but does it have to be so limited in function? Because of how limited it is, I end up using the damn Wordpad instead.
After spending what seemed like ages reinstalling all the sample libraries, soft synths, effects, DAW sequencer, audio editor…etc, I was devastated when my initial test runs were met with even worse audio dropouts and clicks & pops. The DPC was constantly in the yellow zone and I couldn't even play a MP3 smoothly. After some tweaking and restarting, it finally settled down and now it's pretty rock solid. I don't even know exactly what I did to fix it–I think sometimes drivers and Windows just takes a few reboots to really click and lock into each other.
Running Sonar 8.5 64-bit Producer Edition on Windows 7 has been pretty smooth so far–better than when I was running XP 32-bit, and now I have double the RAM to play with, so I don't have to freeze tracks nearly as much (so far I haven't needed to freeze at all). I also haven't maxed out the CPU yet ever since I built this machine back in 2008, and that's certainly something refreshing. Before I built this quadcore 2.4GHz (Core 2 Duo) machine, I used to max out the CPU easily when I ran power-hungry softsynths and effects. I'd probably still max out the CPU now if I ran multiple instances of CPU-intensive softsynths like Omnisphere, but I haven't actually used it on any tracks since I got it, so I have no idea how many instances I can run.
In that past year or so, I've only been working on simpler projects where there aren't a lot of tracks going, so I don't know how a project with heavy track count will behave. I now have all my sample libraries dispersed among four separate 7,200rpm drives, and I have all orchestral libraries that allow separate locations for sections broken up too, so all four sections are on separate drives. I also have often used instruments like guitar, bass, drums…etc all on separate drives. I'm hoping this will help denser tracks stream better, or at least not wear out the drives as quickly. I'll report back once I have run a track-heavy project, though I have no idea when that'll be, since none of the tracks I've been working on recently are big orchestral pieces.
For now, I think my quadcore 2.4GHz, 8GB RAM, Windows 7 64-bit machine will keep me satisfied for a while.
…
On a related note, Cakewalk announced the successor to Sonar 8.5 recently, and it's a totally revamped sequencers now called Sonar X1. It's basically taking good ideas from competitors and putting them together–a bit of Logic, a bit of Samplitude, a bit of Studio One, and so on. I'm definitely looking forward to it, and I hope my repeated suggestion to Cakewalk of a Photoshop-like spacebar grabber tool for navigating the pianoroll will finally be implemented in X1, because right now navigation in the pianoroll is really clumsy. I have been bitching about the clumsy envelop tool too over the years and someone at Cakewalk said it's now been fixed in X1. Finally!
…
I've been listening to John Mayer lately, and in a way, he kind of reminds me a little of Jeff Buckley in terms of his sense of melody and guitar arrangements, but his singing, lyrics, and guitar solos are very different. John's much more of an optimist and playboy, while Jeff is darker and more tortured.
It's good that he's apparently done with all the media whoring at this point, because unless he's in music for all the wrong reasons, he really should concentrate on just being a musician and let his personal life remain personal. The guy's obviously talented–listen to him play guitar for just a brief moment and it's obvious how good he is.
I was a bit disappointed by his latest album, Battle studies, since it's a bit too simple and too mainstream, to the point where the advanced musicianship I expect from a graduate of Berklee College of Music just wasn't there (and it was definitely there in the first album, Room For Squares). Whether harmonically or melodically, Battle Studies just feels too much like a typical pop record. I hope he does something more challenging next time–maybe a guitar instrumental album? But if he did that, all the ladies won't like him anymore, and he certainly cares very much what the ladies think.
…
I fell on my ass hard a while ago when I was doing a high kick on my freestanding punching bag, and since I already messed up my elbow once from slipping in the shower, I just couldn't risk breaking something else, so I ordered a couple of exercise mats: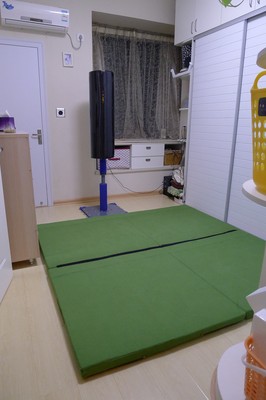 They worked like a charm–not only do they make me feel a lot more secure when I do full-strength high kicks (with enough force to knock someone out cold), they also provide much better traction, to the point where I never lost my footing again once I had the mat under my feet.
I thought about joining a dojo so I could spar with others, but I don't know if I want to risk breaking anything, especially when I'm always recording new music and must rely on my arms and legs to play various instruments.
…
I finally finished Alan Wake, and it was both fun, yet kind of disappointing. The gameplay was addictive for the most part, even if it's very simple and you are doing the same things over and over. The overall atmosphere was really intense–it managed to freak me out like a good horror movie would. The story and the writing was the game's biggest weakness. The writing was pretty silly and not even on par with bad B movies. The ending felt rushed and there was no sense of closure. There also wasn't any emotional resonance or intellectual intrigue–just this contrived and ridiculous premise and plot that was convoluted and pointless. Overall, I enjoyed the combat and the horror atmosphere, and if the writing had been less contrived, then perhaps it would have been more satisfying. But as simple, visceral fun, I did enjoy Alan Wake quite a bit.
…
Quickie TV reviews:
Dollhouse – I watched Dollhouse when it first aired, and after the first few episodes I was extremely disappointed. I don't particularly like Eliza Dushku as an actress–she doesn't have a whole lot of range, and she's not really my type in terms of looks. Seeing her as the lead was the first time where I felt Joss Whedon miscasted a character, whereas I always liked his casting in everything else he's ever done up to Dollhouse. If it was just the casting of Dushku, I could almost overlook it, but the first few episodes were so uninteresting that I just lost patience.
Now that I have given it another chance and watched the whole series, I realized it was yet again the fucking network (Fox) that made it that way. In the original unaired pilot, the pacing was totally spot on and it was far more intriguing than what the network forced Whedon to do in the first few episodes of the series. Why did they do it? Because the mentally challenged morons they called in for test screening of the pilot episode thought the story was too confusing. Seriously, if the unaired pilot of Dollhouse confuses anyone, that person might as well swallow a bullet because you've got to be the densest dumbfuck to not get what happens in that pilot episode. So once again, what could've been a great series was ruined by the people that run TV networks.
At about the sixth episode or so, Dollhouse really picked up, and it makes perfect sense because it took that many episodes for Whedon to space out the important things that happened in the original pilot, so that the idiots could follow the plot without their brains hemorrhaging. Once the series got away from the "mission of the week" format and concentrated on the main story arc, it became far more interesting. The characters also became a lot more complex once we got to see just much stake there is for everyone, and how the events have shaped them. Unfortunately, the series didn't get to end properly since the network canceled it during second season, and although Whedon tried to wrap it up for the DVD collection with two special episodes, it just wasn't quite right. The ending felt rushed and detached from the rest of the series, with a post-apocalyptic storyline and looking very different visually. There were so many things that could've played out and the series could've lasted at least another season or two, but oh well.
During the last episode, there was this solo violin playing in the score, and it was kind of jarring because the acoustic space just felt so detached from the dialogues and sound effects. I think it's a really bad idea to use a prominent solo instrument that's sitting in a totally different acoustic space than the rest of the audio track. In this case, the violin was very dry and upfront, and it just didn't work.
I liked Dollhouse, but I didn't love it. To date, my favorite Joss Whedon creation is still Firefly. Long live the Browncoats!
Jericho – What a waste of a good premise. They took what could've been a very exciting story and diluted with a bunch of inconsequential domestic drama crap that slowed the pace down far too much. Sure, we need character development and relationships, but you have to defer them to higher priorities because each show has its main identity, and Jericho's identity is supposed to be post-apocalyptic and human survival. But instead of focusing on that, what do we get? We get an episode about fighting fire at a school and rescuing some kid, which has absolutely nothing to do with the main storyline and feels like it's from some after school TV special or some trite family drama. Then there's the inconsequential relationship between the IRS chick and the farmer and his deaf sister, or the older brother's affair with the bar owner. None of it has any relevance to the story arc–it's just filler crap that dilutes the focus of the main premise.
Nikita – I'm not particular interested in Maggie Q as an actress–neither her looks or her acting does anything for me, but I was curious to see what direction they'll take with this franchise. I was pleasantly surprised, since it kind of grows on you, and Maggie Q was actually pretty good as Nikita–she felt "right" playing that role. I might keep up with it and see where it goes, but it's certainly not what I'd consider a must-watch show.
Bully Beatdown – I think other than enjoying watching total assholes get a taste of their own medicine, the show really doesn't have much value otherwise. I have to wonder if all those bullies really stopped tormenting others after being on the show, or the victims really regained their self-confidence and sense of security. After all, the confrontation wasn't between the bully and the victim. The one hope is that the bullies realize what it feels like to be powerless against someone much stronger, and stop doing it to others out of empathy, but some of these guys are such raging assholes that it's hard to imagine they have any empathy at all.