NEWS:
New Kitty Cat Diary entries:
It's hard to believe that the Kitty Cat Diary has been going for eight years now. Elena and I always joked that once she hits forty, we'd probably put an end to the Kitty Cat Diary. She's going to turn thirty-nine in just a few months, so I guess we only have about a year left before the Kitty Cat Diary will come to an end. Time sure flies!
WEBLOG:
Recently, I've been thinking hard about the next long-term project I'll be dedicating a lot of time to, and while going through all the different IP's I've created over the years and trying to narrow down to just one project to concentrate on, I started thinking about the ideal story I'd want to tell. Creative people all have different things they value most in artistic works–for some, it's originality, or technique, or motivation–it's different from person to person. I have lists of attributes I value the most too–be it for visual art, music, fiction, film, or design. When it comes to narrative stories, I have discovered over the years that these are the attributes I tend to respond to and care about the most:
-A conflict that is worthy of attention, where both sides have compelling motivations and reasons we can relate to and identify with. If only one side has compelling reasons while the other side is completely unrelatable, then we must be able to completely empathize with the one side that has compelling reasons for its actions/reactions.
-It must have emotional elements that draw us in. A completely intellectual story without emotional satisfaction tends to feel like cold and calculating experiments instead of stories we can care about.
-There has to be something profoundly moving about the story–be it a moral lesson, emotional catharsis, arduous triumph, selfless sacrifice, tragic loss, compassion, forgiveness, and so on.
-It has to have characters we are drawn to for any number of reasons–be it courage, intelligence, sense of humor, deep melancholy, devious wit, audacious ambition, ethereal beauty, and so on. If all the characters have no redeeming qualities (the UK version of The Office comes to mind), then I get bored of watching a bunch of people I'd never want to have the displeasure of meeting. I prefer stories that have characters with at least some admirable traits, as opposed to stories about characters I wouldn't care if they lived or died. The only exception to this is comedies.
-It must have an appropriate, effective, and consistent tone that matches the premise and the heart of the story. Unexplained and sudden deviations without compelling and convincing creative reasons will always result in the ruin of an otherwise good piece of work. The Halo video game franchise is a good example of what I dislike. The little dward aliens that run around yelling in cartoony voices (in a harrowing war for the survival of the human race) is one of the most inexplicably horrific creative blunders I've ever seen in my life. No excuses could justify it. I've heard all the reasons about gameplay issues and how they had to make it obvious the little aliens will scatter if you kill one of the big aliens, or that they wanted to inject some humor into the game, and none of the excuses were compelling or convincing. The Bungie guys could've done a number of different things to convey what they needed to convey–hell, I can think of a handful of effective solution off the top of my head for that particular gameplay issue or using humor that actually is appropriate and fitting for the premise. But instead, they ruined the mood of the Halo premise with that one blight of a bad creative call.
-It must feel natural, regardless if the general tone is stylized, or how fantastic the premise is. I have a personal dislike for pretentious pomp, overacting, and overly contrived stylization that is formulated at the cost of an authentic and honest visceral experience. Even highly stylized films like Pulp Fiction feel very natural and honest because the execution has the appropriate tone for the premise.
-The storyteller has to be sincere. Storytelling borne of cynicism and apathy almost always feel smug and heartless.
-No rampant and forced sentimentality. Emotions must be fully justified, and must serve a meaningful purpose in the story, or contribute to the plot progression in a way that makes perfect sense. The old narrative wisdom of "Show, don't tell," is the key here.
-I'm a sucker for premises with fantastical elements like the supernatural, science fiction, fantasy, surrealism…etc. Though I love any great story–even ones that have zero fantastical elements, my guilty pleasure has always been sci-fi, fantasy, horror…etc.
I think based on those attributes, it's pretty easy to see what my priorities are as a storyteller, and what to expect from the long-term project I'm going to be concentrating on in the near future. Thinking about each of those attributes also helped me define what I should strive for and mistakes I should avoid. I feel that at my age (turning 37 soon), I have lived enough to know exactly what I want and don't want as both a person and a storyteller, but I'm still young enough to be adventurous and an idealist. I feel like I'm starting to run out of time, and if I don't get something out there in the next few years, it would probably mean I've failed.
…
Electronic musicians are always striving for newer and better ways to control/perform their sounds, and the eigenharp is the latest invention in that quest: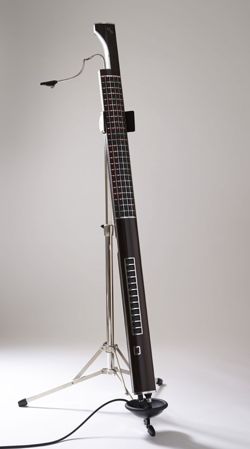 I wish it was more like the Haken Continuum where the pitch control is totally continuous, instead of single pitched keys. One of the hardest things to do electronically is convincing legato and portamento, and I have to wonder why the guys behind the eigenharp didn't address that. As it is, I'm not sure just how much better it performs compared to a nice keyboard with breath controller, pedals, pitch/mod wheels, and ribbon controller. It's probably easier to play, but that alone does not justify the hefty price tag. You can find out more about the eigenharp from these links (video demonstrations):
http://www.eigenlabs.com/roadshow
http://www.synthtopia.com/content/2009/10/06/first-look-the-eigenlabs-eigenharp
…
I recently finished playing Gears of War. While playing this game, I kept feeling like it's a game designed by the kind poser whose idea of manliness is ridiculous macho posturing. Every single line of dialog was so drenched in testosterone that it's just comical. I don't know why they even bothered to pretend there's a story, because there isn't–it's just a paper-thin premise used as an excuse to go shooting from point A to B to C to D and so on. I was also pissed off by the save system, where you have to endure the asshole game designer's God-complex and do it his way–which means NO SAVES. The checkpoint system when used right can be a decent substitute for a flexible save system, but when it's designed to test your patience and assume you like playing the same level over and over and over, it justifies the arrest of the asshole game designer, with no trial, and sent straight to the torture chamber. I can even tolerate it if the checkpoint system only restarted me at the location I died in, but noooo, that would make too much sense and be too humane. The asshole game designer makes you not only restart the location you died in, but all the previous locations from the beginning of the checkpoint. So let's say if you already cleared a whole large room full of continuously spawning enemies and then go to the backyard and almost cleared that whole backyard, but unfortunately gets killed by the last remaining enemy, you'd have to–that's right–restart at the fucking large room and clear that room all over again and then clear the fucking backyard. I know a gamer-hating asshole designer when I see one, and Cliffy B is definitely one gamer-hating mofo. With that said though, I really don't mind it when he's not testing my patience with gamer-hating save systems. I've been a big fan of the Unreal series since the very first one and have never skipped any of the Unreal games. Unreal 2 even had a good story and ending, so it's not like they can't make a game with a good story. Overall, Gears of War was an OK experience if you don't mind some repetitiveness. Visually, the game's nice, but not my cup of tea in terms of style.
The score for Gears of War by Kevin Riepl was disappointing. I'm a big fan of his hybrid styled scores for the Unreal series, but when he tries to do all orchestral stuff, it just isn't very good (he reminds me of Brian Tyler in that regard).
I never would've bothered with the sequel had I not read that it's much better–especially in terms of story and more varied environments. So I'm now playing Gears of War 2, and it really is much better than the first one. The story is now actually interesting, and you want to find out what happens next. The characters are also now more compelling, and you invest more in them emotionally. I guess Cliffy's not so bad afterall.
Quick movie/TV reviews:
Rome – Elena and I enjoyed this TV series very much, although it got cut short in the second (and final) season due to budget problems. We would've loved to see the series play out according to the original plan the creators had. The high level of production quality is obvious, and it's easy to see why the show had to end due to the unbearable cost of production. The writing, directing, acting, music…etc were all top-notch. If you like political intrigue, violence, sex, and lots of backstabbing, you probably would love this show. For us it got a little excessive at times because it depressed us seeing all the characters always being betrayed, distraught, in pain, depressed, or having lost all hope.
Quarantine – Elena and I were on the edge of our seats while watching this film and we really enjoyed it. It's one of the most intense horror films I've seen in a while, taking the Blair Witch formula of fake documentary and really kicking it into high gear. I didn't know anything about the film beforehand, and it was only afterward did I find out Quarantine was a shot-by-shot remake of a recent Spanish film called [REC]. I wonder if I should bother watching [REC] if the two films are so similar. I do find it tragic that really good foreign films have to be remade by Americans just because the general audience hates reading subtitles. This really isn't a problem for countries that never had a thriving film industry, since they are so used to importing movies from countries with healthy film industries, and they are so used to subtitles that they don't even think about it. Some people prefer dubbing, but the abysmal track record of dubbing has long given it a bad name. It would be much better to try to improve the quality of dubs or try to get American audiences to accept subtitles than remaking foreign films, but it's never going to happen. Americans are so spoiled by having the largest film industry in the world that they would simply find something else to watch where they don't have to exert themselves.
Frost/Nixon – I enjoyed this film, and it's one of the better Ron Howard films I've seen–probably his best film since Apollo 13.
The Knowing – I have kept hoping that one day Alex Proyas would make another great film like Dark City, and I'm still waiting. The films he's made since Dark City were…well, let's just say the term "one-hit-wonder" could be applied to filmmakers as well, not just songwriters. The Knowing has an interesting premise, but it just wasn't as compelling as it could have been, especially with such a promising premise. The spaceship design for the aliens was really good though–one of the best designs I've seen in a long time.
The Curious Case of Benjamin Button – I knew I wanted to see this film at the very least for the best digital effects Hollywood has yet produced, and while I hoped the story would be worth the time spent watching the effects, I was surprised by what a let down the film was. There was no essential theme, no emotional catharsis, no triumphs, no moral lessons, no complex dilemmas–just arbitrary smattering of events strung together had no deeper meaning or contributed to any tangible proof that they had compelling and lasting effects on any of the characters. The entire film was essentially a lot of hot air about nothing. All of the conflicts were contrived and meaningless, and gave no emotional or intellectual satisfaction whatsoever upon the film's conclusion.
Out of the Blue – This film is an example where I felt the direction was too bland and didn't do the premise justice. For a film about an insane man massacring over a dozen of his neighbors and eventually gets taken down by the special forces, it wasn't nearly as harrowing as it should've been. I think overall the execution felt dated and lacks the edge that contemporary films of the same genre has.
The Proposition - I've heard good things about this film, and it didn't quite live up to my expectations, especially after having seen a stream of excellent recent westerns. While I liked the character of Captain Stanley, I didn't care for the rest of the characters or the story itself. Charlie's moral dilemma never felt immediate to me, and I feel if the film had been concentrated on Caption Stanley's moral dilemma, and perhaps centered the story around him trying to protect Mikey at the cost of his job, or even his own life, the story would've been far more poignant and meaningful.
This is England – It's rare to see feature films that feel this genuine and sincere. It feels almost a little like if Larry Clark had directed American History X, but with England as the backdrop and with an English cast. Young Thomas Turgoose was very good as the main character, and I hope we'll see him grow into a formidable actor.
Transporter 2 – Mindless entertainment. There's no other reason to watch popcorn movies like this. I try to keep a balance diet of different types of films so I can be more well-rounded, and sometimes mindless fun isn't so bad when you're in the mood for it.
Infernal Affairs III – Totally unnecessary, and feels like they're simply trying to milk the franchise while riding on the coattail of the previous films.
Dead Snow – Even as a mindless popcorn movie it fails. Really pointless and banal writing, no character development, no semblance of a plot, and feels like what happens when a bunch of horror film geeks lacking any talent whatsoever for writing and directing gets together with some equipment and decides to make a movie.
Factory Girl – The film itself is OK, but the subject matter is one that makes me roll my eyes. I've always had this strong dislike for people who I see as parasites–socialites, the sex, drugs, and rock n' roll self-destructive narcissism, and fashionable fake-artist whose only real talent is media manipulation, without any redeeming qualities as human beings. That whole segment of the society is just a waste of oxygen. I didn't know that Hayden Christensen was in the film,and when he showed up on screen playing Bob Dylan, my immediate reaction was, "Are you fucking kidding me? Someone actually thought this was a good idea?" The fact that Christensen actually thought he had the acting chops to pull it off shows how much he overestimated his own talent as an actor.
44 Minutes – It was pretty good for a made-for-TV movie. Not much really happens though–it's just two heavily armed bank robbers shooting it out with the cops–that's it–that's the whole movie.
Quick and the Dead – I couldn't make it past the first ten minutes. Very low-budget film with terrible writing and direction.
Bad Boys II – Well, it's Michael Bay, so you know what you're in for–cheesy dialogs, bombastic action, and about as shallow as dish water. I torture myself with films I know I wouldn't like, or even would hate, simply because I want to experience both good an bad films so I never lose perspective on what the entire film industry is really like. I think people who only watch films they know they would enjoy end up having a very skewed impression of what the world of feature films is really like, and being so ignorant of other types of films can be detrimental to one's development as a creative person. So for the sake of having a well-balance diet of good an bad films, I suffer.
Underworld: The Rise of the Lycans – It was an OK movie–about the same as the previous two. Although I love the premise and the mythology, the films themselves aren't exactly great cinema.
District 9 – After all the hype and glowing reviews, I was disappointed. The basic premise recalls South Africa's past turmoils, but beyond that, I really didn't see anything special that transcended other typical sci-fi action films. Many are calling it the best sci-fi films of the last decade, and I sure would like some of whatever it is they are smoking.