Weblog:
Recently when I was making videos about the Zendrum, I realized I really needed a dedicated camcorder instead of using the video recording feature on the Fujifilm F30. We've always used our cameras' video recording feature whenever we needed to record videos, and we've always been fine with the inherent limitations. But now that I need to shoot more demanding videos where I need to exercise a lot more control over the shooting process, it was time to bite the bullet and get a camcorder. I did a lot of research and debated about whether to go with standard definition or high-definition, and finally decided that since the entire market is obviously moving towards HD, it would be kind of stubborn to stay in the SD world. I did think about whether I would need to burn DVD's to share with other people, or the extra space and processing power required to work with HD footage. In the end, I decided that HD would be doable and SD would be taking a step back in technology.
Other than shooting the typical travel and home movies, I will be uploading to Youtube some music-making gear reviews and demonstrations. I might try to shoot some live-action stuff with it too–perhaps a short-film, but it's unlikely to happen when I'm in China, since I don't really have an interest in working with local Chinese actors or shooting anything in the Chinese language (unless I happen to write a screenplay that takes place in China).
The HD camcorder I ended up getting was the Canon VIXIA HF11 AVCHD :


I was surprised by how tiny the thing is. My last memory of consumer camcorders was when they seemed at least two or three times bigger: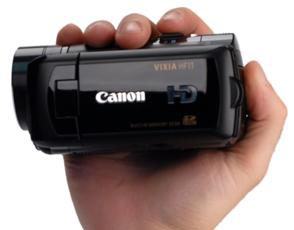 I also got the Canon VL-5 optional light for it: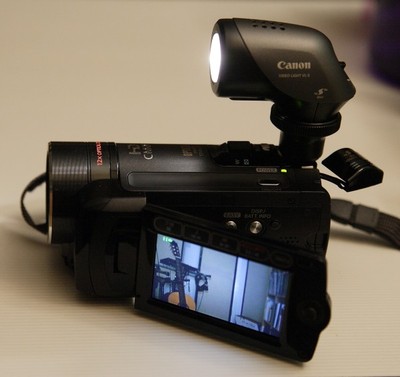 Other accessories I got includes a Sandisk 32GB class 2 and a Toshiba 32GB class 4 SDHC memory cards, a Pisen BP819D battery/charger, and I'll also be getting a Canon WD-H37C II 37mm Wide Angle Conversion Lens soon, since the wide end of the HF11 is laughably NOT wide.
The VL-5 is 3,000 kelvin degrees halogen light, so it's warmer than neutral. I think Canon designed it that way because they think the typical ambient lighting used in various places are warm tungsten lights, so the fill light would need to match the ambient light temperature. The small LED light that's built into the camcorder itself is very cool in temperature, likely deviating from the standard 5,00k even more than the VL-5 (though on the cooler side). The LED light isn't very bright and casts everything in a cool, bluish hue, so the VL-5 is good purchase if you want a usable fill-light.
After testing it out for a couple of days, I pretty much figured out the optimal settings for most of the shooting situations I'd encounter. The Cine mode gives the best detail in highlights and shadows, but the image is flatter than the other modes. Setting the Image Effects to Vivid will help, but it's still not as vibrant as I'd like. There also seems to a cap on the ISO when in Cine mode, since the exposure never goes up in Cine mode after reaching a certain threshold, so if a scene is dark, it'll stay dark instead of automatically going up in exposure or going down in shutter speed. The lack of high-ISO noise like in the other modes also tells me there must be a limit of how high the ISO will go in Cine mode. I have the frame rate set to 50i since the PF25 that's recommended to use with the Cine mode is way too sluggish.
I'd love to have shelled out the bucks for a professional grade HD camcorder so I can have deeper manual control down to the last detail, but like I said, I have no interest in shooting live-action stuff while I'm in China, so it would've been money wasted. For casual use, the HF11 is perfectly fine, if you know how to adapt it to various lighting situations. Luckily I have already accumulated a lot of technical knowledge from photography over the years, and the main foundation knowledge is the same from photography to video. As long as you have a firm grasp of the main concepts behind how aperture, shutter speed, ISO, metering, white balance…etc work together to contribute to the final output, you already know all the most important technical stuff.
One annoying thing about the HF11 is the ImageMixer 3 SE software that comes with it–it refuses to install because the serial number from the HF11 is rejected. I may have to end up paying for another AVCHD capable video editor, but I'd rather not since I already have Adobe Premiere CS3 (though it can't import AVCHD, unless you play for a third-party solution).
Although I'm still busy working on the course material for the workshop, I'll try to find some time to remake the Zendrum video with the HF11 and get it up on Youtube.
…
Speaking of the workshop, one thing I've noticed is that I tend to spend a lot of time creating content that are rarely, if ever, readily available in the instructional books and DVD's, or even art school classes. I try to not spend too much time on topics that already have tons of readily available free and commercial resources, since that's not the point of the workshop. The whole point of the workshop is to teach both essential foundations and also critical advanced knowledge and techniques that's very hard to learn due to lack of resources, or would require many years of experience and gradual evolution as an artist to grasp. My goals is to make those highly difficult aspects easy to understand, so the students can shave off many years from their struggles.
Some of the topics in the workshop that have very little available resources elsewhere are advanced theories like the complexities and principles of stylization–for example, the anatomy of visual vocabulary, and the way they combine to describes different visual styles–from culturally influenced styles (anime, American comic books), house styles of prolific studios and intellectual properties (well known franchises, animation studios), to personal styles. Stylization is something that even pros often don't get right, and while it's often a matter of taste, there are very important universal rules that artists must observe in order to create styles that are effective and appropriate for any given intellectual property. A related topic is the matter of aesthetics, and it's a topic rarely ever taught in detail in art schools or in commercial "How To" books and videos. In the workshop, I try to help students learn to dissect the mysteries of aesthetic concerns, and also look at examples of how an artist might evolve aesthetically, but not always for the better.
There are so many other things in the workshop spanning all topics (composition, lighting, color, surface polish, stylization, aesthetics…etc) that I purposely designed so the students can learn things that they would not be able to learn from elsewhere–things that are often overlooked, insufficiently explained, or maybe beyond the understanding or insight of other teachers and authors. I'm not saying that as an artist or teacher I know more than others–what I'm saying is that I just happened to have given a lot more thought to all the vital knowledge that are missing from the instructional materials out there. I'm sure some of the artists and teachers out there also know this stuff, but for some reason it just never occurred to them to teach those complex and difficult topics (maybe the fact they are difficult is the main reason).
Anyway, I'm getting closer to finishing the course material–maybe about a couple more months away, and I can't wait to pass on all those critical knowledge and techniques to the next generation of aspiring artists.
…
Although there's truth to the advice that you should surround yourself with excellent creative works in order to learn from and be influenced by the best, it's also true that we often need to experience the polar-opposite to really understand why the masters are so great. The reason why is because often the masters are so skilled that you often cannot figure out why something they did worked so beautifully–there is no trace of the string on the puppet, or any evidence of clumsy tempering. It's like watching master magicians–you try as hard you could but you can never figure out how the magic is done. But if a bad magician tries to perform the same tricks, as soon as he fumbles, we can see exactly where he failed, and we get a glimpse of the secret to the tricks themselves. That is what happens when we try to learn from inferior creative works, and by becoming familiar with the various telltale signs of inferior works, we gain a deeper understanding of how superior creative works differ. This is the main reason why I force myself to sit through films that I already know are horrible–I need to be well-versed in both excellent and egregious examples to be a more well-rounded creative person. Of course, I don't purposely go and seek out horrible films–I simply sometimes watch them when they happen to fall on my lap (on TV, friends with bad taste, given to me…etc). Sometimes I would not be able to sit through the whole thing–maybe just the first fifteen to twenty minutes before I eject the DVD out of disgust. Sometimes, a film that is mostly well-made but contains some glaring artistic and technical faults would be the most educational, because you get to witness and compare in the same film what worked and what didn't.
So, for those of you who turn your noses up at what you consider inferior works of art–take a deep breath, and try and see if you can learn a few things from them. You might be surprised at how much you learn just by trying to analyze all the things that are wrong with bad works of art, and how exactly, down to the last tiny detail, you would've done things differently. The most valuable lessons you learn from bad works of art is to never repeat those same mistake in your own creative works.
…
It's been a while since I got motion-sick from playing a video game, but when I tried to play The Darkness recently, it really messed me up bad. Just seconds into the game and I can already feel it happening. I wish I knew what the exact causes are, and all games would have different settings to help alleviate the problem. Some games allow you to change the Field Of View for that reason, but it's actually rare that a game has that option available.
I've tried a few different games recently but so far none really made me want to continue further, except maybe Assassins Creed, but mostly because it's got one of the best presentation I've seen in a game. Far Cry 2 so far is really disappointing, especially compared to the first game, which is on my list of favorite games of all time. The premise just isn't very interesting and the storytelling is so unremarkable that you just have no reason to want to go on. Mirror's Edge was fun at first, but after a while it just feels repetitive, and some of the jumping puzzles are incredibly frustrating. The storytelling also moves forward in a way that's not very compelling, not to mention the cinematics have some of the worst art direction I've ever seen in my life. I wonder how they decided on such an idiotic looking style–one that has nothing to do with the awesome visual style of the game itself. I also tried Grand Theft Auto IV, and as much as I wanted to love it, I just don't think I'm the type to be able to fall in love with a sandbox styled game. There are just some sensibility issues I can't agree with. While I had a ton of fun with GTA: Vice City years ago, I never finished that game either because there just wasn't any motivation in terms of the narrative. I think the sandbox genre needs to figure out a more compelling way to propel the storytelling forward–perhaps usage of scripted events sprinkled within the sandbox environment itself. As it is, it feels more often like stupid mindless fun instead of engaging storytelling.
…
I finished a couple of books recently. Here are some thoughts about them:
Inside Delta Force, by Eric Haney – I've heard all the negative opinions about Haney–that he embellished the truth, fabricated events, and made false claims–criticisms that came from his ex-squad mates and commanding officers who read or heard about his book. To make things worse, the TV show he helped co-create and write, The Unit, is a pretty unremarkable show because it contained some ridiculous situations that could never happen in real life (such as the season one finale)–which damages Haney's reputation even more. So, even before reading the book, I already had some reservations, and I have to say, the book was quite good, with plenty of juicy detail that special forces enthusiasts like myself could chew on–from how they train inside the Kill Houses, how they train to do spy work, to how they take down terrorists in various environments like commercial airlines and trains. In the book, Haney didn't exhibit any characteristics that you'd associate with the harsh criticism from his ex-squad mates and CO's. But then again, most intelligent people know how to lie very well and pretend to be someone they're not. Overall, I enjoyed the book more than I enjoyed Chuck Pfarrer's Warrior Soul, since it was more detailed in the actual operations and more exciting as well.
Becoming A Synthesizer Wizard, by Simon Cann – I regret getting this book, and it's not because it's a bad book, but because I already own two similar books (How to Make a Noise and Cakewalk Synthesizers: From Presets to Power User) by the same author, and this one more or less feels redundant. I even contacted the author and asked him if I should get this book, considering I have his other books, and although he ultimately advised against it, the reasons he gave were never really about redundancy. I suppose from his perspective, the book contains enough unique information, but from my perspective, if you already have books that covers all the different synthesis techniques and how to operate some of the most prolific softsynths on the market, it's pretty much pointless to get a book that focuses on software modular synthesizers, because you already know enough to be able to figure out any modular synth.
The book itself is good, and if you don't already own books on synthesis, this would be a good book to get. But when push comes to shove, I would recommend Simon's other book, How to Make a Noise, over this one, since it's more in-depth on the stuff that really matter.
…
Quickie movie reviews:
Clean, Shaven – A very poignant and moving film, without ever being sentimental or contrived. It's an unflinching look at a schizophrenic man trying to find his daughter, and what happens when he finds her. Elena couldn't watch the film with me because the Chinese subtitles were horribly wrong (sometimes I would translate an entire film for her, dialog by dialog as we watch, but not on that day), so I watched it by myself. I later described the story to her and just listening to me describing the ending brought tears to her eyes.
The Reader – I liked the film, and I enjoyed the multi-layered complexities dealing with personal and cultural guilt. Kate Winslet was excellent in the film–probably her best performance to date.
An American Haunting – The idea behind the story itself isn't bad (repressed memory shown as supernatural events), but the execution was ineffective. I've seen horror films with similar ideas that were much better executed. Avoid this film unless you have nothing else to watch.
Aftershock: Earthquake In New York – This was a made-for-TV film, and it wasn't great, but pretty good for what it is. If you like Jennifer Garner, then you might watch it just for her.
Traitor – A strong film that's executed very well, but I wished some of the character relationship developments could've been more in-depth, so we get a deeper insight into the inner conflicts of the terrorists-in-training. That would've been a different film though, since this one at its core is still an action thriller.
The Strangers – Perfect example of technique over substance. If the screenplay didn't depict such moronic main characters, the film would've been amazing, but since most of the audience has better common sense than both of the main characters, the film falls flat on its face. Instead of being scared, the audience laughs at (or gets angry at) the main characters they're supposed to identify and empathize with. This is what happens when filmmakers underestimate the audience.
I believe that the audience in general wants to see intelligent, resourceful, and courageous protagonists, instead of idiotic, chicken-shit, fumbling morons. Watching fools get offed because they are too stupid to know any better is not all that entertaining, but watching smart and resourceful protagonists battling it out with the antagonists is very satisfying, and even educational if the protagonists devised solutions and strategies that are plausible and realistic.
Blood Rayne – I couldn't force myself to watch more than the first twenty minutes before I had to eject the DVD. I often force myself to watch movies that I know are really bad just so I can remind myself what bad films are like, and also to see if I can gain some new insights into all the little and big things that bad filmmakers don't do right, in order to remind myself to never commit those same mistakes. But sometimes when a film is so bad you just can't make it all the way through.
The level crassness really has to be seen and heard to be believed–horrible dialog that completely mixed syntax and cadence without any knowledge of how modern and period dialogs differ, ridiculous and laughably dorky costume designs (Michelle Rodriguez's costume made me laugh hysterically–it was the worst unintentionally bad costume design I've ever seen in my life), cringe-worthy acting and directing (it's Uwe Boll after all), and to top it off, seeing Ben Kingsley embarrass himself by being in that film.
Pride and Glory – A pretty good film about police corruption. Some of the character motivations seem a bit forced, but it's technically and artistically well-executed, and I thought the ending was satisfying.
The Apocalypse – Avoid this abomination by the Christian production and distribution company called Faith Films. It's so bad that even the Christian community wants to disown it. I couldn't finish this one either–it was just too painful.
Flood – A pretty entertaining disaster film overall, but it's not as gripping as some of the other well-known films in the disaster genre.
Man On Wire – I thought this documentary was overrated. Most of the critics loved it, but I found it to be a bit too stylized for a documentary. Also, the progression of the film was too slow, without enough intrigue to make you want to keep on watching. The film's climax was also disappointing–no video footage, only a few still photos with narrations. They probably should've just had him plan a whole new project and then filmed that instead, so they'd at least be able to film the actual climax.
White Noise: The Light– It's a little heartbreaking to see Captain Tight Pants (you know who he is if you're a Browncoat) in this film. He really tried his best, but the writing, directing, and editing were just such clichéd drivel that I wished more than ever that Firefly didn't get canceled. At least he'd still have some dignity left as an intergalactic petty thief.