NEWS:
The registration to the second run of my workshop closed much earlier than usual because too many people signed up for it and there's already a waiting list. I'm as surprised as anyone, since the class filled up half-way just after the first couple of days of opening for registration, and that's before CGSociety even started announcing and promoting it. When it filled up so quickly and people were put on the waiting list, my jaw was on the floor. I think it's probably because there were already people who couldn't make the first run and they were already waiting for a second chance to take the workshop, and the glowing testimonials from the students of the first run probably got some people excited too.
For me, this is once again proof that if you put your heart and soul into something and work very hard at going above and beyond the call of duty, people will notice, and they will appreciate your efforts. I was very fortunate that there were students in the first run of the workshop that were open-minded, receptive, intelligent, curious, and hard-working. They made the teaching experience a pleasure, and I hope they will continue to benefit from my instructions down the road in both their artistic and personal journey in life.
WEBLOG:
My Denon AH-D7000 finally arrived, and I've been putting it through its paces during the last few weeks. My perspective on the D7000 is from a slightly different angle from most people who have reviewed it, since I have used the previous generation of Denon flagship AH-D950 headphones from mid-90's to 2005 or so. It was already falling apart around 2001, and I kept taping it back together until it could no longer be fixed and looked like crap. Here's the D950 all beat up, with electrical tape, worn out pleather earcups, snapped off housing…etc: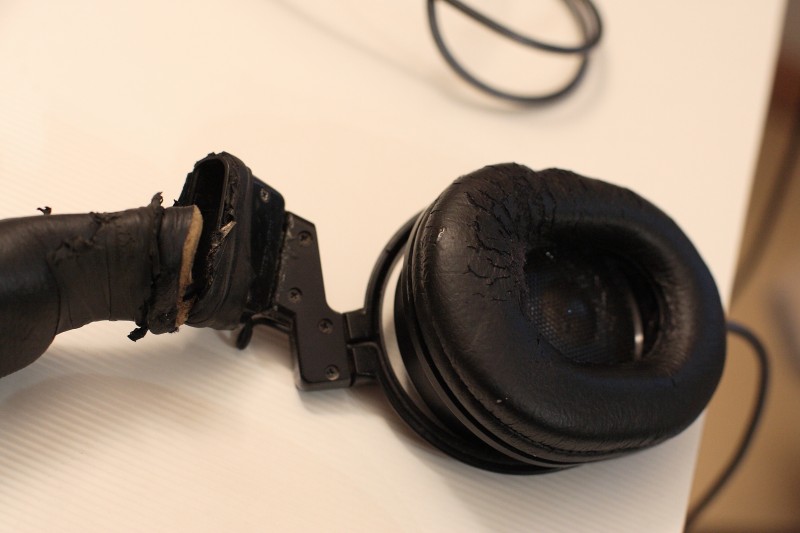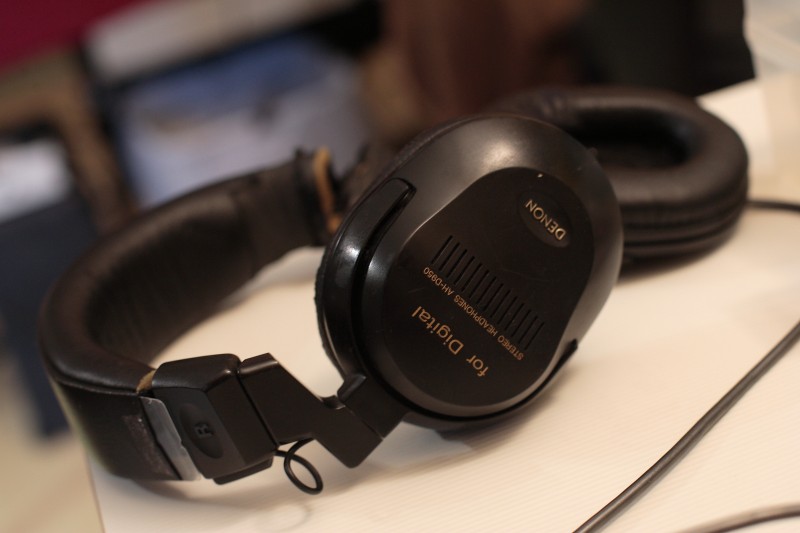 It's been with me all over the place throughout the years though, and will always stay in my memory. It still sounds great too, after the countless dropping on the floor, accidentally blasting at full volume, getting crushed/knocked around in the luggage…etc.
And here's how the D7000 compares to the previous flagship model: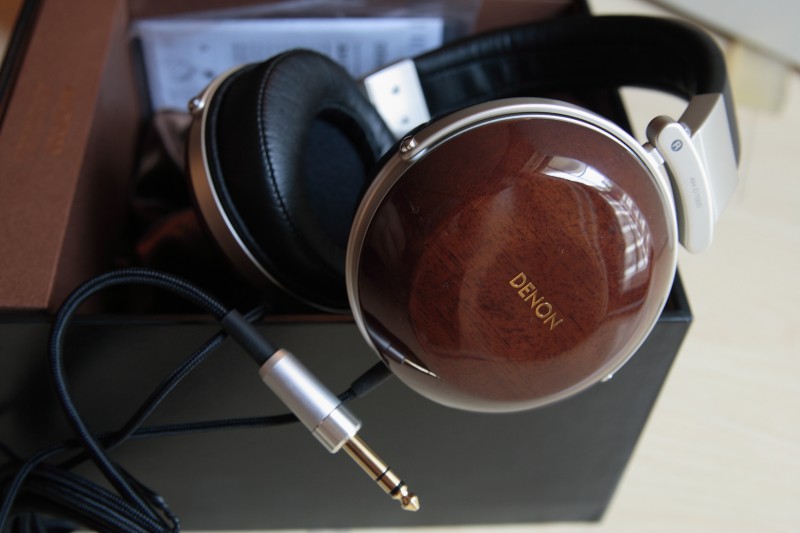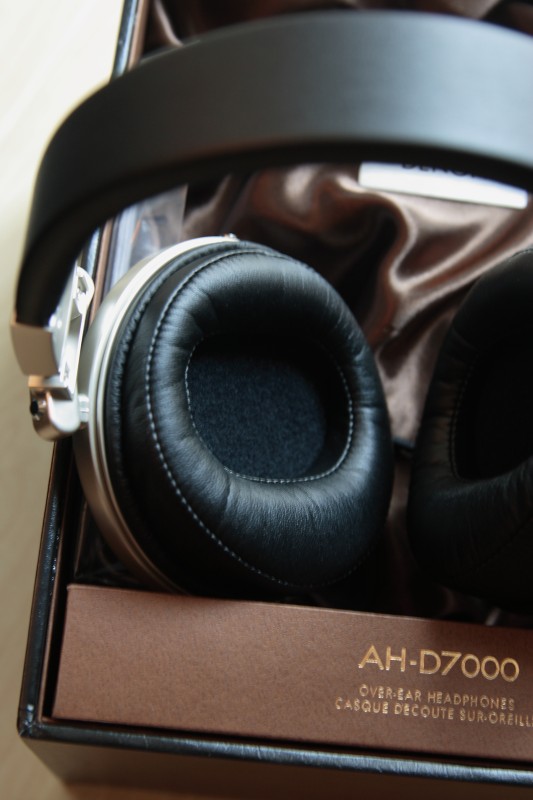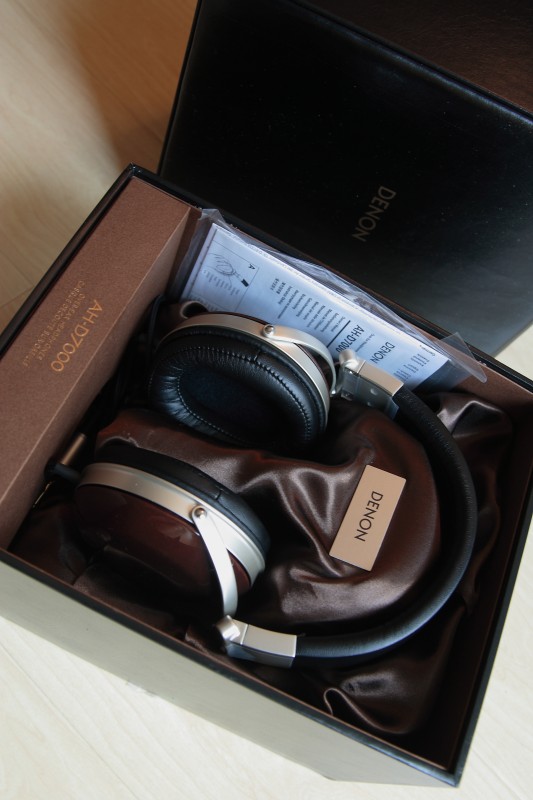 What was immediately apparent to me about the sound of the D7000 is that it carried the torch of the D950 into the modern age. They have a very similar sonic signature. The D950 have that somewhat hi-fi sound where the treble and bass seems to have that smiley face EQ'd enhancement (just enough to be "exciting," but not too much to become grating and fatiguing), while the D7000 is more accurate, but still retaining the excitement due to the superior sub-bass and detailed treble. The D7000's sub-bass is definitely more substantial in the 30Hz range, whereas the D950's sub-bass starts to roll off after 40Hz or so. The D950 emphasizes the upper bass for more punch, but the D7000 does not have any obvious peaks or dips in its bass region and is remarkably flat all the way down to 30Hz. The D7000 is also a tad more refined across the entire frequency range–higher resolution, if you will. In terms of comfort, the D7000 is very comfortable to wear–much more than the D950, since the D950's earcups are shallow, with your ears touching the drivers, and it can get uncomfortable after a while (my ears would hurt after prolonged listening with the D950). The D7000 is hands down the most comfortable pair of headphones I've ever worn–its clamp is feather light, with luxuriously soft pleather earcups that are very well cushioned. Although the clamp is light, the headphones stay on the head pretty well, but I wouldn't do any dramatic head-banging with it on though.
Compared to my Sennheiser HD650, the D7000 sounds like a smiley face EQ'd version of the HD650, with the treble being sharper, and the sub-bass more extended and prominent. The one thing I wish the HD650 could do better in is the sub-bass, since below 40Hz it starts to roll off, and the D7000 takes care of this problem, with the sub-bass remaining prominent and flat all the way down to 30Hz (I haven't tested frequencies below 30Hz yet), which is a rare thing for headphones. The sharper treble of the D7000 can be a tad too bright on listening material that's mixed/mastered on the bright side, and on such materials, I would prefer if the D7000's treble is slightly more subdued. Although the D7000 is a closed-back design, it might as well be open-back because it barely isolates outside noise at all; however, the strange thing is that it isolates the headphone's output much better, so leakage isn't nearly as bad as with actual open-back cans (in other words, it sucks at blocking outside noise, but controls leakage into the outside world pretty well). Comfort-wise, I do think the D7000 is more comfortable due to the feather-light clamping of the earcups, but with pleather, no matter how soft, will never be as comfortable as velour, since pleather will get too warm and your face might sweat a little (or at least get slightly sticky). I bought a bag of headphone sanitary covers and with them on, the D7000's pleather problem is solved. The sanitary covers are of similar material as some of the disinfectant moist wipes, so while they are soft, they are still not as soft as velour. At least they don't get sticky like pleather though. The HD650 while has very soft velour earcups, clamp a lot tighter, but it's a snug kind of tight, and quite comfortable, unless you have a ultra-sensitive head where any amount of pressure will give you a headache. I never had any problems with the HD650's clamping pressure. Here's how the D7000 looks with the sanitary covers on: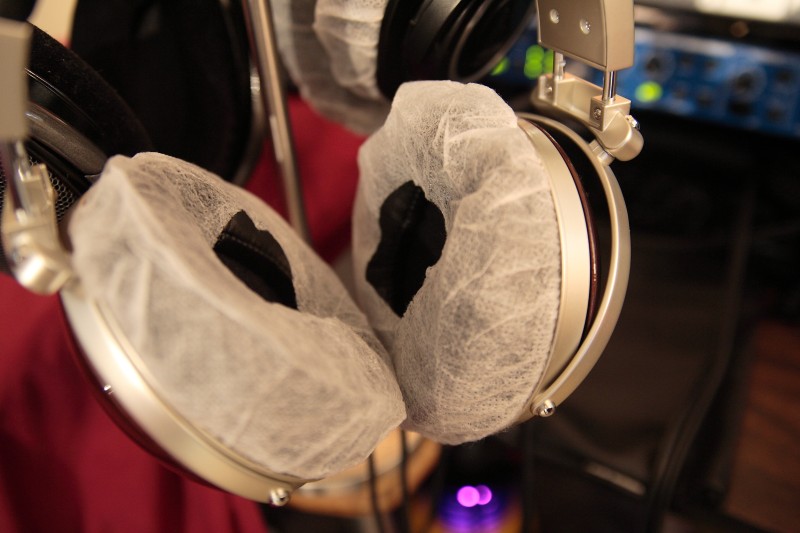 One of the reasons I got the D7000 was with the wish that it would be like if the Audio-Technica ATH-M50 and the HD650 got married and had a kid. So, does the D7000 sound anything like that? Well, yes and no. I already talked about how it compared to the HD650, so now I'll talk about how it compares to the M50. One thing I really liked about the M50 is its sub-bass capabilities, remaining prominent down to 30Hz. Not many headphones can sound like there's a subwoofer in your head, and the M50 is one of them. While the M50 sounds pretty neutral and flat in general, it doesn't sound quite natural–as if the engineers somehow pushed and pulled it into sounding that way, instead of it naturally sounding that way with the way its components naturally work together. For example, the treble has a slightly metallic feel, as if a very narrow band of the treble frequencies was EQ'd to get that clarity, but it's carefully tweaked so that it sounds very comfortable and never fatiguing. In fact, the M50 is one of the most comfortable headphones in terms of how pleasant it sounds. It is never too bright, but has plenty of clarity. The same goes for its bass–it's full and substantial, but never overwhelming like some of the bass-head headphones where the bass is so bloated that it intrudes into the other frequencies.
So how does the D7000 compare to the M50? In terms of sub-bass prominence, they are about the same, although the D7000 distorts less when reproducing pure 30Hz sine wave test tones. The D7000's treble is sharper for sure, and the overall clarity is also better, making the M50 sound warmer in comparison. The soundstage of the D7000 is also very good–almost on par with the HD650, while the M50 has a more typical closed-back sound with smaller soundstage. In terms of comfort, while the M50's pretty good, the D7000 is definitely more comfortable. Without the sanitary covers, the M50 gets warm faster than the D7000, but with the covers, the M50's pleather problem is also solved. Here's the M50 with sanitary covers on: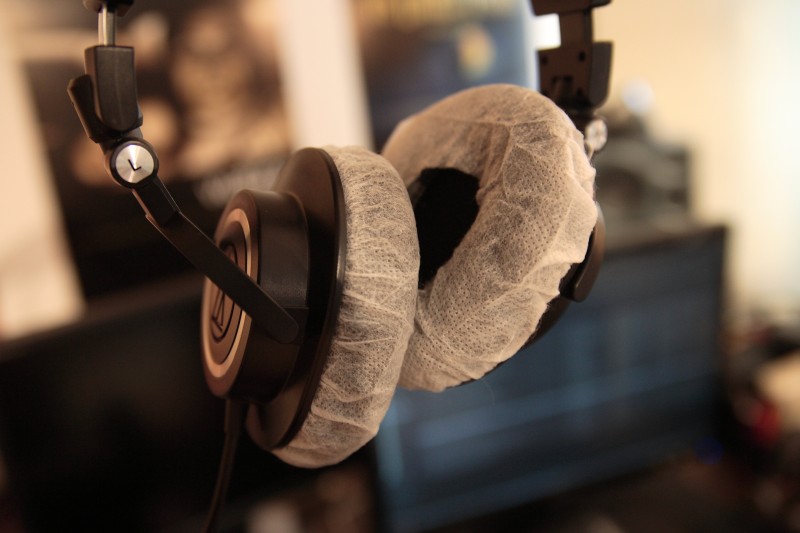 In conclusion, the D7000 is a beautiful sounding pair of headphones (though with obvious flaws), possessing authoritative sub-bass presence and punch, a smooth, clean, and detailed sonic signature, a big soundstage that's highly unusual for a closed-back design, very comfortable to wear, and visually attractive in that "premium high-end" style. Some people say the D7000 has recessed mids, and I agree. To me, it's not just because the treble is more detailed and the sub-bass is substantial that it creates the illusion that the mids are recessed–the mid-range is actually recessed–at least compared to my Klein + Hummel O 300D's and other headphones. But it needs to be said that the recessed mid-range is in general not a good thing, especially when the vocals and instruments end up lacking body and weight on the D7000. Whether it sounds a tad bright and sibilant in treble depends on personal taste. I'm very sensitive to bright sounding headphones and speakers, as I find them very fatiguing and grating to endure–as if my ears will start bleeding if I keep listening, and the D7000 usually sounds detailed instead of fatiguing, but on some really bright material it becomes brighter than comfortable for me. It's only somewhat of an issue though, as most of the music in my collection are not mixed and mastered by half-deaf engineers who have lost most of their hearing above 6Khz. 😀 But when the recessed mids combine with the slightly sibilant brightness, it can make some material really splashy, such as the song "William, It's Really Nothing" by The Smiths–the hi-hat, tambourine, and strumming of the guitar all blend into this splashy mess that has no real body or definition. While the treble is up for debate, I don't think the bass is–since I did extensive tests on its bass region and found it to be very flat and neutral all the way down to 30Hz and probably lower too.
The D7000 is a premium high-end pair of headphones, and as such, its price tag reflects that. Is it worth the money? I paid $571 for it before taxes and shipping, while some places sell it at its full retail price, which is $1,000. I don't think I would pay $1,000 for it, but at $571 it's acceptable (relatively speaking, since high-end anything is always a game of diminishing returns. It sure doesn't sound five times better than the M50. In fact, with the recessed mids and slightly bright sound, it's hard to say if it's really "better"–maybe just different). Will I sell off my other headphones and keep just the D7000? It's too early to say right now–I'll have to live with the D7000 for a while longer before I even contemplate that thought.
To accommodate the new arrive in my headphone collection, I got a triple stand with adjustable arms. It's very convenient and flexible, and since I don't foresee myself adding anymore headphones, I think it'll do just fine: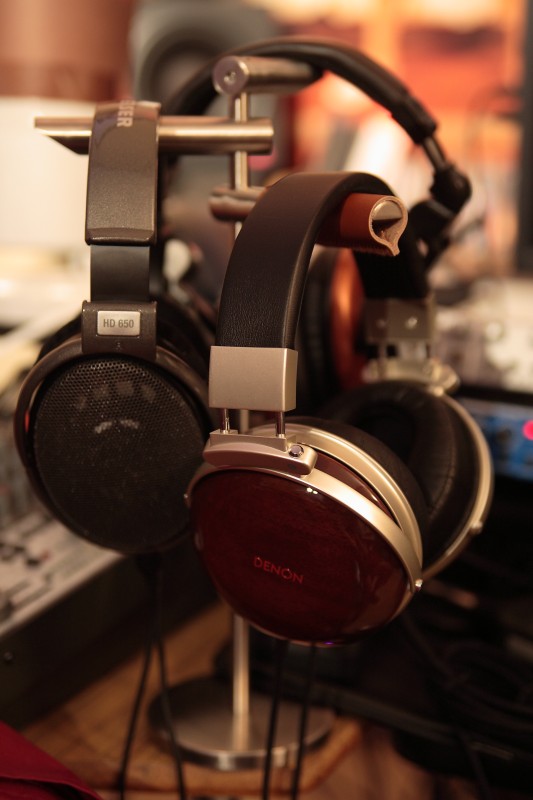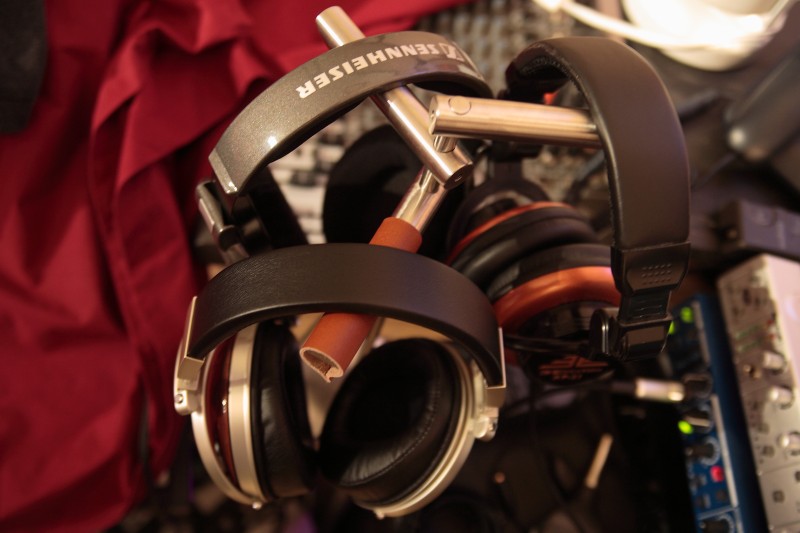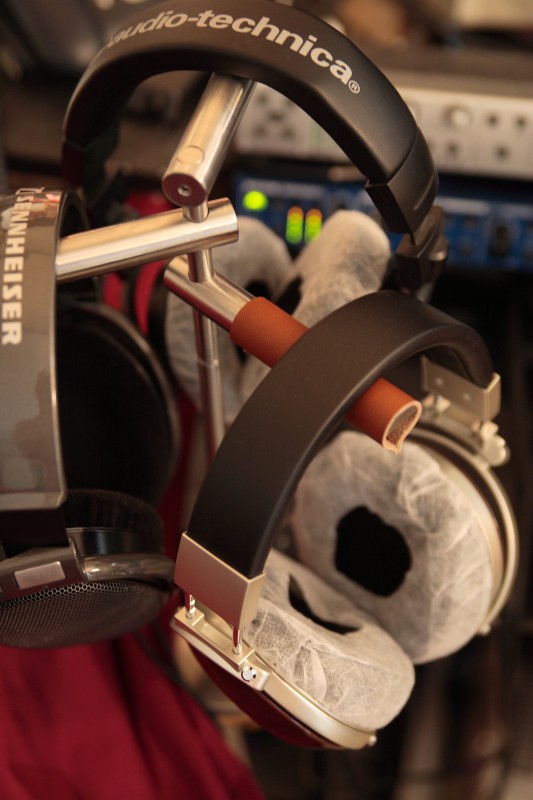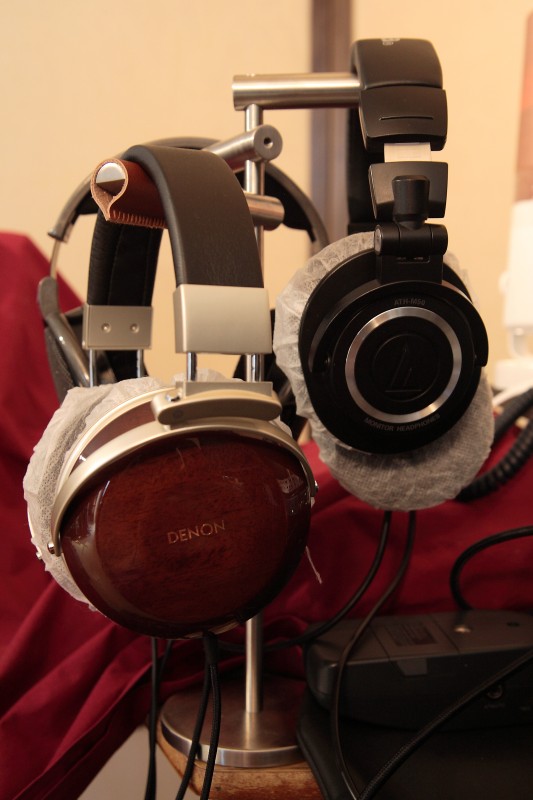 Now, in the context of serious audio work (mixing, mastering…etc), how doe the D7000 fare? Would I use the D7000 for that purpose? As you probably guessed from my review, the answer is probably no. It's more of a "fun" pair of headphones, although its bass frequencies are very good–accurate enough to mix with, I can't exactly use a pair of headphones just of one frequency range. The treble is a bit too sharp and the mids are a bit recessed, so it's not as balanced as I would need for critical work. In comparison, I'd say the M50 and the HD650 are both more balanced overall. But at the same time, if I used it for audio work, I could end up with a warmer sounding mix that has great mid-range clarity and very balanced bass–maybe that's not so bad after all.
…
Mosquitoes are a big problem in Asia, and even living up on the 7th floor, I still get insane number of mosquito bites during the summer. I used to use repellent sprays and they don't smell very good and I hate having to spray myself down every day. I've tried liquid repellents that you plug into an electrical outlet, and I'm always thinking that they are bad for my health, especially when I have all the doors and windows closed during the summer due to running air conditioning. I also considered one of those bug zapping lights, but they are really loud whenever it zaps something, and that kind of loud snapping sound would keep us awake at night, which defeats the purpose in the first place. Finally, I found carbon dioxide-based UV lights with a running fan that traps mosquitoes and let them die of dehydration. We tried it for a week and found that it does work if you follow the instructions closely, and we ended up buying two more to disperse among the different areas of the home. They look something like this: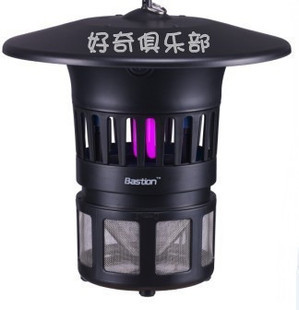 The trap basically uses the UV light in conjunction with chemical reaction that emits carbon dioxide that attracts the mosquitoes (mosquitoes find prey by following exhaled carbon dioxide). There is no snapping sound since the trap doesn't kill mosquitoes that way–it just sucks them into the trap with the fan and then the fan will dehydrate them until they die. I'm pretty happy with this method so far, although you do have to follow the instructions on where to place the traps, what time of the day to turn them on, and to have them as the main light source whenever you're not in the room–all of which makes them more effective.
…
After trying out various demos of writing software and doing lots of comparisons, I have finally decided on the one I'll be using from now on, and it's Writer's Cafe, which has one of the best implementations of tracking multiple storylines, which is a really helpful tool for structuring complex plot developments. WriteItNow is also very strong, with a very nice character relationships chart and very intuitive GUI (far more so than Writer's Cafe). If it wasn't for the fact that Writer's Cafe can do screenplay formatting and multiple storylines mapping, I would pick WriteItNow. But now I don't have to choose because when I corresponded with the creator of WriteItNow and offered many suggestions on how to improve it, he liked my suggestions so much that he gave me free activation codes so I could use the software. What a nice guy! If he implements my suggestions, I'll gladly pay for a license, as I think with some improvements, WriteItNow could be much better than Writer's Cafe in terms of intuitiveness and usefulness.
…
I finally received my PS3 games, and I've been playing Uncharted: Drake's Fortune, Killzone 2, God of War Collection, and Demon's Souls. So far, Killzone 2 feels a bit shallow, despite how gorgeous it is visually. God of War is trying my patience a little since I was never really a fan of platformers, and I'm mostly playing it for the story, which means the gameplay can feel a little like a chore for me at times. While combat is done very well, it's also kind of shallow in general. Demon's Souls is insanely hard, and I'm not quite sure how much punishment I'm willing to take before I just drop it altogether. Drake's Fortune is probably the most fun so far, but mainly because of the writing–it's more entertaining than the other games in general for me because the gameplay is more balanced between tedium and variety, (I'm not into puzzles, and Drake's Fortune doesn't have too many of them) although the platforming is a bit annoying a times. I guess I'm really just a FPS, action/adventure, and western RPG guy at heart. Platformers were never really my thing, as well as sports, RTS, J-RPG, racing, simulations, MMO's…etc.
…
Quickie movie/TV reviews
Lost (season six) – Finally, it ended. I'm somewhat disappointed by the series finale, and I think the amount of mystery and the weight given to them compared to the explanations offered are way too unbalanced. If this is supposed to be a show about characters, then they should have scaled back the mysteries and concentrated on the characters, but with all the sci-fi, supernatural, and mythological elements in our faces constantly, What we got for answers are just underwhelming. The tone and the scale of the mysteries built up during the six seasons should have culminated in something epic and mind-boggling, and nothing short of biblical proportions would've been satisfying. It was nice to see all the characters finding closure though, including long-dead characters (although some were missing, probably due to logistical reasons like working on other films/TV shows). I don't know if I'm the only one who thinks so, but Elizabeth Mitchell is much more attractive in Lost than she is in V. Part of it is because Juliet's personality is more attractive to me than Erica's, and I also think the stylists and makeup artists are better on Lost as well (even when the characters look haggard), not to mention the writing is better, so the dialogues in turn make the characters more interesting in Lost.
Arrested Development (season one) – I have heard so much about this show, and I finally gave first season a shot, and while it's pretty entertaining, I found it pretty empty ultimately. I'm a firm believer that comedies must have some kind of emotional core so that we could care about the characters that we are laughing at/with, and I just don't feel that with any of the characters or plot developments in this show. I'll give second season a try and see if it gets any better.
The Office (season six) – This show could do no wrong in my eyes. I have loved just about every single episode since the pilot, and unlike 99% of TV series out there, it's not showing any signs of fizzling out.
Kick-Ass – One of the most irreverent, entertaining, and fun movies I've seen in a very long time. All the critics who bashed for its depiction of a vigilante little girl taking down bad guys don't really have any compelling arguments, because if she was "Hit-Boy" instead of "Hit-Girl," there probably wouldn't be nearly as much fuss made over the whole issue. Also, her violence was always directed at the bad guys–real scumbags that had it coming, so it's not like she was out there killing grandmothers or little babies. As for the cussing–please, it's a stylized, cartoony version of reality, much like how in the 80's it was popular to have elderly folks act violently and cuss. It's shock entertainment and irreverent fun, and you're not supposed to take it seriously. I suppose the critics who had a problem with Kick-Ass are likely the kind of person who can't stand Quentin Tarantino's films, and they probably hated Ellen Page in Hard Candy too.