WEBLOG:
I recently decided to upgrade one of my computers to a more current system. This is what the new build looks like: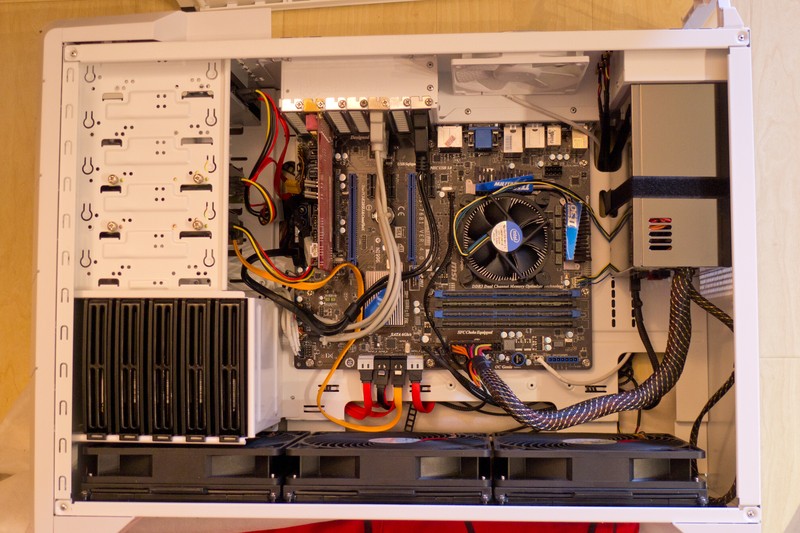 The root of this system came from the computer I put together around late 2003 when I was working in Malaysia with Steven Stahlberg. After 8 years, it was definitely showing its age, with obvious issues like unable to playback HD video smoothly, It was also still running Windows XP Professional, which wasn't necessarily bad, but after having upgraded my other two computers to Window 7 64-bit, XP just felt clunky in comparison.
Currently, I have three computers for different purposes:
Sony VAIO FW390 Laptop – This is my traveling computer, bought in 2009 to replace a broken Toshiba laptop. It's got an excellent display with 1920×1080 resolution, Core 2 Duo P8600 with 4GB or RAM, so I can do pretty much any work on it, except for really high-end audio production requiring high-end streaming sample libraries. For everything else–from Photoshop, video, to photography, this laptop does it all. When I'm not traveling, I run it as my download/upload/P2P station 24/7. It came installed with Vista, but I replaced it with Windows 7 later.
Desktop DAW – This is my music-production workstation. I built it in 2008, and I still have yet to max out its CPU or RAM while working on a piece of music. It's a Core 2 Quad Q6600, with 8GB RAM (although recently one of the RAM slots on the motherboard malfunctioned, so it's down to 6GB now). I've got 6 hard drives in it for OS, audio files, and sample libraries. It was the first machine I installed Windows 7 on, and I got hooked right away. No Windows OS has impressed me as much as 7.
Desktop general purpose – This is the one I just upgraded. It was a P4 2.8 GHz with 4 GB of RAM, and 7 hard drives, running Windows XP, but now after upgrading, it's a Core i5 2500k with 8GB of RAM, running Windows 7.
In order to upgrade the desktop general purpose machine, I bought a new motherboard (MSI Z68A-GD65 (B3), new CPU (Core i5 2500k), and new RAM (8GB of standard Kingston DDR3 RAM). I also bought a new chasis (Silverstone Raven 2 RV02-E Evolution) since the old one was pretty cramped and too noisy. So essentially, other than the hard drives, everything else is new.
I decided to get the 2500K version of the Core i5 because I wanted the integrated graphics. I no longer play games on the computer these days, having embraced console gaming finally after fighting it for all these years. I really don't need a dedicated graphics card for daily operations, including creative visual work (besides, my DAW computer has a graphics card, so if I ever want to play PC games again, I can just use that machine). As a general purpose machine, it doesn't really need to be bleeding-edge.
Whenever I put together computers, it NEVER goes smoothly, starting with my first machine back in 1998. I spent over a year troubleshooting a hardware conflict, and the $500 pro audio sound production system I bought never worked because of it (Turtle Beach Pinnacle System). Since then, I've put together about 5 more computers, and they always had some issues I had to troubleshoot to get them to run properly.
This time, when I was putting together the new general purpose desktop, I blew out a power supply. Then, when I was trying to diagnose my DAW machine's heat problem, one of the RAM slots on the motherboard died, and the damn BIOS beeping code according to Award BIOS guide pointed to something totally different from the actual problem. I had to take the machine to a local repair shop and run all kinds of test to figure out it was that RAM slot. If the stupid Award BIOS reference for beep codes was actually correct, I'd have known it was the RAM and checked each stick individually. I guess I should routinely do that from now to whenever I have inexplicable hardware problems.
…
Silverstone Raven 2 RV02-E Evolution Review:
Anyway, back to the current upgrades–more specifically, how damn awesome the Raven 2 Evolution computer case is. (The Evolution version is an upgraded version from the normal RV02 version, and has a vertical hard drive cage like the more expensive TF02 chassis from Silverstone.)
I'm not going to write a detailed review of the RV02-E, since there are professional review sites that have done it already (such as this one
from Techspot). I'll write about stuff that's more specific to my situation.
I got the limited edition white version with side-window for the general purpose machine, and I was blown away by its performance. The rotated design with the fans on the bottom blowing upwards (because heat rises) really made a difference in cooling efficiency.
Here are some photos of the new build: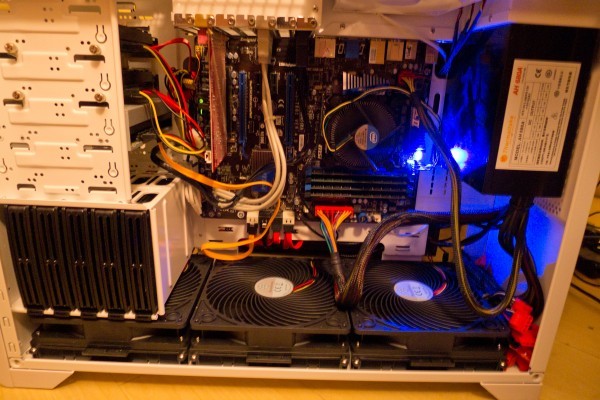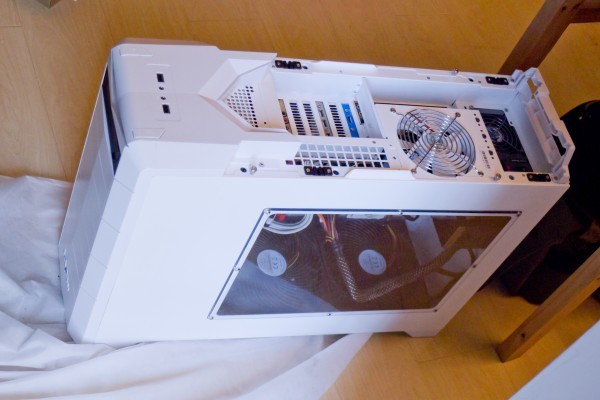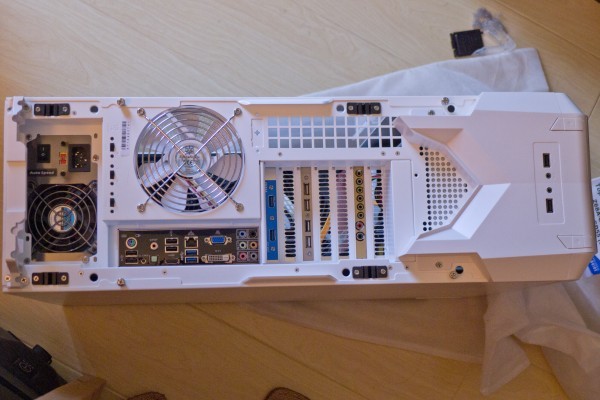 I have two hard drives in the 5.25 bay area, since the hard drive cage only holds 5 hard drives. I discovered that if I put the DVD ROM in the second slot from the top (so the vents on top won't be blocked, as I originally had in the very first photo of this blog entry), and then have the two hard drives placed below, the configuration allows excellent air flow so that the two hard drives are cooled as efficiently as the ones in the hard drive cage. This is one of the advantages of having a large 180mm fan on the bottom and vertical hard drive cage–it allows the air to continue blowing up and cooling the 5.25 bay area ( as long as you don't seal that whole area off by placing the DVD ROM below the hard drives, which I also experimented with, shown 3 photos up. It definitely doesn't work as well).
Here's the empty chassis before the build: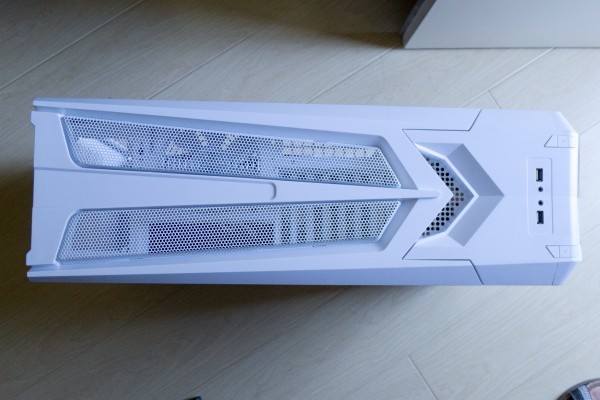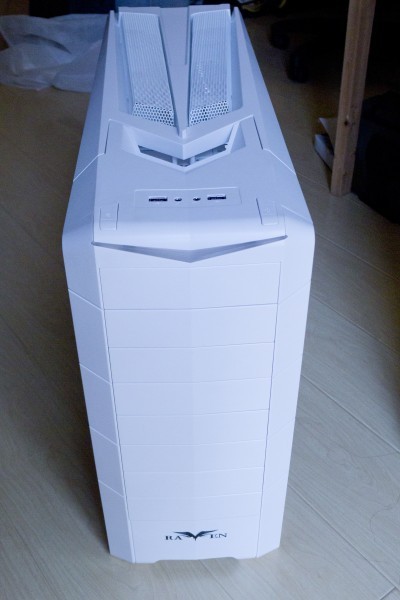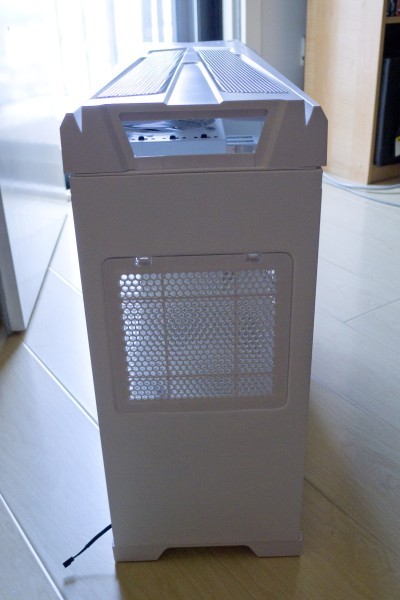 Compare the Silverstone Raven 2 RV02-E Evolution with the old build from 2003, using an iCute case: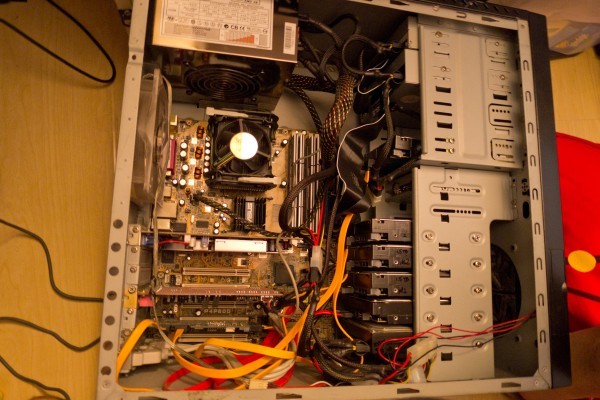 It's easy to see how cramped the iCute case was. It also didn't allow effective cable management since there was no way to route the cables behind the motherboard, and the fans weren't exactly quiet either.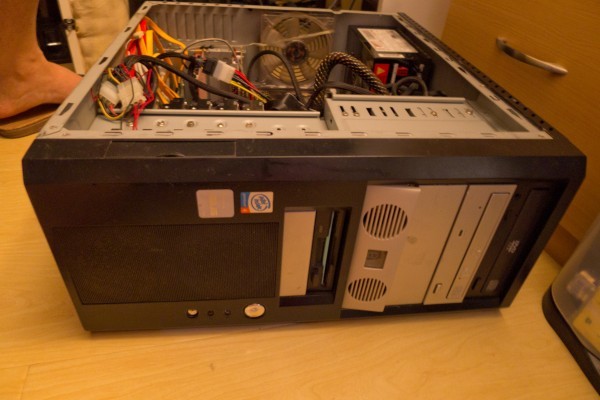 It also didn't have the kind of airflow plan that allowed the 5.25 bays to be cooled if hard drives were installed, so I had to put in 5.25 bay fans, and they were much louder than the bigger fans. This made the noise almost unbearable, even with the acoustic panels.
Of course, this is all very unfair, since that iCute case was from 2003, and I'm sure the overall progress of computer case design had advanced a lot since then. But still, it's a great feeling to move the system to a more modern, efficient, and roomier case.
In terms of noise, the Raven 2 Evolution with the fans set to low emits a soothing low hum that wouldn't bother anybody at all. Set to high, it becomes as noisy as any other typical computer, but since the fans can be set separately, I have the front fan set to high to keep the hard drives cooler, while the middle and rear fans are set to low because they don't need more cooling than that.
Ergonomically, building with it was a pretty smooth and pleasant experience. I would have preferred tool-less for the 5.25 bays, but that's a minor complaint. There are plenty of holes in the chassis for excellent cable-management, and the case comes with an abundance of accessories and screws. The way the hard drive cage is designed is also very practical, as you can pull each hard drive out easily from the main rack. I also love how the chassis was designed so screwdrivers and fit perfectly–I have never seen this done before until now: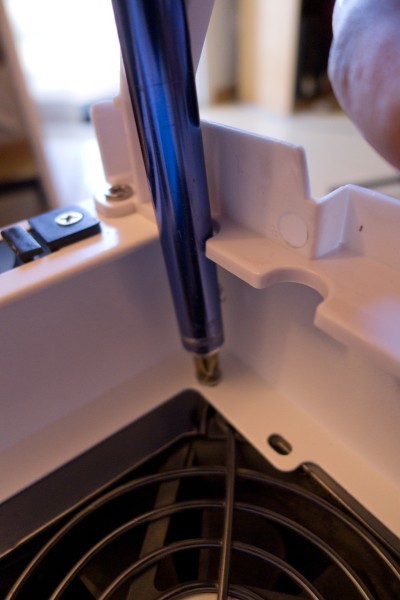 In terms of cooling performance, while idling with the room temperature at around 26 Celsius, I'm getting around 29~35 in hard drive temperature and 33~35 in CPU temperatures, and that's the most impressive I've ever seen in any of the computers I've built to date.
I was so impressed by its performance that I ended up buying a black one too for my DAW machine (since it was having heat problems anyway). So now I have two identical cases with different colors.
The DAW machine was housed in a Thermaltake Armor Jr. case. Here's the previous build with the Armor Jr.: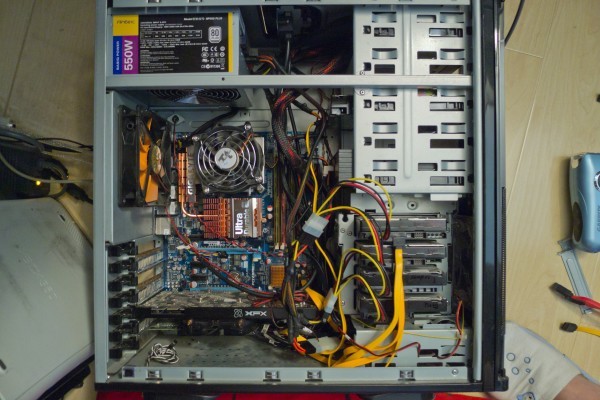 While the Armor Jr. case was great to work with ergonomically (tool-less design), its cooling kind of sucked. The hard drives were idling around 45~47, while the CPU was idling around the same (both 10 degrees hotter than the Raven 2 Evolution, using the exact same parts and OS install–I only swapped the case and changed nothing else).
There was a fatal design flaw in the Armor Jr.'s hard drive cage that I didn't notice when I bought it back in 2008 (I wasn't as concerned about these issues back then). Now that I noticed the problem, it boggles my mind how any company that specializes in computer cooling and cases could have made such a blunder. No amount of visual coolness, fine manufacturing, or ergonomic design will make a damn bit of difference if the cooling capability isn't up to standard. Take a look at this problem: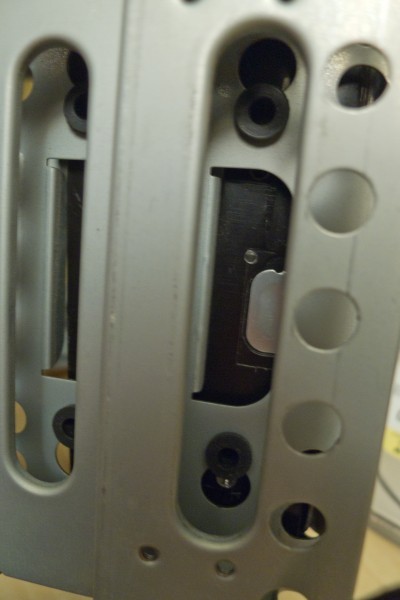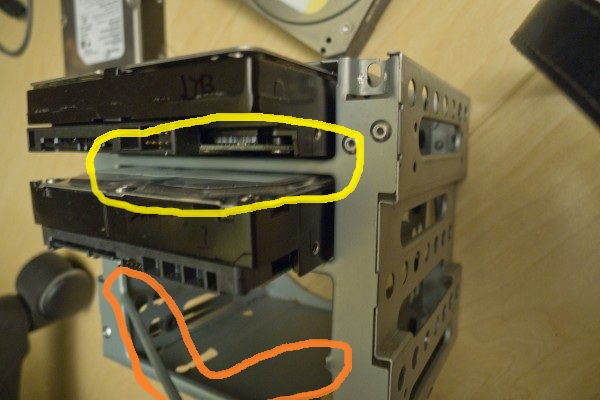 See how the hard drive cage doesn't have any spaces for the air to actually blow through? This is true from every direction that the front fan could possibly blow from. From the side, there is no space between the hard drives at all, and in the front, where there should have been spaces, there are solid bars filling the gaps between the hard drives (circled in yellow). Even after I cut those offending parts off (circled in orange), the cooling didn't improve. That's when I decided to buy another Raven 2 Evolution to replace the Armor Jr..
Comparing to the Thermaltake Armor Jr. to the Silverstone Raven 2 Evolution, it's a much less dramatic difference than comparing iCute to the Raven 2 Evolution, since the Armor Jr. is a more recent case. The Armor Jr. is definitely built very well, with some nice design features such s tool-less design, but that drive cage is so badly designed that it might as well be a convection oven. Also, the 5.25 bays don't allow adequate airflow if hard drives are placed up there (though the 5.25 bay is vented from the front with dust filters instead of sealed shut like most cases, but it's still not enough), so you'd have to install 5.25 bay fans, which only adds to the overall noise level. The Raven 2 Evolution in comparison, can have hard drives installed in the 5.25 bays without needing any extra fans, since the airflow design is so damn good.
Photos of the same system (DAW machine) housed in the black version of the Raven 2 Evolution: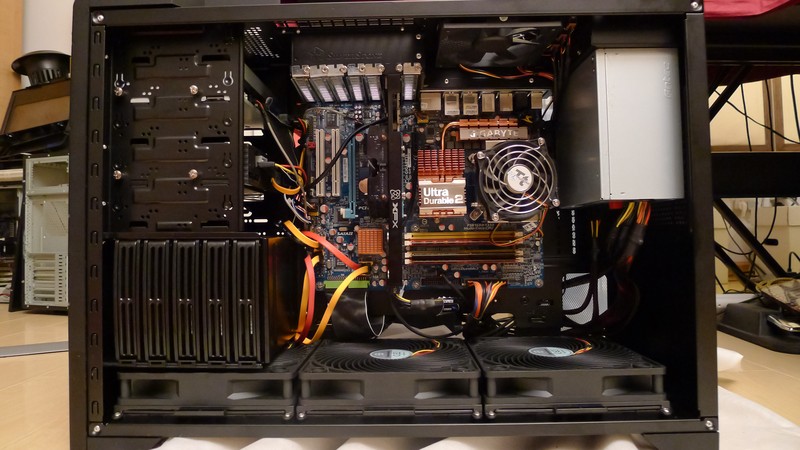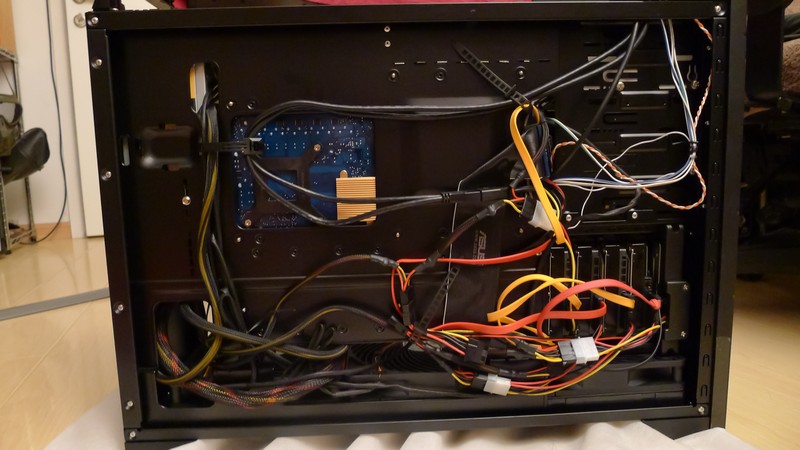 I have never been as serious about cable management as I had been with the black version's build. I made sure to route any cable that could be routed back away from case interior. I actually went back and did the same for the white version build too, so now both desktop machines have excellent cable management and maximum efficiency in airflow.
The black & white duo next to each other: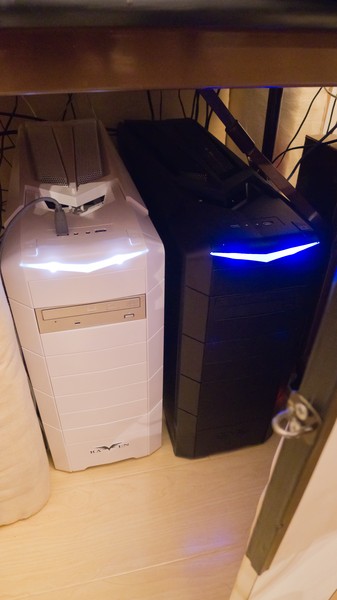 It's obvious how impressed I am with the Raven 2 Evolution. I highly recommend it to anyone looking for a highly efficient, cool, quiet, and roomy case. The I/O rotated to the top of the case might not be for everyone, especially if you have the habit of placing stuff on top of your computers like I do, but I think the Raven 2 Evolution is worth breaking that habit for. The only criticism I have is that I wish it had a tool-less design, and the bottom fans' dust filters can be pulled out without having to remove the side panel (though the fact they can be easily pulled out is not to be taken lightly. Too many computer cases don't have that feature). But these are minor complaints, and the Raven 2 Evolution is the best computer case I've ever worked with since my very first build back in 1998.
This concludes the review for the Silverstone Raven 2 Evolution.
…
Upgrading the two desktop machines prompted some additional changes to my setup. I originally had the Xbox 360 and PS3 stacked on top of the DAW machine like so (the old Thermaltake Armor Jr. case is shown here with the white Raven 2 Evolution):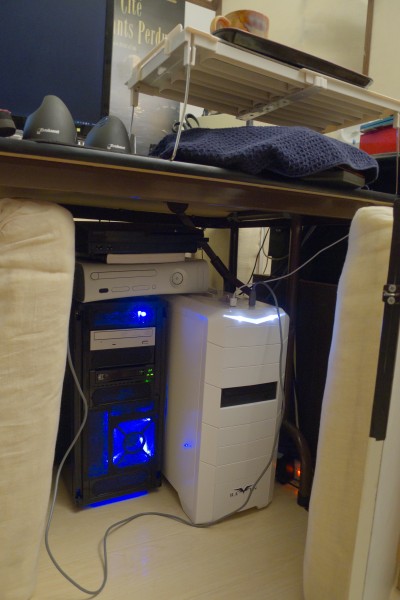 Now, I moved the two game consoles to the left, on the floor. The noise reduction acoustic panels are always erected during daily use. I really only remove them when I need to work on the computers or access the DVD ROMs: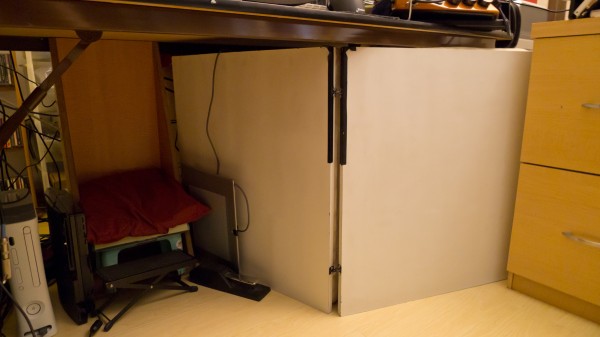 This is without the noise reduction acoustic panels (this is an earlier photo when I haven't swapped the two DVD ROM's yet. I definitely prefer the more matching look 3 photos up, than the contrasty look):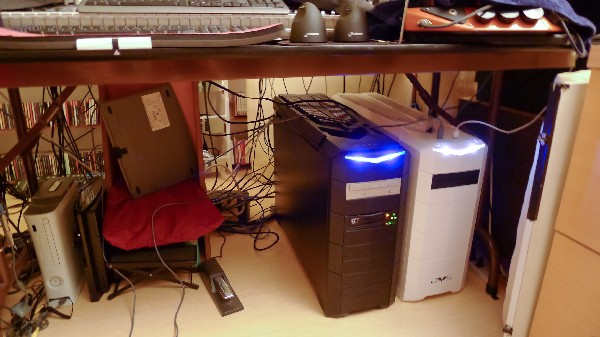 Here's how the 4 acoustic panels are used: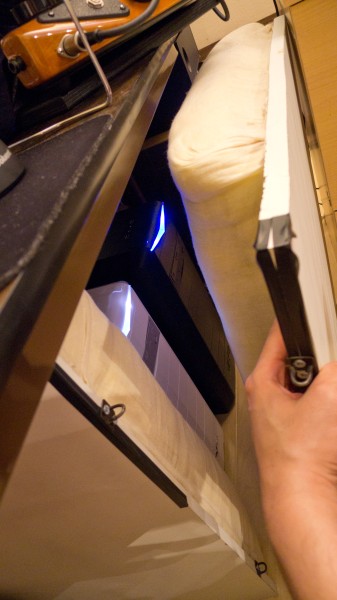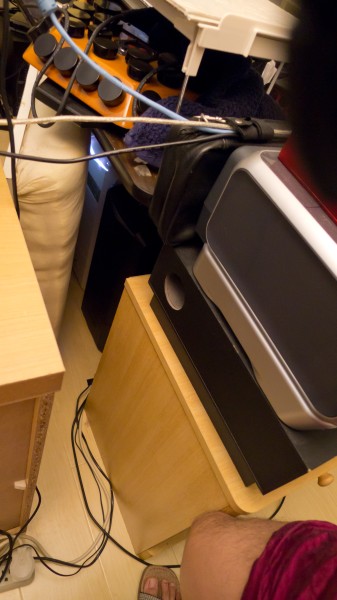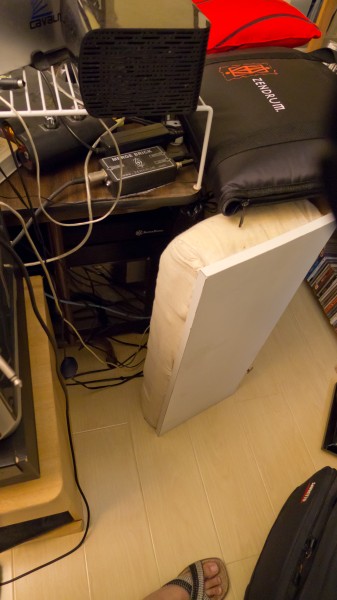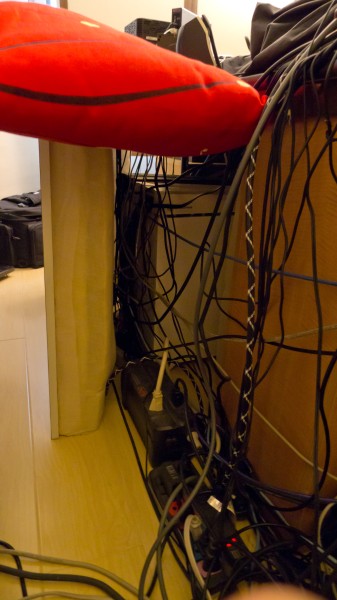 Notice that they do not completely seal the two computers within, as that would kill the airflow. I place the acoustic panels only at spots where they do the most good, while still allow plenty of fresh air to be pulled into the computers and the hot air to be blown out. This approach kills plenty of the computer noise, but does not affect the cooling at all.
Part of the original reason to upgrade the general purpose machine was to have a more modern system that's capable of handing resource intensive tasks, and on that front it's kind of a mixed bag. It's not that the upgraded CPU and RAM aren't doing their jobs–it's just that some software can't take advantage of the faster processor and additional RAM, so I don't really notice any difference in performance (typical everyday tasks fall in this category). But when it comes to processing intensive tasks, I definitely notice a huge difference.
For example, I use J River's Media Center, and it has a feature that allows you to analyze your music files and assign a Replay Gain value to each file so that the plackback volume can be averaged between tracks (this eliminates the need to have to constantly turn up and down the volume depending on which track is playing). The analyzing of each audio track's maximum and average level of volume is processing intensive, and in the past, analyzing up to two tracks would already max out my CPU, even on file formats that are the least processing intensive to analyze. Now, I can analyze up to 4 files at once and the CPU usage will hover anywhere between 50% and 100%, depending on the kind of files that are being processed. That's at the very least a doubling of processing power, and more likely a quadruple increase since the 40% is also for 4 files being processed at once.
The only thing that's bugging me a little currently about this new build is the slow startup time. It is the newest install of Windows 7 among all three of my computers, yet its startup time takes up to 5 minutes to completely settle down (as in, the computer becomes 100% responsive, instead of still trying to load processes into the system RAM). With my DAW machine, it boots up and settles down so fast (about 30 seconds) that it's almost comical when comparing the two. The Sony VAIO is somewhere in-between and within what I consider tolerable limits. I've tried to check off as many applications off the the msconfig startup list as I can, as well as using Startup Delayer (an app that allows you to manage in detail which, how, and in what order startup apps and services boot), and I'll have to do some more experimenting to see if I can get the general purpose machine's bootup time down to a more reasonable number.
…
Quickie Movie & TV revies:
Strike Back (season one) – A bit like a British version of The Unit, except it focuses on one specific operator instead of a whole team. It's a pretty decent show, but it's not exactly something I would bother keeping up with considering how many better shows are currently out there.
Super – Take Ellen Page out, and this movie would be absolutely boring, derivative, and irrelevant. The adorably psychotic Boltie is the only reason why this movie is worth watching, and I'm saying this as a big fan fan of Dwight Schrute / The Office. If Hit-Girl was taken out of Kick-Ass, the movie would still be quite entertaining–that is the difference between Super and Kick-Ass.
Network – One of those movies I've heard so much about over the years and finally gotten around to watch it. Now that I've seen it, I think it was ahead of its time in how subversive and black in its humor it was. If this movie was made today, I'm pretty sure the tone would be more obviously humorous–with a wink at the audience instead of being so serious.
I wonder what the people behind the film thinks of today's media and broadcasting.
Little Manhattan – A somewhat contrived movie about a ten yr-old's puppy love. It's not very satisfying since the ending is kind of a disappointment (for the main character and for the audience), and nothing in it feels as emotionally honest or poignant as what I expect for my personal standards in this sort of movie. Also, I can't stand writers who try to write in the voice of a unrealistically precocious and witty child–it always feels smug and artificial to me. I would recommend classics like Melody or A Little Romance over this movie if you are in the mood for a puppy love story.
Jeremy – A surprisingly good movie about a shy teenager's first love. It is far better than Little Manhattan because it feels emotionally honest and poignant, and the relationship actually goes somewhere and ends on a note that is emotionally resonant.
I think it's sad that these types of movies are long extinct. Society and media as a whole has become too jaded, too witty, and too formulaic. If this movie was made today, it would try to do that awkward but hip thing with wry humor that all indie films do these days.