WEBLOG:
Yesterday was the big day–the reason why we're back in the States, and Elena passed her citizenship test! She's been studying so hard for it non-stop and it all paid off, but of course she had to fulfill all the citizenship requirements in the first place to even get to take the test. To be honest, we really only had about 70% confidence that she would pass, since she's still so behind on her English, and the American history, government, and reading/writing tests are so extensive (to the point that most Americans would probably fail if they took the tests). She was so relieved and ecstatic–laughing and smiling from ear-to-ear the whole day yesterday, and she's still giddy now. I love seeing her so happy–it makes me feel like the world is in a perfect state. Now, we just wait for the letter that tells her to go take her citizenship oath, and then the passport would be on its way. We miss our beautiful and cozy home in China, but we also love being in the States. In a perfect world we'd be able to transport our home in China to the Bay Area and the cost of living would resemble something saner.
…
I have wanted a Zendrum for years, and always felt that it was too expensive, but after struggling with programming drum tracks on keyboards and rubber pads since 1998, I've finally decided to take the plunge and join the tribe of Zendrummers. To my delight, they have updated their circuit board this year, so my Zendrum will be the most sensitive version ever made, making even snare buzz rolls possible on a single trigger–that is something impossible to do on keyboards or rubber pads. I've picked the LT model since I'll using it sitting down a lot, but it could still be worn on the body with a strap, and I've ordered the Honey Rock Maple, which I think is the best looking one of all the colors they offer (although some of the more natural wood finishes are quite nice too):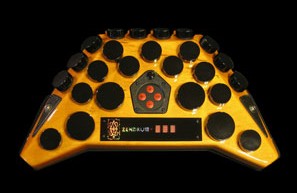 I did think about maybe ordering a custom color (which costs $50 more), but the more I think about it, the more it seems it'd be hard to top that yellow and black combination, which has that high tech sports car vibe. All black would be pretty cool too but playing it with dark lighting might make it hard to make out the triggers.

…
So the Kensington Laptop Riser arrived, and I'm happy to say that it lived up to my expectations. Not only does it raise the laptop to a comfortable eye-level, it is also quite sturdy and does not wobble when typing. When I stack a few books under the front side (for more ergonomic typing without adding an external keyboard), it remains sturdy. Here how I've set it up: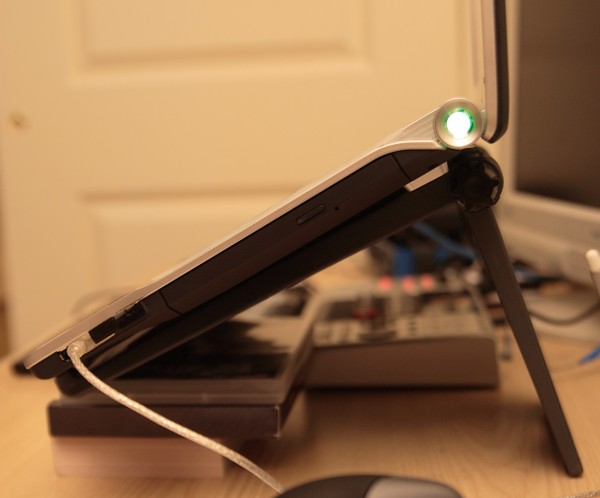 What I also love about it is that it's adjustable and very portable–folds up nicely so you can just slip it into your laptop bag: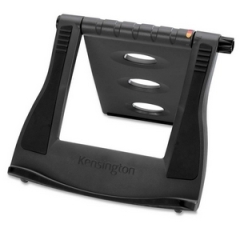 With all the other more expensive and bulky laptop stands/risers out there, this one by comparison is so simple and portable. The only thing I wish it had is an adjustable front riser so I don't have to prop the front up.
…
I have completed my Korg Nano series collection. I must say, I'm liking them more than I thought I would. Here they are in my mobile setup: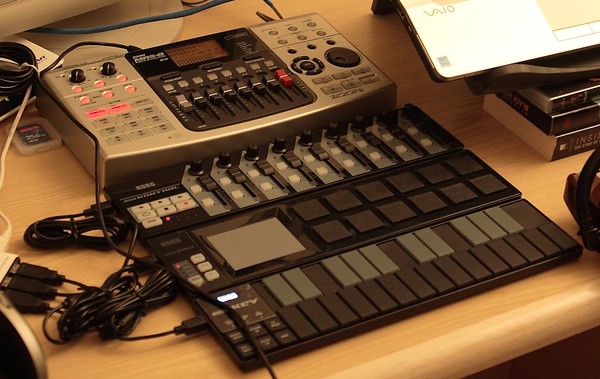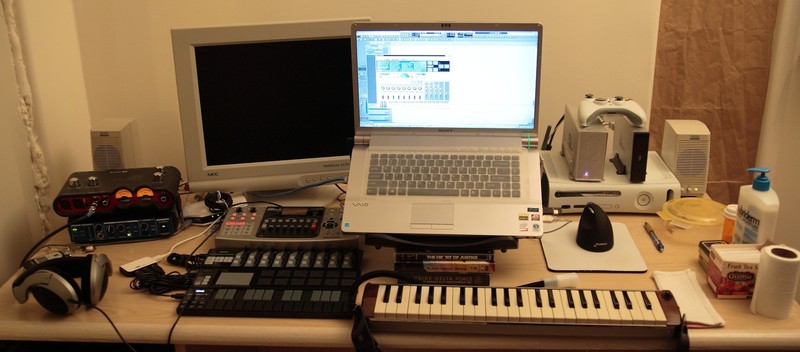 I originally got the white versions of the Korg Nanos because that's all they had in stock, but I really wanted the black ones and Elena didn't like the look of the white and blue at all–she said they look like the kind of cheap fake products sold on the sidewalks in China. While I do think the color scheme of the white versions is part of the charm and are supposed to look a little toy like in order to charm the pants off of laptop geek musicians, I have to agree with Elena that the black versions just look like higher quality products.
After testing them out, here are my thoughts:
-I mainly got them because I'm in the middle of traveling and I think they are the perfect size for traveling with a laptop and audio interface. They make even the smallest normal sized keys MIDI controller keyboards look huge and clumsy.
-I initially only got the NanoPAD because I wanted the X/Y pad and the roll button for programming fast repeating glitchy beats–there is just no easy way to do that otherwise. But then I realized adding the other two wouldn't be redundant (considering I already have a full-blown rig at home), since when not using them while traveling, they can simply expand the range of my Novation ReMOTE 25 SL on the desk–for example, I don't have to hit the octave buttons as much because the NanoKEY adds two more octaves on the desk (and I don't have to turn on the big 61 and 88-keys keyboards just to try out some ideas or test a synth patch).
-After having all three and using them in conjunction with each other, I realized that to me, they really are made to be used together (unless you are integrating them into an existing rig that's already got MIDI controllers). For example, the NanoKEY cannot do smooth/slow modwheel or pitchbend rides, but if you pair it up with the NanoPAD, you can use the X/y pad on it to do mod/pitch smoothly/slowly, or if you paired it up with the NanoKontrol, you could assign the knobs/sliders on it to do them.
-One interesting thing I discovered is that if you have both the NanoPAD and NanoKEY, don't bother using the clumsy rubber pads on the NanoPAD to program/play drums–they are practically useless for that. The rubber pads are very insensitive and cannot handle fast repeating notes or fast alternating dynamics well. Unexpectedly, the NanoKEY is far superior as a drum programming/playing tool because the velocity sensitive keys are way more sensitive and playable than the rubber pads on NanoPAD–I can even do very fast sustained snare rolls on the same key, which is impossible to do on the rubber pads. UNFORTUNATELY, you cannot play drums on the NanoKEY and still use the roll button + X/Y pad on the NanoPAD at the same time, since the roll button only responds to the rubber pads and not to other MIDI controllers.
-You cannot play the NanoKEY like you would any typical keyboard. There have been keyboards with tiny keys before, but this is a whole different problem, since the white keys only extend up to 50% of what should've been the whole length of the keys, and do not exist between the black keys–that makes it impossible to play any kind of chords where your fingers must go between the black keys at the upper 50% of the key length. The only way to play those chords now is to use two hands, or do very awkward finger bending and use your fingernails to play some keys. In general, you must think of NanoKEY as a totally different instrument and approach it with a different playing strategy, or you'll be miserable trying to play it like a traditional keyboard.
Overall I think it's a really neat set of toys that can be used to do some pretty interesting things, and can even handle full-blown music production if you know how to use them right. The NanoKEY is probably the most awkward one of the series, and it'll never replace full-sized keys, or even miniature keys like those on the Korg Kontrol or microKORG, but it's still far better than using qwerty or a mouse, and the portability is unbeatable. The velocity sensitivity is actually quite good, but sometimes pressing away from the center may not register the intended velocity, which isn't too much of a problem since the keys are so small it's hard to really hit off center.
My verdict–I like them, and they are exactly as advertised–fun, cute, very portable, and surprisingly usable for serious music production.
…
Also in the photo above is the Zoom MRS-8 8-track digital recorder (right above the Nanos). Originally I picked up the Boss BR-600 8-track digital recorder because the MRS-8 has been discontinued. But after trying the BR-6 out for a few days I decided I rather try my luck and hunt down a used MRS-8 on the internet than to be stuck with the BR-600. It's not that the BR-600 is bad–it's actually quite good–it's just that the MRS-8 kicks its ass in a few important areas. Some of the key differences that are important to me were:
-MRS-8 can have 100 markers per project, while the BR-600 only allows one. WTF, you know? ONE marker for an entire project? Were the designers at Boss smoking crack?
-The MRS-8 is visually better designed upon first glance, with better layout and visual clarity of each section, not to mention more information in its LCD display (although to be fair, once you have read the manul for the BR-600 and have used it for a little bit, its interface becomes very clear and easy to use).
-The MRS-8 has MIDI out, which means it can control other sound modules, which greatly expands its sonic palette.
-MRS-8′s lossy compression is not as aggressive as BR-600′s (I read that somewhere in one of the musician's forums, but I'm not 100% sure if it's true).
-The MRS-8 has 27 sounds in a drum kit (but 18 of them are the same for all the kits, while only the first 9 sound of each kit might be different–in fact sometimes only the bass and snare changes when you switch kits). BR-600 only has 9 sounds per kit, missing the 18 extra sounds of the MRS-8 have like splashl, hand percussion, tambourine…etc.
-The MRS-8 has bass sounds in additional to drum sounds, and you can play the bass with the drum pads and select different scales to play in.
The BR-600 does have some things over the MRS-8 though, such as being much lighter and thinner (only about 50% of the MRS-8), and the onboard mic is stereo instead of mono like the one on the MRS-8. The BR-600 also has USB connection, which is not a big deal to me since I have a card reader for the MRS-8′s SD cards. The one feature the BR-600 has that I wish the MRS-8 had is the ability to record/import custom drum sounds, but the MIDI out on the MRS-8 kind of makes up for it since I can just use an external drum module.
I never meant to use a mutitrack recorder to do finished tracks anyway though–it's meant to be a sketch pad to get ideas down quickly without turning on the DAW computer (I don't turn on that computer unless I know I have a big chunk of time to devote to making music, as that computer's dedicated to music production only). More than likely all recorded material on the multitrack recorder will be re-recorded with the DAW sequencer anyway, so it's not that important to have great sounding drums or effects during that phase. Another important reason I wanted to get a multitrack recorder is because I miss making music with simply my ears instead of being influenced by the visual representation of musical data in DAW sequencing software. I find that when I see visual data, my creative thinking gets influenced because I'm a highly visual person, and when I'm working without that visual aspect, I would often make different creative decisions, and I think it's important to keep that aspect of myself alive.
…
I've been trying to narrow down my audio interface upgrade choices, and it's quite interesting that the more you research, the more it seems like the vast range of choices out there all seem to be missing one important feature you need. I used to think it's ridiculous how many audio interfaces are on the market, and now I wished there were more, just so that I can up my chances of finding the perfect one for me. I'm actually not asking for much, just an interface that's reliable, has low latency, has good quality preamps (ideally 60db or more of clean and clear gain), has at least one pair of stereo inputs, and one pair of stereo outputs, and instrument inputs. If it has onboard DSP or some kind of direct monitoring effects front end (like the Gearbox/Pod Farm for Toneports from Line 6, which is what I have now, but can be unstable at times), all the better, since I would be able to add some light compression and monitor with reverb–all without any outboard gear. I could always do software direct monitoring in Sonar (and as far as I know, most DAW sequencers allow it), but it's more taxing on the CPU and there's always the problem of slight latency. At the moment, the interfaces I've narrowed down to are really just the TC Electronic Konnekt 24D and MOTU Ultralite MK3, but the Konnekt doesn't have 64-bit driver yet (which is not a problem for my desktop DAW as that runs WinXP Pro in 32-bit, but is a problem for my new Sony VAIO, which is running Vista 64-bit), and the Ultralite is actually a bit of overkill for my needs. The Focusrite Saffire could've been a contender had Focusrite just given it one pair of dedicated stereo inputs, but for some reason they made the stupid mistake of only having a pair that doubles as instrument inputs. How the hell they came up with that configuration I will never understand, because it's just stupid to think that people would want to pull out their input from a mixer or a keyboard just so they can plug in a guitar or bass.
On a related note, my Toneport UX2 is doing an OK job on the new Sony VAIO FW-390, even though I still sometimes get audio drop outs or the ASIO driver would fail to initialize, but in terms of latency it's actually doing better than when I used the Toneport on other computers I have. Maybe it's the latest drivers that's improving things, and if that's the case, perhaps I don't need to upgrade, but until I get home to try the new drivers on my main desktop DAW computer, I can't know for sure, and by then it'll be too late since buying audio interfaces in China costs far more than buying them in the States.
…
My Creative Zen 32GB has returned from RMA, and apparently it was easier for Creative to just replace the unit, because that's what I received–a brand new Zen. I can't believe they didn't even bother peeling off the screen protector I had on mine and send it back to me–now I have to use the new unit without a screen protector until I get home and install one, or waste money to buy another pack. I'm happy that the new unit appears to be problem-free, and after uploading the contents from the previous unit (I had the foresight to backup the unit before sending it in for the RMA), it's working flawlessly. Count me as a happy customer.
…
I had high hopes for Eternal Sonata, but after playing it for a couple of hours I just got bored out of my mind. I can't stand random battles since I see them as lazy game design, and I can't stand the format of transporting the characters to a battle stage–all of it feels so dated and clumsy. I also can't stand heavy-handed writing that doesn't pay enough attention to the finer details of dialog and flow (which strangely enough, has the same clumsy vibe as bad writings in porno films, except without all the cheesy double entendre). I nearly lost it when the two young male characters faced battle with the rats for the first time, the younger boy turns to the older one and asks, "Uh, how do you fight battles again?" as I was presented with the choice of redoing the battle tutorial I had already done with the main female character in a previous chapter. No one talks like that–not even in a fantasy world. It's the symptom of lazy writing and design. I don't like it when the in-game story is mingled with the mechanics of the game because the designer/writer is too lazy come up with a better way (and there is always a better way), unless we're talking about it being done on purpose, like in Conker's Bad Fur Day where the game mechanics and the in-game story are intertwined in a clever and humorous way. Anyway, whenever a game makes me feel like I haven't been presented with any compelling reasons to continue playing, I stop. In the two hours I played the game, at no time was I presented with any motivation to find out who the hell the characters were or why I should give a damn about any of them, or if there's even a story or premise I should care about. The pacing was horrible, and the only interesting things I've found out about the game were through game review sites that talked about the premise. If a game fails to draw me in on its own merits after an hour or two, then I just assume the reviewers only played on because it's their job, and even if the overall enjoyment derived from the entire game is positive, to a gamer who isn't forced to play on and finish the game, it's too little and too late. The number of hours it takes a badly designed game to shape into something enjoyable is time I could've spent doing a ton of other more interesting things. Another thing that kinda bugged me a little is the obsession that Japanese has with doe-eyed young characters. Don't get me wrong, I grew up on anime/manga and they are a big influence on me as an artist, writer, composer, and director, but seriously, why the strange fascination with Lolita complex and bishonens? Why must every character look like big-eyed dolls and act like cringe-inducing burikos? Sure, we all know the Japanese love cute and adorable designs, but this fixation just becomes uncomfortable after a while. I guess they must wonder about America's fascination with costumed superheroes and talking animals as well.
…
I finished reading Let the Right One In, and I have to say that the book isn't nearly as good as the film, as it has a lot of details that I'm glad was cut out of the film. I think the film picked the best elements from the book to concentrate on, and omitted or changed elements that weren't conductive to the heart-warming yet morbid beauty of the film. If I had a choice I would choose to never had read the book, because it only taints my memory of the film.
…
Quickie film/TV reviews:
Star Trek (J.J. Abrams reboot) - The film was fun and disposable entertainment done right in the way that Iron Man was done right. I've never been a Trekkie, and while I did watch The Next Generation sometimes when its on, I wouldn't really call myself a fan. This film didn't change anything for me in general. The premise is a little forced since revenge stories are so trite, and the reason for this particular revenge is just silly. There are also some eye-brow raising coincidences that borders on jumping the shark, but I think most mainstream films have them these days. The film could've used another 30 minutes of character development for the supporting crew members, since we don't really get to know them at all, with all the attention being focused on Kirk and Spock (but the film is already quite long in length, although it felt just right in the theater).
Mad Men (season two) – Mad Men is fast becoming one of my favorite TV shows. It's a fine example of what a serious attempt to bring literary quality to television looks like. There are so many layers and unspoken moments that could only be described as visual equivalent of a great American novel. The characters are all fascinating, and it's refreshing to have a main character that's just a complete mystery. I mean after two seasons, I still barely know anything about Don/Dick–what makes him tick and who he really is. I'm looking forward to watching season three.