WEBLOG:
I finally broke down and bought a "serious" compact digital camera–the Panasonic Lumix DMC-LX5. It is one of the most coveted and exciting high-end compact digital cameras on the market currently, and it's so new that it's not even available in most countries. I got mine from a retailer on taobao.com in China, and since the menu's Chinese option is traditional Chinese only, and it uses Hong Kong-centric translation of the word "film," I'm pretty sure my LX5 came from Hong Kong (unless the Panasonic localization team is a person from Hong Kong and that Chinese language option is the only option on all LX5's). So anyway, here's my LX5: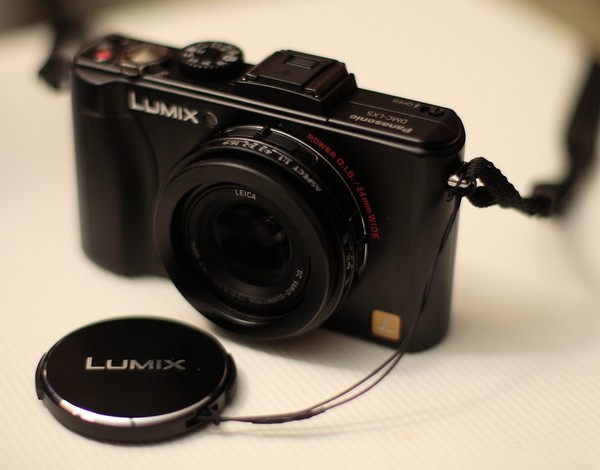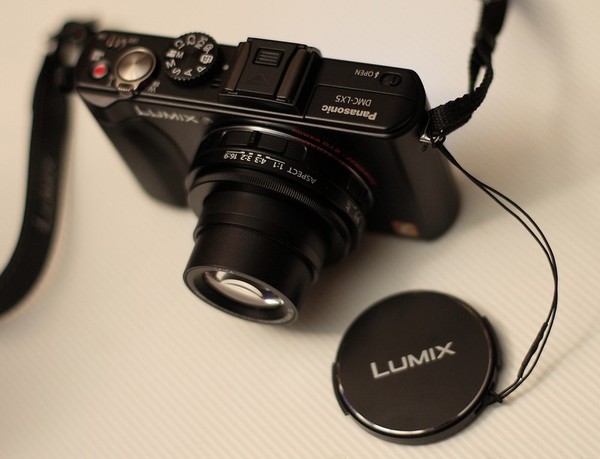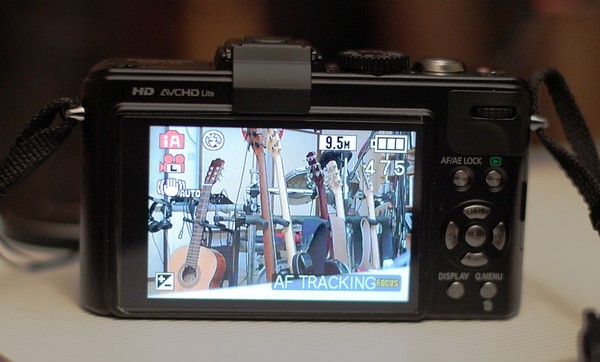 This is how it looks in Panasonic's own marketing photos: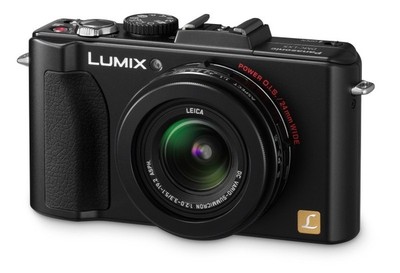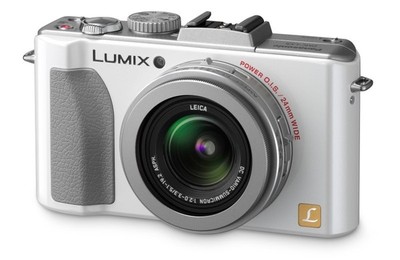 Although the white version is nice too, the black one just looks more "serious" and classy I guess.
Preface
Now before I jump into the review of the LX5, let me preface it by explaining why I bought it in the first place. On our last trip (to Taiwan), I actually left my Canon 1D MKII and assorted lenses at home, because after years of lugging around a large and heavy professional camera system on vacations, I simply couldn't stand it anymore–it's cumbersome, physically tiring, and inconvenient. Sure the image quality's great and the control is superb, not to mention the lightening quick response of a professional grade camera system, but these days when I travel, I'm out to enjoy and experience the place, not to go on a photography trip. The point of having a camera on trips for me is to simply record memories, not to shoot material for a photography exhibition, so I started to rethink my travel strategy after the last trip (I only brought a Canon HF11 camcorder, and I didn't use its still photo feature once, and shot very few videos. I actually shot Elena's Fuji F30 instead).
Competition
While searching for a smaller alternative to the 1DMKII, I looked at all the smallest DSLR's on the market and their lens choices, the Micro Four-Thirds system, The Sony NEX system, and high-end compacts. I was impressed by the high ISO performance of the Olympus Micro Four-Thirds models, and the E-PL1 was very tempting due to the great high ISO performance and small body size. The Panasonic Lumix G2's touch screen auto-focus was like something out of science-fiction, and it too tempted me. The Sony NEX cameras had amazing image quality–especially at high ISO, but it didn't have any single lens that covers the range I need. I wanted an all-in-one small package that doesn't require lens changes, at least as wide as 24mm (which is what Elena and I feel is decently wide without us feeling frustrated when shooting an entire room or a scenic view), and can easily slip into my small T-Tech messenger's bag. The Micro Four Thirds with equivalent zoom lens of 24mm wide to decent telephoto length made the whole thing bigger than I'd like, which negates the whole point of the small Micro Four-Thirds body. I'm not willing to limit myself to their 20mm pancake lens–I need both wide and telephoto in one lens. Non-compact cameras have another problem–they're nearly impossible to operate with one hand only, which is important during vacationing, when you are always shopping and carrying lots of bags. I've had times when something really worth shooting just presented itself, and I couldn't drop what was in the other hand–maybe food or something, so I couldn't even zoom the lens or operate the controls on the 1DMKII because they require two hands. This same problem applies to all interchangeable lens cameras because the zoom ring on the lens is the only way to zoom.
Eventually, after lots of research, it seemed like I'd have to sacrifice the image quality of larger sensors and go with a high-end compact camera, and the Panasonic Lumix LX5 seemed to have just about all the features I wanted, except for a few compromises. It is one of the very few compacts on the market that has a 24mm wide lens that's fast, a satisfactory zoom range (24mm-90mm), high ISO capability, HD video, manual controls, fast auto-focus, and optional accessories like wide-angle lens converter, external electronic view finder, external flash, other assorted filters and what have you. There are other high-end compact competitors out there like the Canon S90, LX3 (the previous generation of the LX5), Samsung's NX cameras…etc, but there is always something missing from my list of requirements, and the LX5 was the only one that had it all. My only concerns were the fact that its high ISO performance doesn't seem all that great compared to the competitors, but it turned out my concern was unnecessary (I'll talk more about this later).
I was checking everyday for new reviews of the LX5 to be posted, but since it's such a new camera, there really weren't many I could find. Eventually, I realized I shouldn't wait for more reviews, since the high ISO sample images from the LX3 weren't exactly something I couldn't live with–just that the competitors were better. At the end of the day, it's not what else is better out there, but what is good enough for me. Considering the LX5 is supposed to be an improvement in all fronts over the LX3, I realized that regardless of my concerns, it is the only camera that fit all my requirements anyway. So I pulled the trigger on the purchase.
The review
First of all, this is not a conventional review like the ones you'd find on professional camera review sites–it's very casual and not very scientific, so this is basically just me testing out the camera in ways that are relevant to my shooting style and my needs. My main concerns are high ISO performance, wide angle, fast lens, image stabilization, fast auto-focus, responsive handling, intuitive navigation, ergonomics, portability, convenience, and LCD quality.
Form Factor
The compact size of the LX5 is definitely one of the main reasons I ended up picking it over other options. So just how does it compare to the 1DMKII or the F30? Since my main reason for buying the LX5 is for a much smaller and lighter camera for traveling, let's compare it to the 1DMKII first: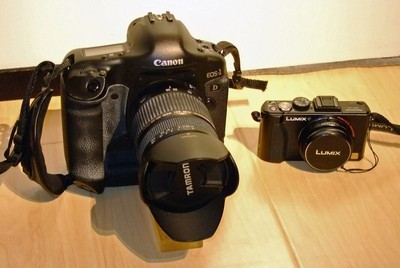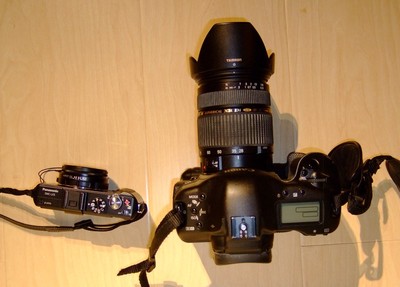 It's almost comical how gigantic the 1DMKII appears next to the LX5, isn't it? Which one would you rather take with you on a vacation?
With the flash on, the 1DMKII gets even bigger: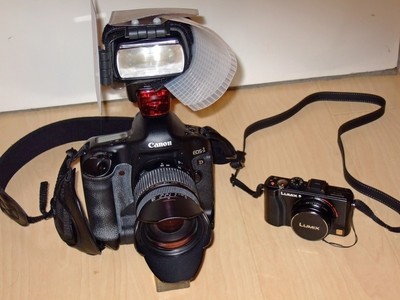 It's not entirely fair though, since the 1DMKII is a very different kind of camera–a professional one, and I can do things with it that the LX5 cannot touch. If I were to put an external flash with rotating head on the LX5, it would instantly become twice as big (and I just might do that, since it's so extremely important to have a flash that can rotate–it makes all flash photos instantly far more natural looking).
Now, let's compare the LX5 with the F30–the compact camera that we're retiring to back-up status now that we have the LX5:




The LX5 is a bit bigger than the F30, but to someone like me who's used to the monstrous size of the 1DMKII, that difference doesn't even register in my mind.
And just for fun, the 1DMKII and the F30: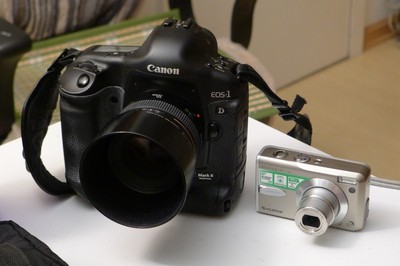 While shooting these comparison photos, it became painfully clear just how inadequate the F30 is compared to the other two cameras. Of course, it's much cheaper and not even in the same market tier, but still, it seemed like an awesome little compact with great high ISO performance and image quality–often referred to as a little miracle in the digital camera industry. Unfortunately, it really struggled to produce decent looking photos when I shot these comparisons, even if the lighting in the room was reasonably bright, while the other two cameras didn't even break a sweat. I also had to heavily process and edit the F30 photos to get them to look half-way decent, while I didn't have to do anything for the shots taken with the other two. (You can tell which photos in these comparison shots were taken with which camera. No really, Sherlock, just look at which camera isn't in the shot.)
Wide-Angle
Another one of the main reasons I chose the LX5 was because it's got a very useful 24mm-90mm f/2.0-3.3 lens. That is by far one of the most attractive zoom ranges I've ever seen, especially when you consider its impressive f/2.0-3.3 fast lens. It is truly unique, since the competitors either don't have the same reach, or only go as wide as 28mm, or the lens is slower. Even if a competitor has an equivalent lens, it's missing something else important like HD video or has lackluster high ISO performance.
It made perfect sense that the first shots I took was with the 24mm wide-angle end of the zoom. One of Elena's biggest complaints of the Fuji F30 is how its wide end is only 36mm, which is not wide at all. In fact, it's pathetic. Here's a comparison of the F30's wide end and the LX5's wide end:
(I must apologize for these crooked looking wide-angle shots. I really just didn't give a damn when I took them, since I was only doing it for myself as record-keeping and didn't know I'd be posting them. I could retake them properly with great composition and lighting and what have you, but does any one really care when it comes to this type of casual comparison shots?)
Fuji F30 @ 36mm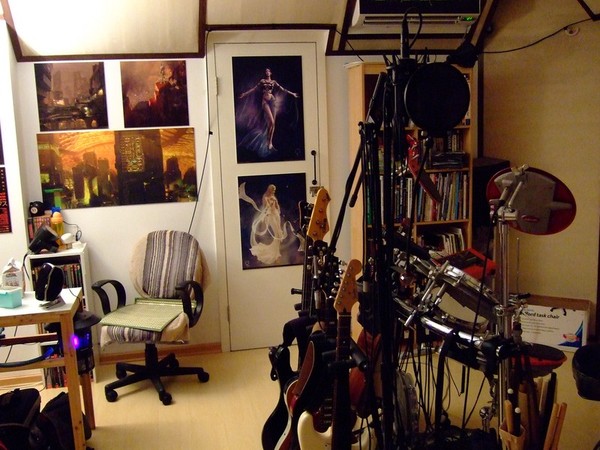 Lumix LX5 @ 24mm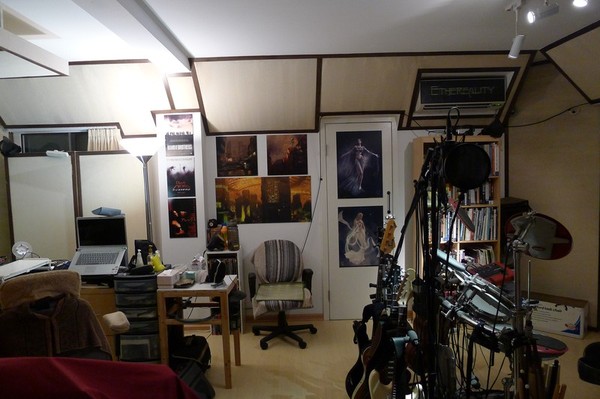 Not a fair fight, is it? The LX5's 24mm is much wider than the pathetic 36mm on the F30. But compared to the 12mm of the sigma 12mm-24mm lens on the 1DMKII (which is actually 15.6mm since the 1DMKII's sensor is a 1.3X multiplier), 24mm doesn't seem so wider either:
Sigma 12mm-24mm on 1DMKII @ 12mm (equivalent to 15.6mm)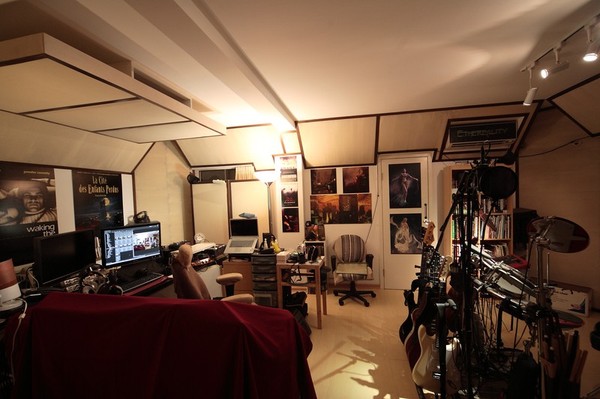 Now, that is W-I-D-E. That is the kind of wide I'm used to. That is the kind of wide that makes me smile, because it's so damn useful. When I want to get an entire room into a single shot, there is just no substitute. It's incredibly handy when visiting places and just be able to get almost the entire place–whatever it is, into one single shot. But unless somebody makes an ultra-wide capable compact camera, that's just not going to happen. 24mm is the best I can find right now, unless I put a wide-angle converter accessory lens on it, which will get it down to 18mm. That's not bad at all, except it sort of defeats the idea of a small compact that doesn't require lens changes. I'm sort of on the fence about whether I'd get one for the LX5. Maybe one day I'll still end up with a Micro Four-Thirds/Sony NEX type of camera system that consists of an ultra-wide angle zoom, a normal zoom, and maybe a pancake standard fast prime. It'll be a much bigger system to carry around on vacation than the LX5, but it's still smaller than the 1DMKII system. I'll have to wait and see if I can live with the 24mm, or I'll add the wide-angle converter, or do something else entirely.
LCD
The LX5's LCD is really nice–much bigger than the one on the 1DMKII, as well as the one on the F30: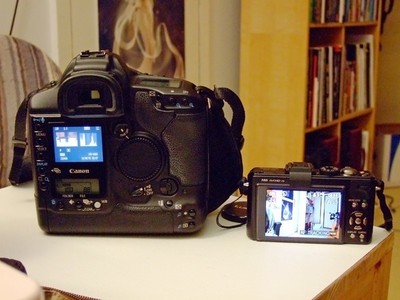 Panasonic has an external electronic viewer you can buy, so that when it's very bright outside and it's hard to see the LCD, you could use the EVF. I might get one if bright sunlight does indeed become a problem.
Flash
One thing that really concerned me initially about the LX5 was the erroneous review where one website said the LX5's flash output level cannot be changed. That is incorrect–the LX5 allows up to two stops of flash exposure compensation. Here's how it looks without any flash (notice the auto ISO bumps up the sensitivity in order to maintain a "proper" exposure):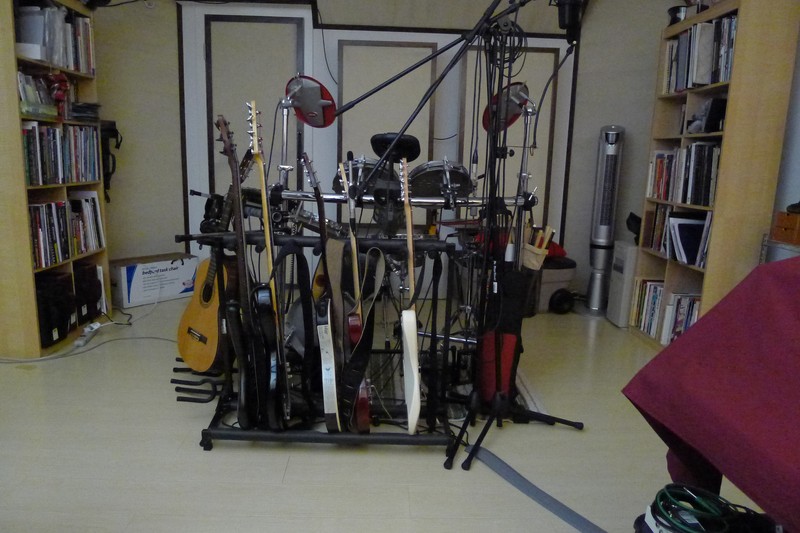 Here's with the flash at normal brightness: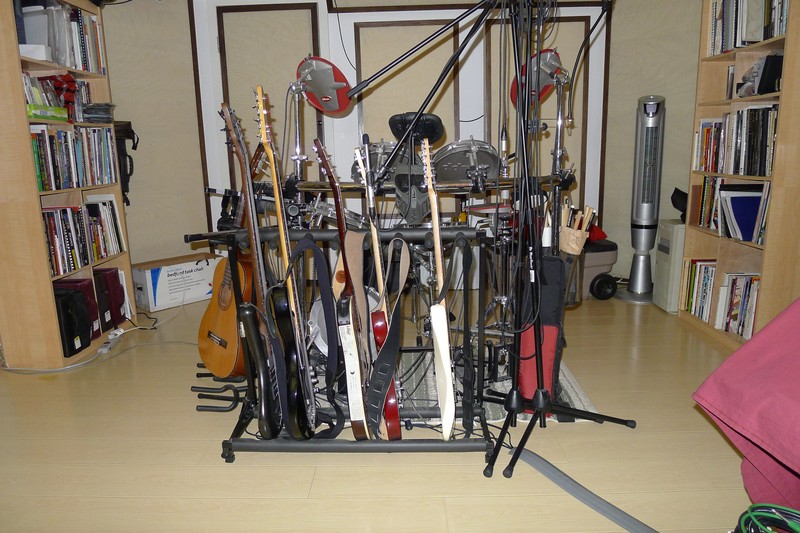 Here's with the flash set to -2 exposure compensation: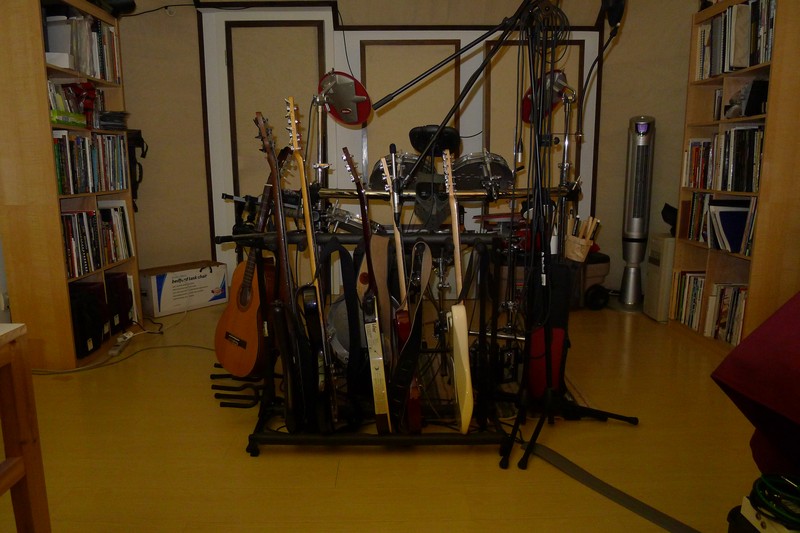 What's interesting is that the -2 flash version is actually much more accurate in how it captured the real lighting level in the room. The version without flash is actually inaccurate because camera manufacturers deem a "proper" exposure as overall average brightness equal to that of middle gray, but often we want to take photos of a relatively darker scene, and we don't want the camera to try to bump up the overall brightness that it deems "proper," as that is often much brighter than the actual lighting our eyes are seeing. Also, notice how natural the -2 flash compensation version looks. This is one of my secret tricks as a photographer–I often lower the flash exposure compensation as well as bounce the flash off the wall/ceiling, resulting in a look where you can't even tell a flash was used, but this only works if you keep the ISO level high enough. It's a different mentality, where you use the flash to prevent the subjects in the scene from falling into total darkness and you end up with just a silhouette of the subjects, but you maintain roughly the same level of overall ambient lighting–the wonderful mood that compelled you to take a photo in the first place. Since bounced flash is not straight on, it mixes with the ambient light and looks very natural. You never shoot the flash straight on if you could help it, because it's that dreaded boring flash look.
Here's another normal flash brightness: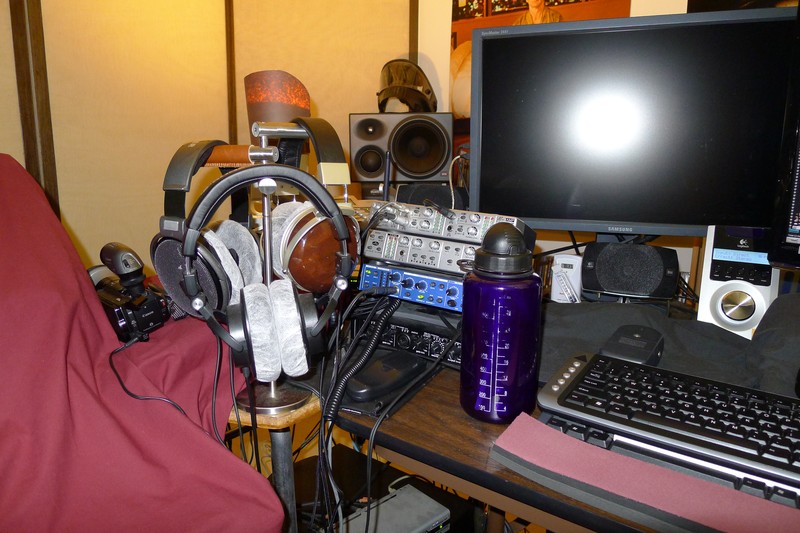 -1 flash exposure compensation: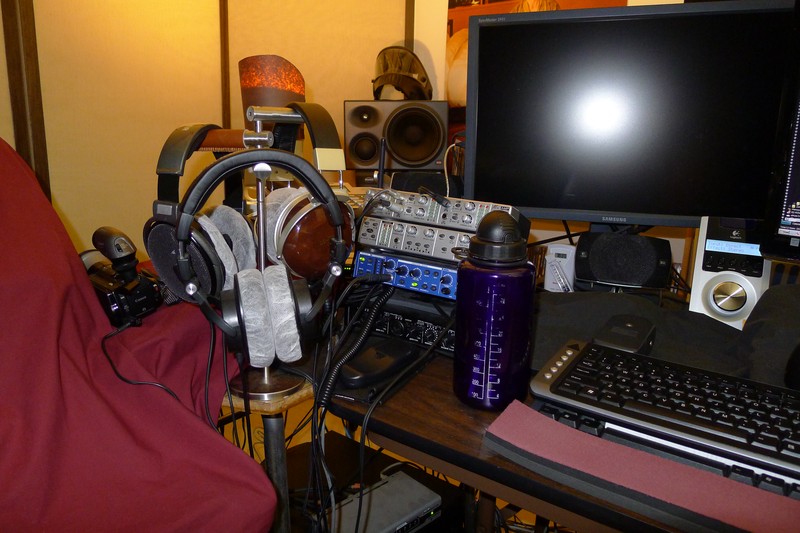 And -2 flash exposure compensation: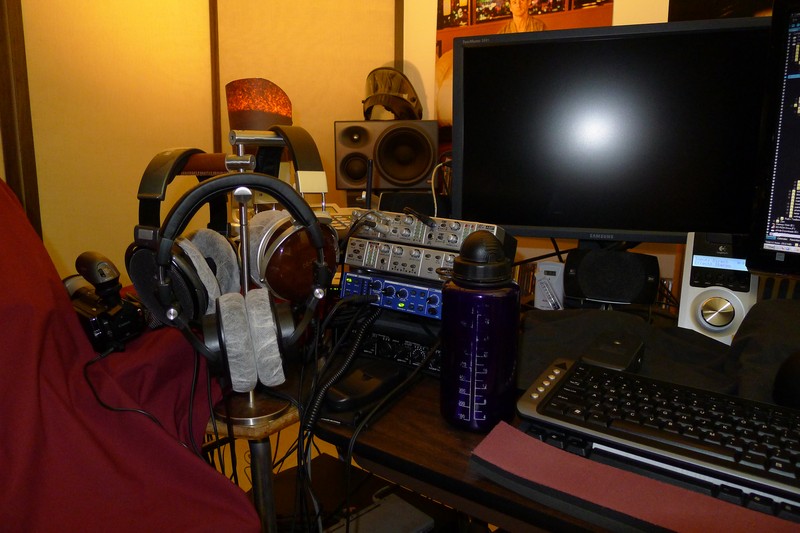 Once again, note how natural the -2 version looks. If it wasn't for the reflection on the LCD monitor, you'd think no flash was used at all.
As I already mentioned, I might buy an external flash with rotating flash head for the LX5 if I end up using it a lot (for now it's just a vacation camera to me). Otherwise, the on-camera flash is fine for the rare occasions I'd use it (I'm in general a no-flash guy–I prefer higher ISO if I can get away with it).
Ergonomics and Performance
The LX5 is actually pretty easy to use once you learn its features and menu navigation. The Q. Menu, customizable Fn button, ISO, and focus buttons really make it a breeze to operate and change settings. Soon I was navigating the LX5 without having to think about it at all. The camera itself handles just fine, and I can pretty much access all the most used features right on the camera's various dedicated buttons and switches, or I could customize the Fn button to a feature I used often. The dedicated movie shooting button is also great–no need to switch the camera to movie mode. It's by far the most intuitive and feature-rich compact camera I've ever used. The only real complaint I have is the lens cap. Why oh why would any company make a compact camera with a separate lens cap, instead of having it be built-in like most compact cameras? It's such a pain in the ass since you have to remove it and put it back on and deal with it dangling around when you are shooting. Just incomprehensible.
The auto-focus responsiveness of the LX5 is also impressive for a compact. It's quick enough where I don't ever notice it–as in, it never bothers me. The auto-focus assist lamp is quite handy in low-light situations, as long as you're not trying to focus on something far away. The LX5 has a few auto-focus modes, and all of them are useful in some way, but all have drawbacks. The face-recognition focus mode, which is neat, only recognizes frontal angles and cannot do profiles or even 3/4 angles. It's a bit gimmicky since very often we're not taking photos of people that face the camera straight on. The auto-tracking focus mode is also neat in that if you press the AF/AE lock button while with the focus cursor is placed over something, it'll lock onto it, even if you pan the camera away. But it's not always reliable since it sometimes cannot lock onto an object, or it doesn't lock on too firmly and will start to slide away if you pan away. The multi-point focus mode works when you don't care what you focus on, as long as something in your shot is focused, since you can't control which one of its 20+ focus points will be the one(s) that locks onto something. That leaves the last focus mode–the one-point focus mode, which is actually the most useful one, because it is tried and true and we all know how it works. You focus on the area you want and then re-frame your shot to take the photo. LX5 allows you to move the focus point though, and that is something pretty rare for a compact camera. You can also shrink or expand the focus area of the focus point–another neat trick that's unique for a compact camera. I think it's features like this that proves the LX5 is a high-end compact that's designed for photography enthusiasts or professionals that need a compact camera.
High ISO performance
This is a big one for me, since I feel that today's digital cameras live and die by their high ISO capabilities, and it's one of the most important features to me. For this section, I have uploaded the full-resolutions versions of the high ISO comparisons between the LX5, 1DMKII, and the F30. I have slightly compressed the jpeg's to 90% compression quality so that they are not so huge in size, but visually they look identical to the original versions, so they are perfectly fine for doing comparisons.
The high ISO test shots are on a separate page here.
Overall, I was pleased with LX5's high ISO performance. It won't be able to match the 1DMKII, even if it's almost six years newer in technology, which in digital camera terms, is a very long time. This is because compact camera sensors are much smaller and manufacturers keep on cramming more pixels onto such as small size, which makes the sensors even nosier since the pixels parked so close together generate more heat, resulting in image noise. The 1DMKII can't go up to ISO 6400 and 12800 though, since back around 2003, that was unheard of–it was almost science-fiction. Today's in-camera processing of noise-reduction are damn good, and I think LX5's noise removal strikes a pretty good balance between noise removal and maintaining detail. Some cameras' internal processing reduces noise too aggressively and ends up smearing all the details. Though some competitors might have slightly stronger high ISO performance, like I said already, they are often lacking something important in my list of requirements. I can live with LX5's high ISO performance just fine if I keep in mind how to best optimize the shots–meaning, you can't just point and shoot anything in a dark room and expect to get great results–you have to think like a photographer and shoot according to the camera's strengths and weaknesses. I'd never just point the LX5 at a pretty girl sitting in a dimly lit pub and expect a great shot–it just doesn't work like that. To get that shot to look great, you'd either have to: A) use the flash with -2 flash exposure compensation (but this is iffy since straight on flash, regardless if it's less bright, is still straight on, which is the worst kind of flash). B) Use an external flash with a rotating head and bounce it off nearby wall or ceiling. C) Use a camera with pristine high ISO capability (like one of the recent Nikon DSLR's).
(Note: Be careful how you set the automatic ISO, minimum shutter speed, and other auto settings, since if you don't get it right, the LX5's Program Mode has the tendency to use high ISO even when shooting scenes with plenty of light, and that will degrade your image quality.)
Skin Tone
Although I'd never use a compact camera to do any kind of serious or even casual shooting of people, since the tiny sensor just can't perform at the same level as DSLR's when it comes to demanding subjects like people, I still have to make sure that the LX5 can actually render skin tone well enough that my photos of Elena during our vacations won't look like hell. Here are a few photos of her shot very casually with the LX5: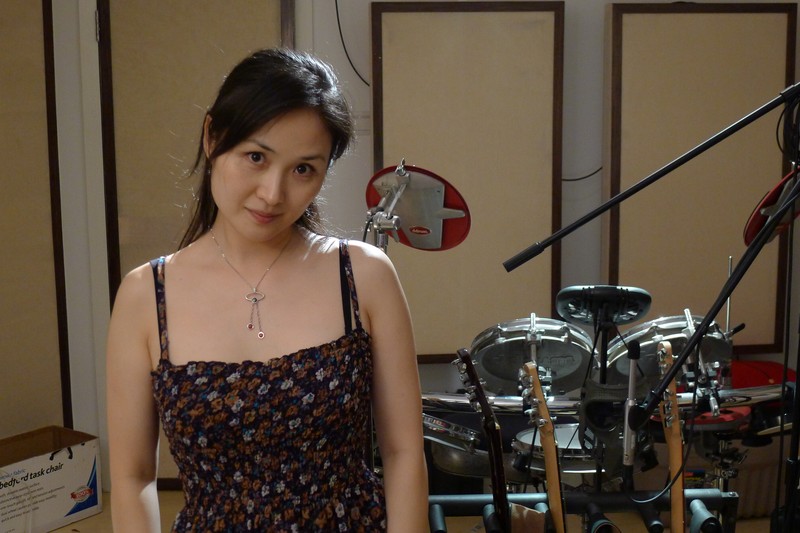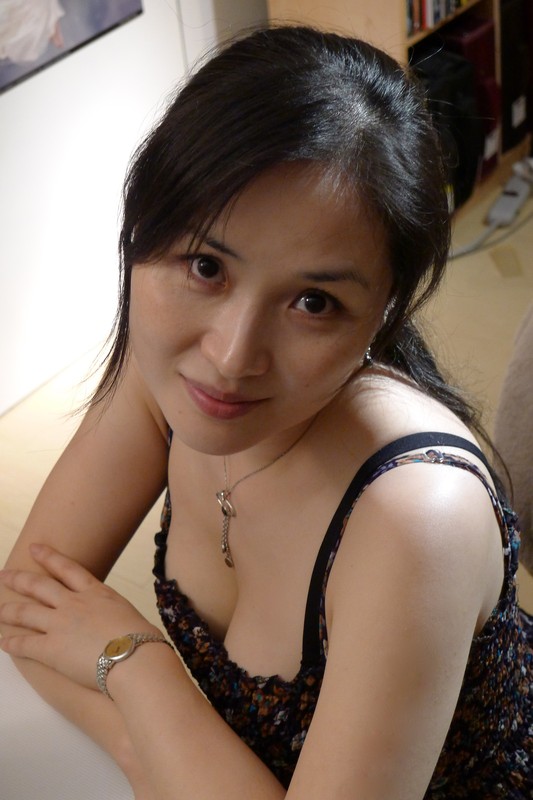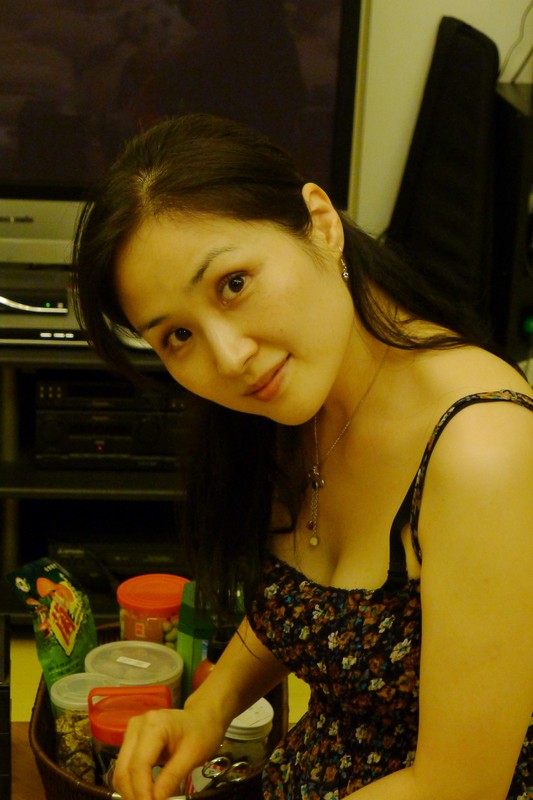 Note how yellow LX5's auto white balance can look in tungsten light. It doesn't always happen, but the fact it does means the white balance is unreliable. This is something to watch out for.
I wouldn't ever choose the LX5 over the 1DMKII for shooting people (and I will go as far as saying you should NEVER use a compact over a DSLR or equivalent sized sensors for shooting people if you have a choice), but for everything else, as long as I don't need the very creamy bokeh of shallow depth of field of 1DMKII's larger sensor, the LX5 will actually do just fine. With proper lighting, compacts can do a decent job shooting people, and the above photos of Elena are acceptable, but cannot compete with what my 1DMKII can do, especially when using a prime lens like the 50mm f/1.4. At least the LX5 didn't make her look like hell, so mission accomplished. *WHEW* (Hard to believe she's turning 40 in a few months, isn't it?)
Conclusion
So, did the LX5 live up to my expectations? I think yes, it does do pretty much all the things the marketing hype said it would, but at the same time, some of them are a bit gimmicky and not always reliable (such as the fancier auto-focus modes). But if you use the LX5 as you would any other standard camera and ignore all the fancy science-fiction-esque features, it is a solid performer and produces very strong images even in less than optimal lighting conditions. The LX5 handles great, is easy and convenient to use, small and portable, looks great in that modern-retro styling, and even has useful optional accessories like the wide-angle converter lens, various filters, external flash, external electronic view finder, extra batteries, AC adapter, and a very chic looking leather carrying case that's molded to the shape of the LX5, allowing you to shoot even while it's still in the case.
There are definitely some things I haven't tested, such as continuous shooting, which is a feature I'd never use. I don't even use it on the 1DMKII except for the rarest occasions, and that bad boy does 8.5 frames per second–the fastest camera on the market back in 2003. I guess if I was shooting a lot of sports, I'd use it more. I think the only times I really used it a lot was when I was shooting our cats when they're playing and jumping around. Anyway, professional review sites like dpreview.com will be doing comprehensive reviews of the LX5 as soon it becomes available in that part of the world.
To wrap up, I'm happy with the LX5. It does all that I expected it to do, and it fulfills the needs I purchased it to fill in the first place. It remains to be seen if I'll buy the optional accessories, or that maybe one day soon I'll upgrade, if the larger sensor interchangeable lens camera systems like the Micro Four-Thirds and the Sony NEX starts selling fast zoom lenses comparable to the LX5's f/2.0-3.3 24mm-90mm lens. For now, the LX5 has replaced the F30 as our vacation camera, and Elena will be using it as her daily camera from now on.
LX5 Gallery
Here are some random snapshots I took with the LX5 around the house: